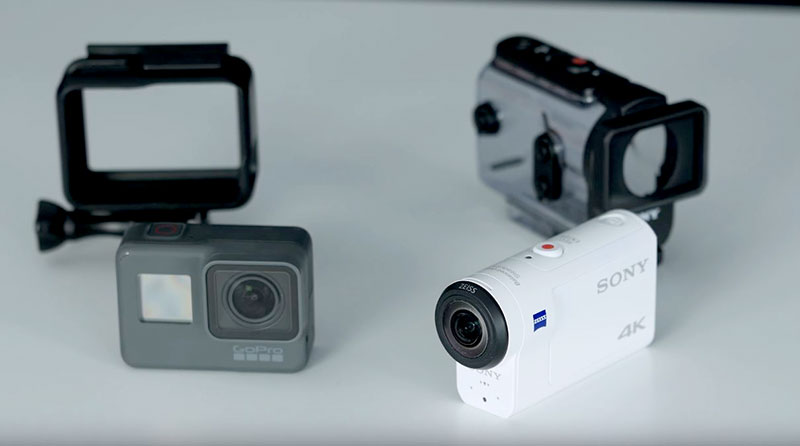 In search of the best action camera – for travel, for vlogging, for daily use:
The main thing that first drew me to action cameras were their size. Sure, they're action cameras, and they certainly come into their own when you're doing some.. exciting action stuff, but they're not only useful for that. Because of their stunning video quality, size, and ease of use, action cameras can also make for great travel video cameras or daily vlogging cameras. Or even as general take anywhere, everyday carry (EDC) video cameras. I'm not into extreme sports, my interest in these cameras are primarily as travel and vlogging cameras.
I've spent a lot of time researching and downloading footage from the most recent action cameras in the market, and these two are really the only ones most people need to look at right now as far as I'm concerned. (There is a bonus third option, but it comes with a big caveat)
The Sony X3000 – The king of image stabilization: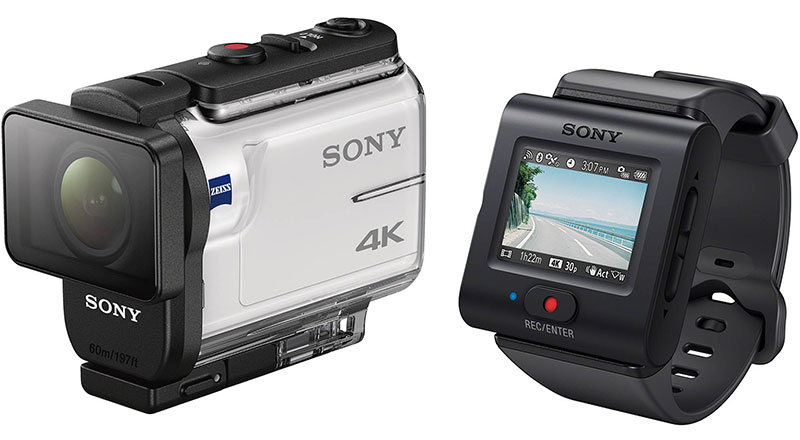 After a few ho-hum models, Sony have finally come up with a serious competitor to the GoPro. If you're looking for a serious GoPro alternative, the Sony FDR-X3000 is really the only one worth looking at. In fact, I think it's much better than the current GoPro Hero 5.
The headline feature here and the main reason to get it over the latest Go Pro Hero 5 Black is Sony's image stabilization, which they call BOSS (Balanced Optical Steady Shot). That's because it works extremely well. The GoPro Hero 5 also has image stabilization, but it's digital only (software based); it doesn't work in 4K; and in real world use it simply does not work as well as Sony's image stabilization. Here are two videos comparing the stabilization on the X3000 and the GoPro Hero 5:
This to me is huge! The ability to get smooth handheld footage, at no extra cost, and without having to carry around a stabilizer is just a complete game changer!
The big downside of the Sony is that it does not have a built-in LCD like the GoPro Hero 5 so you can't see what you're filming. There is a small LCD on the side, but you can only use it to change settings and not for shooting. You can buy a kit with a small live view LCD, or if you want to save some money and just get the base model, you can also use your phone as a viewfinder via the Sony app.
The lack of a built-in LCD isn't a deal-breaker because I don't really need an LCD screen on an action camera with a wide lens, and I'm okay with using my phone as a viewfinder most of the time. Although it would definitely be very nice if it had one, the lack of an LCD here isn't enough to offset the advantages of the image stabilization, in my opinion.
One other potential downside of the Sony is its form factor. Although it's a very small camera, its camcorder-like form factor means that it won't lend itself to certain types of mounting. It's great for side-mounting on a helmet for example, but if you're mounting it on the front of a helmet, or are chest mounting, it's not going to be as good as a GoPro. It's doable in most circumstances, but it's not going to be as great as the more square-ish GoPro form factor.
Both cameras are capable of 4K at up to 30fps, with options for 24/25fps, and 120fps at 1080p (great for slow-motion). But once again, the Sony has the upper hand. It might not always be obvious in most circumstances (e.g. In bright day light), but the Sony is able to capture sharper video with more detail. In low-light the difference is even more obvious, the Sony sensor is simply capable of quite a bit more.
One other big plus of the Sony is that is has a standard 3.5mm input jack for an external mic, which is way easier than the USB-only solution with the GoPro. The Sony also has a standard tripod mount on the bottom of the body itself, which means you can mount this on a monopod or selfie stick without needing anything else, not even the case. The GoPro of course can be mounted via all the mounts in the GoPro ecosystem, but you will need a frame or housing first.
Keep reading below to see how the GoPro stacks up against the Sony X3000.
The GoPro Hero 5 Black – the best GoPro yet:
There is no question that GoPro dominates the action camera market, and with good reason. They're absolutely tiny, can shoot high quality 4K and have a great ecosystem of mounts for just about any activity.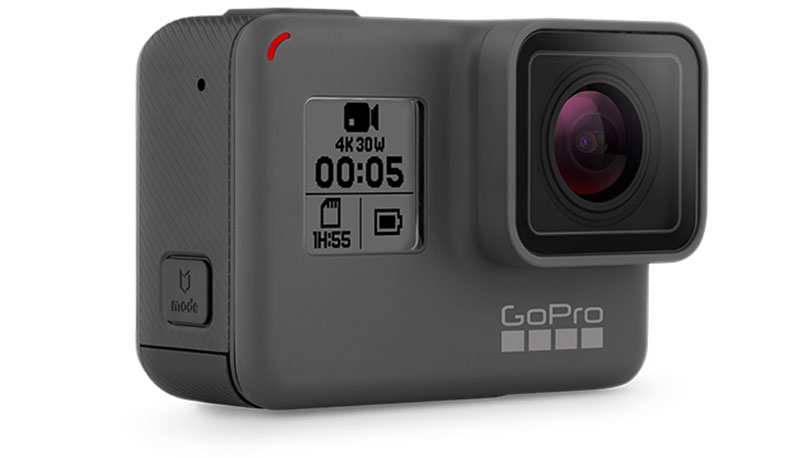 The biggest disappointment with the Go Pro Hero 5 is that is uses the same sensor as the last generation Hero 4. In terms of image quality, the Hero 5 is largely the same as the Hero 4. It's capable of 4K at 24/25fps and 30fps. For slow-mo, you get 120fps at 1080p just like the Sony above. One thing it can do that the Sony can't is to shoot RAW still images.
The big news is that unlike the Hero 4 Black, the Hero 5 Black now has an LCD on the back. Previously, you had to get the lower model Hero 4 Silver if you wanted the LCD. The other big change is that the Hero 5 is now waterproof without a case (up to 10 meters). There is still an optional dive housing if you want to go deeper.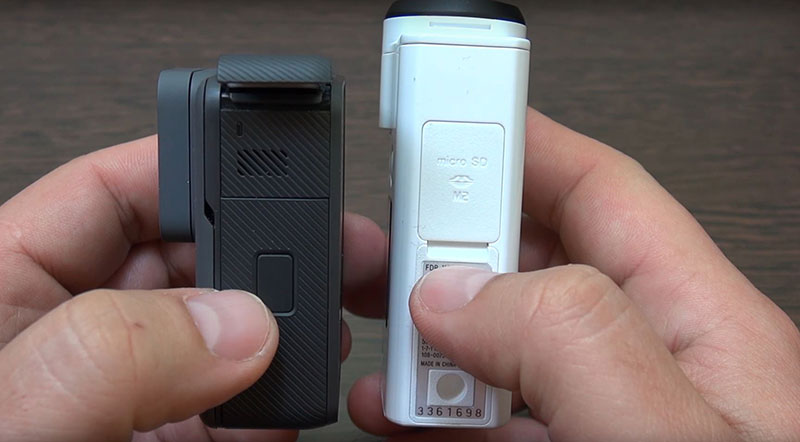 Other notable additions are voice controls and GPS. Personally, not things I'd use a lot, but they can be very useful depending on your needs and what you're filming.
Image Stabilization on the GoPro Hero 5:
Now, let's talk about stabilization. As you've seen in the video above, GoPro's digital stabilization simply doesn't work anywhere near as well as Sony's (BOSS) optical image stabilization. GoPro's stabilization won't even work at all when shooting 4K or when shooting above 60fps! Yes, really! To me, that's a big deal breaker. I don't have the steadiest hands, and nothing frustrates me more than shaky footage. Nothing sucks more that coming home from an epic trip and seeing all your clips ruined by shaky footage.
Fortunately, all is not lost for the GoPro. Because of the Karma Grip. Yes, after years of third party Chinese-made stabilizers, this gizmo is the official external stabilization system for the Hero 5 (and Hero 5 Session) made by GoPro themselves. It's basically a three-axis gimbal designed to work seamlessly with the newest GoPro.
But (!) – there are two downsides to this. Aside from the extra cost, it's also going to be one more thing to carry around. The GoPro camera might be tiny but if you add this stick, you will need a slightly bigger bag. The other negative is that audio quality is going to take a hit. I don't know why, and perhaps GoPro will come out with a firmware fix in the future – but for now, if you're using the Karma stabilizer grip on a Hero 5 Black, the audio quality takes a dive.
But there are a ton of other excellent third-party electronic gimbals right? Yes. In fact, I used one extensively for my Hero 4 Silver. But the big advantage of the Karma Grip is that it will still work with existing GoPro mounts!
In the video below, take a look at Casey Neistat mounting the Hero 5 with Karma Grip to a chest mount. (Don't worry, you don't have to watch the whole thing, I've set the video to auto-begin at the right time)
Very cool right? Think of the possibilities! You can mount the thing on almost any GoPro mount system. So, big plus for the GoPro right?
Not really…. you can do this with the Sony as well. If you've already got a lot of GoPro accessories, all you need is a good quality tripod-mount-to-GoPro-mount converter – I recommend these aluminum adapters from K-Edge – then you can mount the Sony FDR-X3000 on almost any GoPro mount!
Now, back to the GoPro – With the Karma Grip, the GoPro will definitely start outperforming Sony's built-in BOSS image stabilization. But, you have to ask yourself if the extra cost and extra weight is worth it. And as previously mentioned, there are additional problems: audio quality will take a hit (again, I have no idea why, but attaching the Karma Grip to a Hero 5 will result in a noticeable dip in audio quality). Another downside – it's an extra thing you have to carry around in your bag. Depending on what you plan to film, this is likely your biggest consideration – the complete freedom of Sony's handheld image stabilization, or the slightly better stabilization of the Karma grip and its accompanying downsides.
But, are there electronic gimbals for the Sony X3000?
Yes, there are! Although Sony does not make an official gimbal for its action cameras, you can purchase third-party gimbals similar to the Karma Grip for use on the Sony X3000 and other cameras. I would recommend the Zhiyun Crane-M gimbal (see pic below).
Unfortunately, this option is going to cost quite a bit more than the Karma Grip and since it's not made by Sony, it's not as integrated a solution as the GoPro grip. But the good news (in the case of the Zhiyun Crane M) is that you can use this gimbal for almost any camera up to 650 grams (so that includes anything from little compact cameras like the Sony RX100 series, certain micro-four-thirds cameras with small lenses (e.g. Panasonic GM5, Panasonic GX85 or GX80), and even a Canon EOS M5 or a Sony a6300 or a6500 with smaller lenses.
In fact, if you add some weight to it, like a quick release plate or a GoPro mount, you can even use a GoPro (with a case or frame) on the Zhiyun Crane M!
The big advantage of the Sony X3000 here is you kind of get the best of both worlds: the freedom of the effective stabilization without carrying around an external gimbal, but you still have the option of using a gimbal if you really want ultra smooth video.
The value pick: GoPro Hero 4 Silver
If on a tight budget, I'd take a look at the GoPro Hero 4 Silver. But I would only really recommend this if you can get it at a significant discount to either of the cameras above. In some markets, a brand-new Hero 4 Silver only sells for a few bucks less than a Hero 5 Black. Personally, I'd rather save a bit more and and go for the Sony.
The sensor on the Hero 4 Silver is the same as that found on the Hero 5 Black, so image quality is largely in the same ballpark. The biggest things you lose are the ability to shoot 4K at 30p and 24p and at 120fps in 1080p.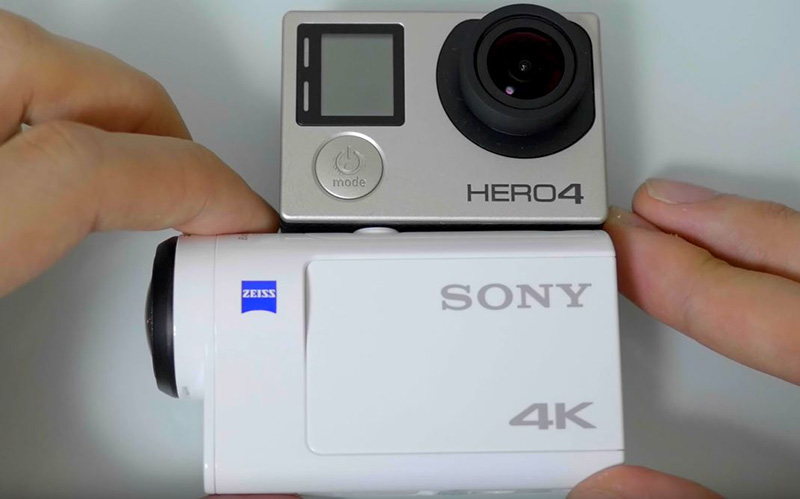 With the Hero 4 Silver, you are now limited to shooting 4K at a not very useful 15fps only, and are limited to shooting only up to 60fps in 1080p. Your slow motion options are limited to 120fps in lower resolution 720p only. But you still get the very useful touch LCD on the back. (This is also is why I don't recommend the old Hero 4 Black, because of the lack of a built-in LCD)
But again, only pick Hero 4 if you're able to get it for a lot cheaper or if you really don't want the 4K, and maybe you can put the money saved towards something else, like a gimbal. I recommend the Zhiyun Crane M gimbal – this is a really excellent gimbal which can handle action cameras AND other smaller cameras like the Sony RX100 series, and even mirrorless cameras with small lenses. But if all you want is to film with the GoPro, you can get a dedicated gimbal designed for the Hero 4 only and spend even less. The GoPro specific gimbal I recommend is the Zhiyun Z1 Evolution gimbal.
So, what's my pick for the best compact action camera for 2017?
If you're use case is like mine, and you plan on using one of these as a tiny, portable, everyday-carry kind of camera for filming your kids, family or friends, or as a travel or a vlogging camera, the Sony FDR X-3000 is definitely the way to go.
The ease of getting steady, shake-free footage with Sony's effective image stabilization is the big selling point. I've carried around my Hero 4 Silver and my gimbal for the past two years, and while I've been able to get some very pleasing results, having the option to leave the gimbal at home and still get smooth and steady footage is just a game-changer. I've got a much lighter bag, and I no longer have to decide whether I want to carry a gimbal or not. The X-3000 is just so tiny, it just lives in my bag permanently.
For my purposes, the clear choice is the Sony. It can do everything the GoPro can do, and I have the advantage of walking around with a small camera with class-leading image stabilization vs having to carry around a gimbal for the GoPro.
You can shop the Sony X3000 on Amazon.
** Just one last note – the Sony FDR-X3000 uses the Sony NP-BX1 battery, which is a fairly common Sony battery – this is the same battery used by the Sony RX100 series, the Sony RX1, RX1R, HX90V, FDR-X1000 and many more. So it can be a big plus if you also shoot one of the Sony cameras that use this battery. I also have an RX1 and an RX100 V and having the ability to share batteries between three cameras is really useful.
Recommended reading:
How to Use GoPro Accessories with any camera!
****
Note: CompactShooter.com is a participant in the Amazon Services LLC Associates Program, an affiliate advertising program designed to provide a means for sites to earn advertising fees by advertising and linking to Amazon.com. This means that we get a small commission on products sold through affiliate links at no extra cost to you.