Do you miss the good old days of photography? When cameras did not look like boring black boxes? If so, you'll love this round up of the best retro looking digital cameras!
These digital cameras will give you that stylish classic film camera look, while still providing all the features and convenience of a modern camera.
Not the least of which is the ability to shoot virtually unlimited images. Have you seen the cost of film lately?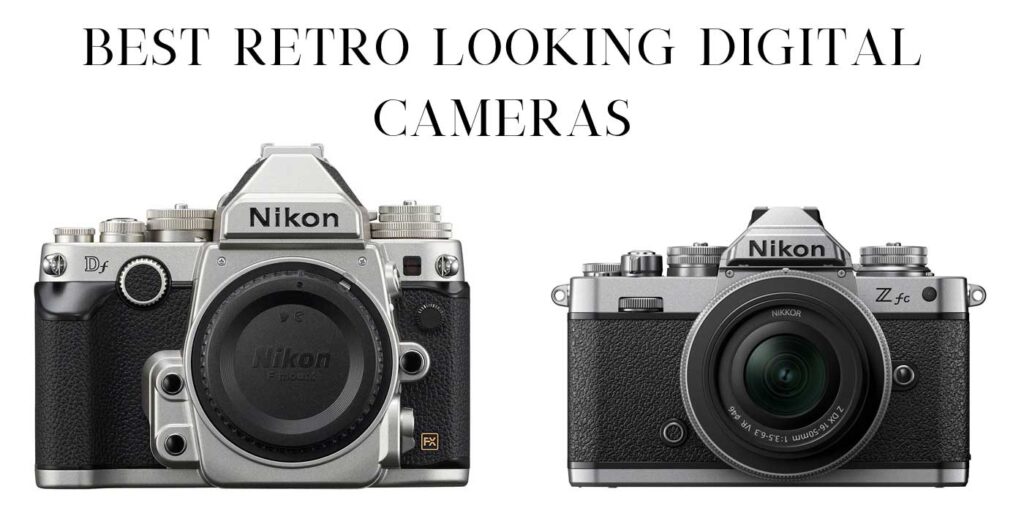 While film and retro cameras are making a mini comeback of sorts, there is no reason that you can't get that retro vibe in a modern digital camera. Some of us do prefer the analog experience, but want the convenience of digital.
While most people will immediately think "Leica" when thinking of retro style cameras, a Leica simply isn't the budget for many photographers. And a Leica budget certainly isn't what we recommend for a first camera.
In this roundup, we will take a look at some of the best retro looking digital cameras on the market today from Fujifilm, Nikon and OM System (aka Olympus).
Fujifilm X-E4
First up, Fujifilm! We can't talk about the best retro looking cameras without talking about Fujifilm.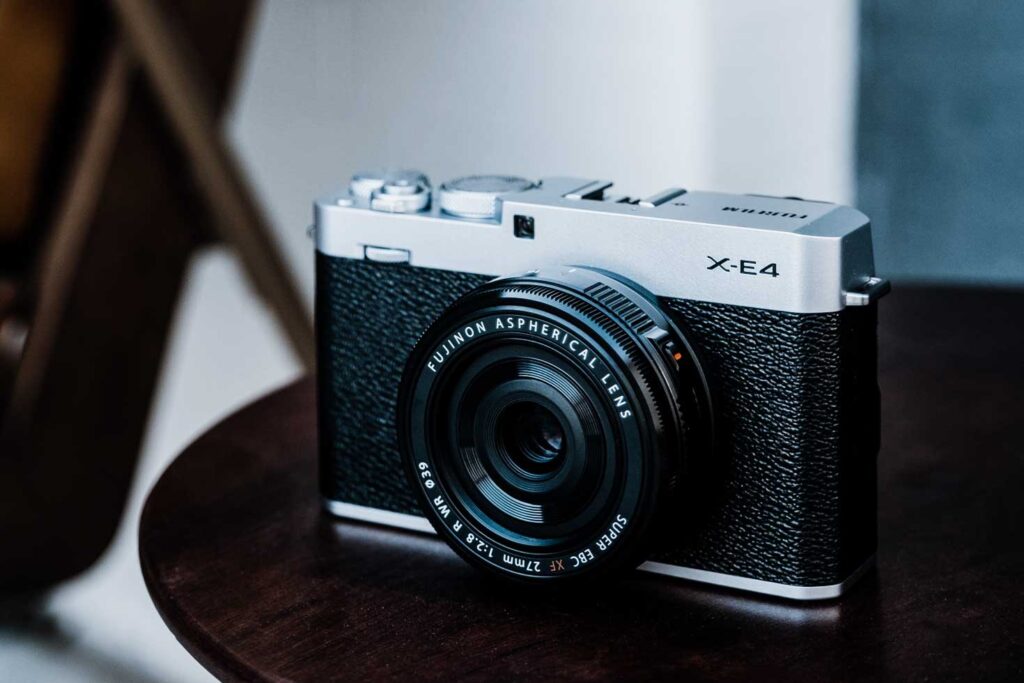 Fujifilm are the biggest players in this space, with most of their cameras being inspired by classic film camera looks.
Most Fujifilm cameras have physical dials and switches on the camera body and aperture rings on the lenses. Not only does this help give Fujifilm cameras a vintage look, it also allows you to shoot like you were using a film camera with the dedicated aperture rings on the lens and shutter speed and ISO dials on the camera.
The Fujifilm X-E4 is one of my current favorites. It's a great retro looking digital camera that isn't all about the looks. It has all the features you see in modern digital cameras, but it still evokes that nostalgic feeling. And best of all, it's relatively compact and easy to carry around all day.
The body of the camera is made from magnesium alloy. It's lightweight without feeling like tupperware. It's got a large 3″ LCD screen and an electronic viewfinder hump to the left, giving it a look similar to a classic Leica rangefinder. Sort of. The lack of a viewfinder cutout where the "X-E4" logo is written throws off the look a bit. The X-E4 has an electronic viewfinder, and has no optical viewfinder. If you want the "Leica camera look" without the Leica price, look at the Fujifilm X-Pro3 and X100V below.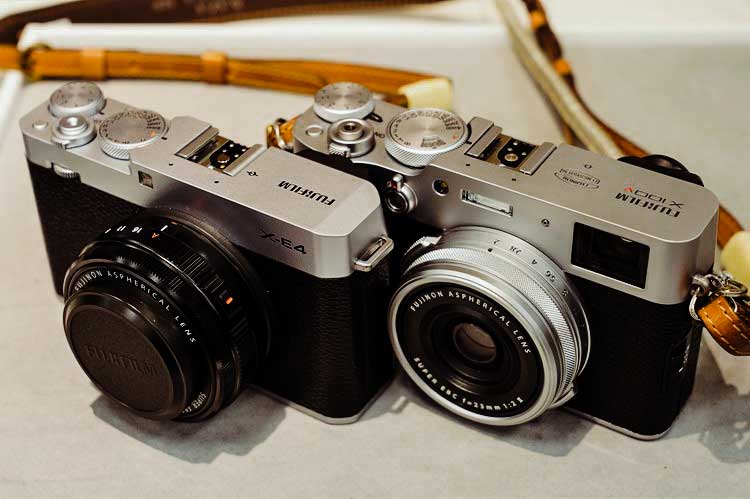 The Fuji X-E4 is a great choice for anyone looking for a small retro camera with all the bells and whistles.
Fujifilm chose to go as minimalist as possible on the X-E4, while still making a camera that is still function over form.
Yes, it's a flat body design, with no grip to speak of. Not great if you want to use it with larger lenses, but this is really a camera meant to be used with small lenses. Although an attachment grip is sold separately. You can also grab a thumb grip (aka thumb rest) that attaches to the hot shoe.
A great advantage of having the viewfinder to the side is that the X-E4 is a near-pocketable camera (big jacket pockets!), mostly because there isn't a viewfinder hump to get in the way. Paired with a compact lens like the Fujifilm 27mm f/2.8 pancake lens, you have a great little camera that is fantastic for daily carry or for street shooting.
Fujifilm film simulations
We can't talk about Fujifilm without talking about film simulations!
If you're looking for even more of that classic film camera look, Fuji also offers various Film simulations.
These are digital filters that emulate the look of different classic film stocks.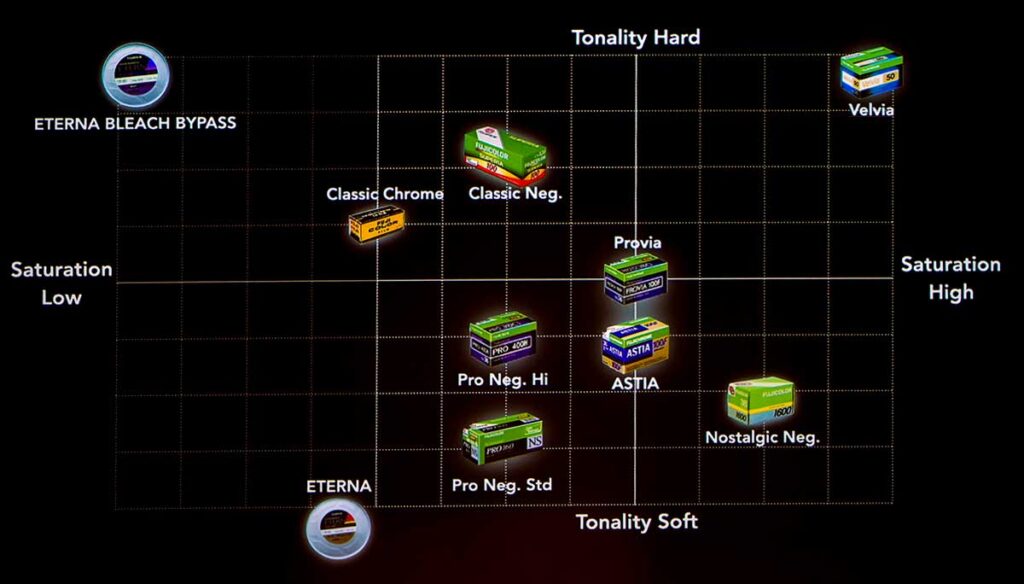 There are several film simulations to choose from, most are based off of real film stocks that Fujifilm used to produce, and each one gives your photos a unique look and feel.
Some of my favorites are Classic Negative, Classic Chrome and Acros (black and white).
You can create your own film looks, or copy simulations that others have already created. There is a large community dedicated to these custom film looks. There is even an app!
This is a great way to get the look of classic film stocks, without having to deal with actual film!
Another big plus, you can use these film simulations when shooting video as well.
OM-System (Olympus) OM-5
Another great retro inspired digital camera is the OM System OM-5. This camera, like most of the recent Olympus and OM System designs, takes its design inspiration from the original Olympus OM-1 SLR camera from the 1970s.
The OM-5 has a small, lightweight body. It also features an OLED electronic viewfinder, IP-53 rated weather sealing and Olympus' OUTSTANDING 5-axis image stabilization. It pays homage to its film heritage, but it is also a modern camera at heart.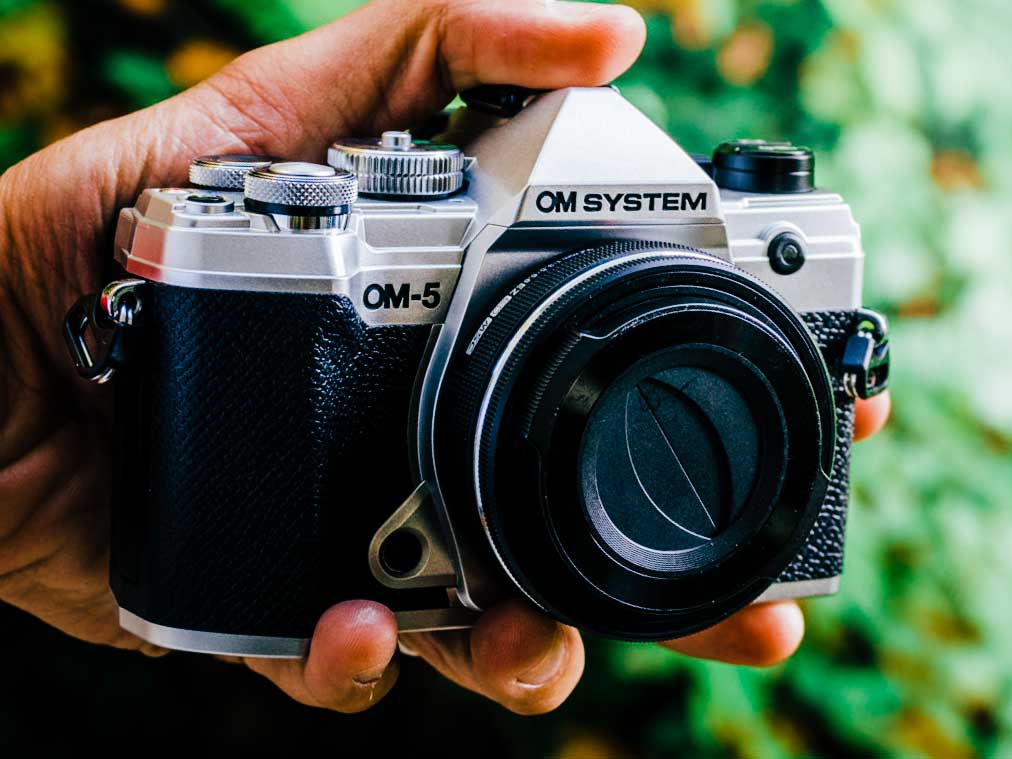 Olympus recently sold their camera business, and are slowly transitioning into the new "OM-System" branding. You'll see some cameras and lenses still sold under the Olympus brand, but most of the newest cameras are now sold under the "OM System" brand. It can get confusing, but they're really one and the same.
Olympus art filters
One of my favorite things about the Olympus OM-D series is their Art Filters. These are digital filters that allow you to add creative effects to your photos in-camera.
There are 9 Art Filters to choose from, and they range from vintage looks to fun and playful effects. Most of them are gimmicks, fun for a bit, but not something you'd probably use a lot.
But, there are two stand outs – the Instant film filter (mimics the look of early instant cameras) and the grainy black and white (creates high contrast black and white photos).
So many photographers dismiss these filters as mere gimmicks, but give them a try, you just might be surprised at how much fun they can be. You can combine filters, and you can even use them for video.
Small, compact lenses
Olympus (OM-System) offer high-quality lenses that are perfect for anyone looking for a small, lightweight lens to take with them on their travels.
A good place to start are the Olympus 17mm f/1.8 and the Olympus 12mm f/2. Not only are these tiny and weigh next to nothing, they also feature a unique push-pull system where you can pull on the focus ring to automatically move into manual focus and reveal distance markings on the lens! This is a great feature that allows you to quickly switch between autofocus and zone focusing, for example.
Another stand out lens is the newly released OM-System 20mm f/1.4.
While this lens isn't as small as the 17mm f/1.8 and 12mm f/2 above, it does feature the highly desirable f/1.4 aperture.
The bright f/1.4 aperture allows you to capture photos with a shallow depth of field and create beautiful bokeh.
The OM-System 20mm f/1.4 lens is a great choice for anyone looking for a one lens solution. It's a great lens for everyday and street photography, for portraits, for landscapes, even astrophotography.
Best in class image stabilization
It's hard to talk about Olympus without mentioning their absolutely outstanding image stabilization system. They are simply the best at it. Not only does this help in smoothing out handheld video, it allows you to shoot at much lower shutter speeds than usual.
This helps a lot in photographing still subjects in low light situations, although it isn't an advantage when shooting fast moving subjects requiring fast shutter speeds. In specific circumstances, such as low light sporting venues, the smaller sensor and more limited ISO range of Olympus cameras are at a disadvantage vs cameras with a larger sensor. That means image quality in lower light isn't as good vs other cameras with larger sensors. The image stabilization helps balance that out by allowing you to use slower shutter speeds.
Fujifilm X-T30 Mark II
The Fujifilm X-T30 II features all the same specs as the Fuji X-E4 above – except this time it's housed in a more traditional body, with a viewfinder hump in the middle. Some people prefer this classic SLR look vs the rangefinder style look.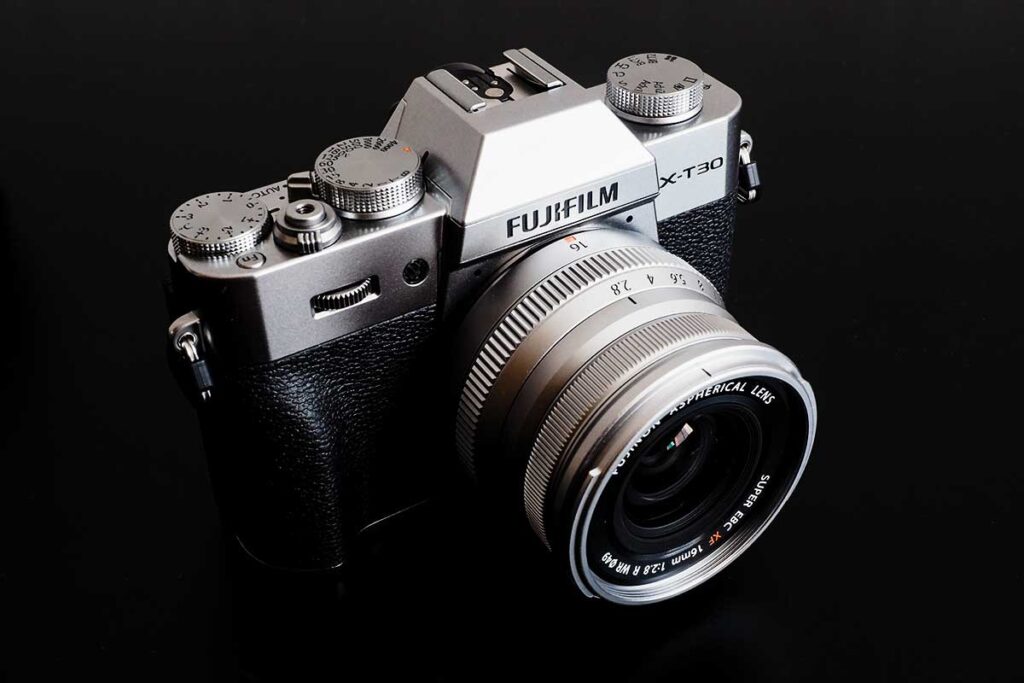 As you can see above, the Fuji X-T30 II takes a less minimalist approach to the design of the body vs the Fuji X-E4. It has a very slightly curved grip, which is much better than the entirely flat grip on the X-E4. It has more dials, and the viewfinder hump gives it a different look vs the X-E4. Despite this, it still manages to be a very compact camera.
One advantage of the slightly bigger body is that is has more dials and switches than the Fuji X-E4. The X-T30 II has front and rear dials, for example, where the X-E4 only has a front dial.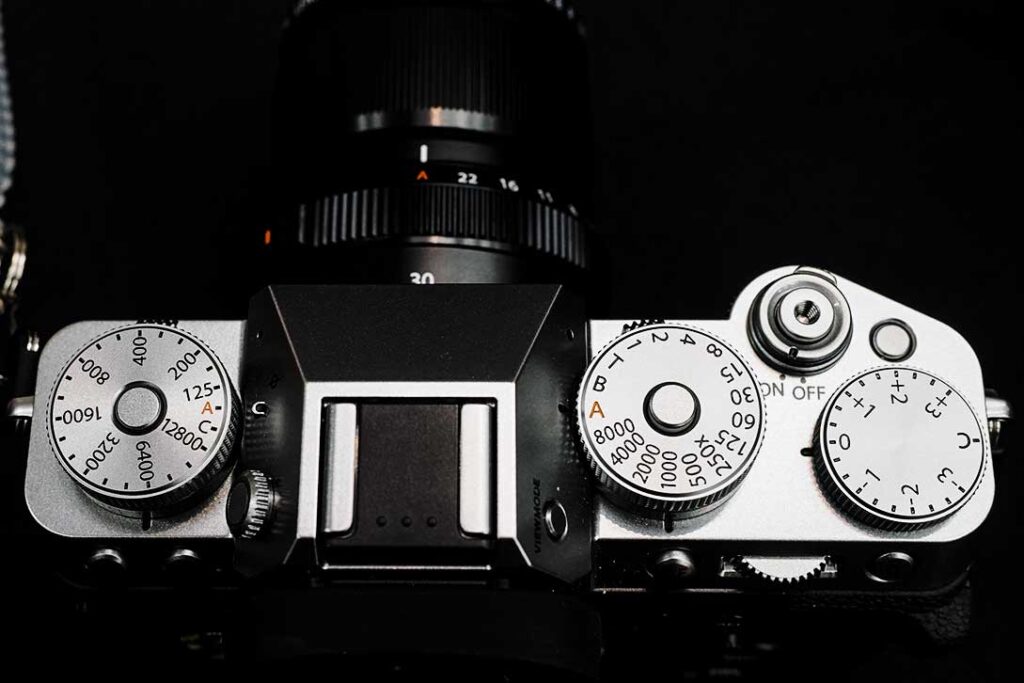 Personally, I don't find this to be a big deal. It depends on how you shoot. The vast majority of Fuji lenses have aperture dials, and you already get a shutter speed dial with either body, so in this case, the extra dials on the X-T30 II aren't a big plus for me.
But, for certain users, they might be. Compared to the X-E4, the X-T30 II has a switch up top to go directly to "auto mode". This is very useful if you need to hand off the camera to someone who isn't into photography. There is also a dedicated dial on the top left that allows you to quickly switch to video mode or panorama mode.
On the inside, the X-T30 II and the X-E4 are practically identical. The features, speed, image quality and autofocus ability are all the same. It all comes down to your preferred body.
Fujifilm X-T5
If you want something more advanced, the Fujifilm X-T5 is currently one of Fujifilm's flagship cameras.
It is one of the first Fujifilm cameras to feature in-body image stabilization (IBIS). This makes it a great choice for hybrid creators who do both stills and video.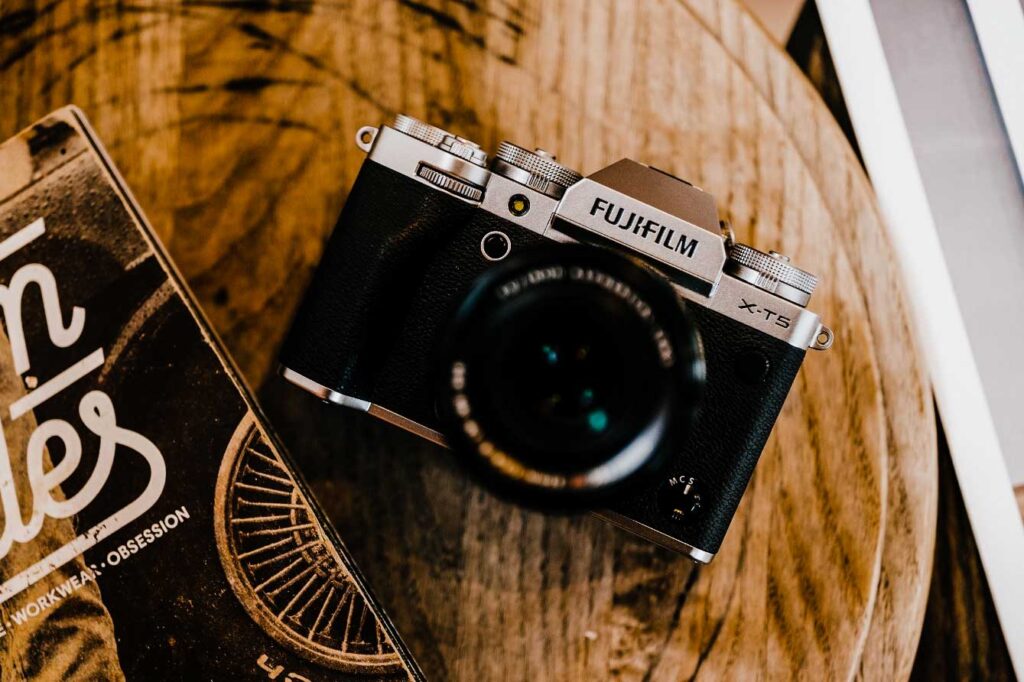 Since it's a flagship model, you get all the features of a solidly built camera for professional photographers. You get a large beautiful electronic viewfinder and weather sealing, for example.
Unlike the X-T30 and X-E4 above, you also get a dedicated ISO dial that is a joy to use.
Being the latest and greatest, the XT5 also features the improved autofocus system on the larger and more expensive Fujifilm X-H2, which itself shares a lot of features with the stacked sensor X-H2s, which is Fujifim's sports flagship.
It also shares the latest 40 megapixel APS-C sensor first seen on the X-H2. This is a great choice if you plan on cropping your images quite a bit or if you plan on printing large images.
Another advantage which doesn't get talked about enough are the new batteries. You get significantly better battery life on the X-T5 compared to the Fujifilm X-T3 and other older models.
On the X-T5, it's rated for over 700 shots on a full charge. In real world use, that means you'll likely get over a thousand on a full charge. That's pretty good for mirrorless cameras, which aren't always known for astounding battery life.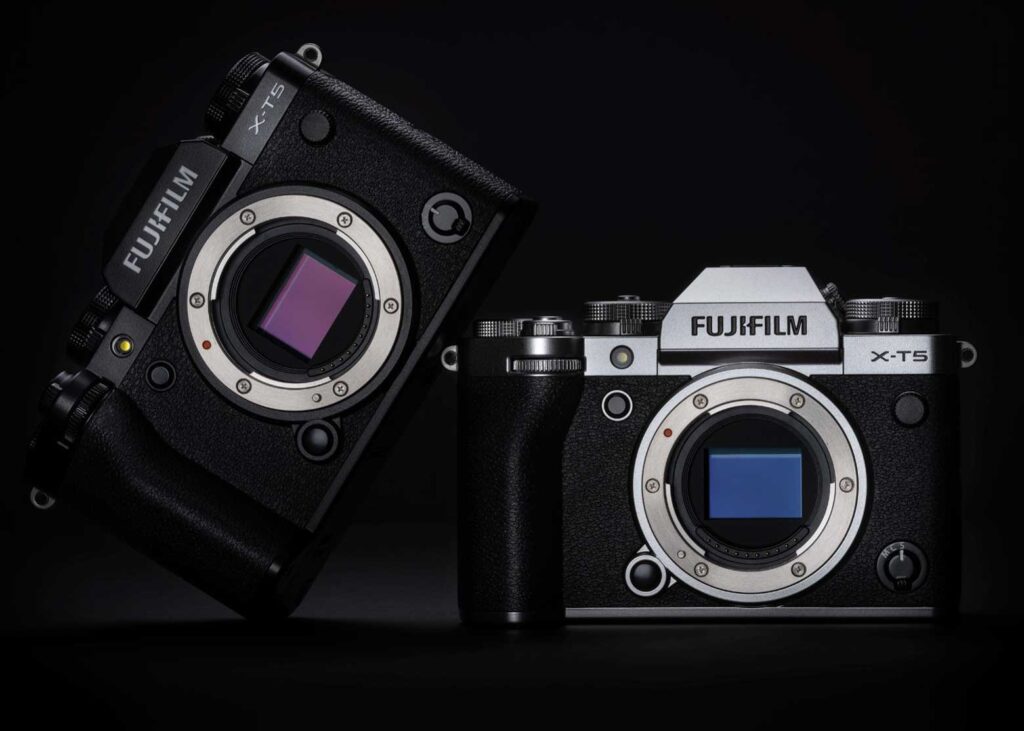 Fujifilm X-Pro3
The Fujifilm X-Pro3 is the most expensive camera on here, but it's also one of the most feature packed and certainly the most unique. It has a 26 megapixel sensor and all the standard bells and whistles you expect from a Fujifilm camera, including film simulations.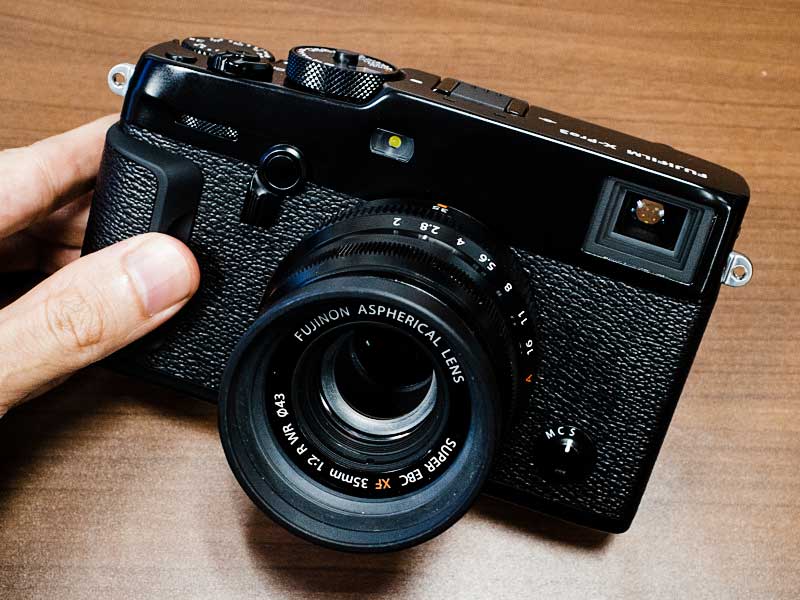 But it's claim to fame is its unique hybrid viewfinder that lets you switch between electronic and optical viewfinders and its hidden LCD on the back.
To date, the Fujifilm X-Pro series (and the Fujifilm X100 series) are the only cameras in the world equipped with this unique hybrid viewfinder. And let me tell you, it is an absolute joy to use.
Here's what it looks like when you look through the viewfinder: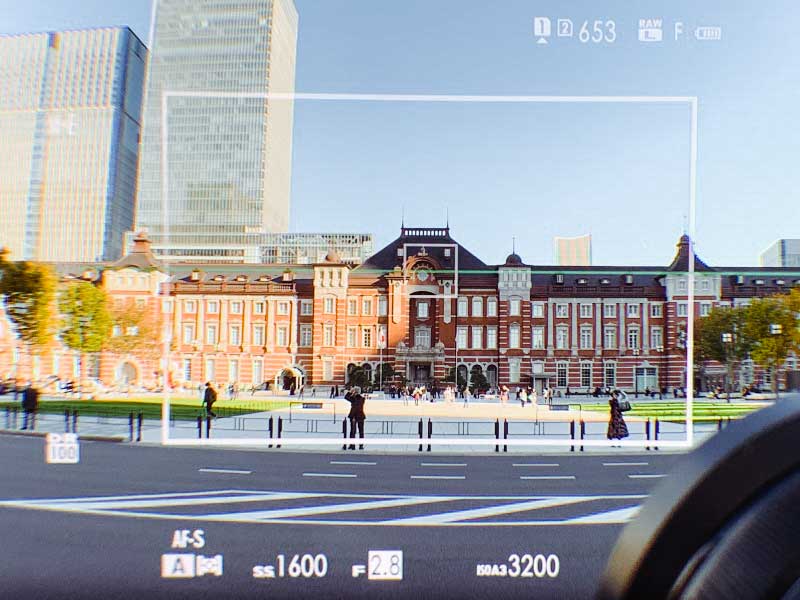 As you can see, in this view of the always photogenic Tokyo Station, it's a view of the real world, with electronic overlays. Not like the tiny TV you normally see. On the bottom right, you can see part of your lens.
This has its advantages and disadvantages of course. You won't always see the exact frame, because you're not looking through the lens. And it's not meant to be used with large lenses or longer focal lengths. But, if you are yearning for a "similar" view to that of a rangefinder, this is the closest thing you can get outside of a real rangefinder camera.
Below, you can see the available framelines for the X-Pro3 finder: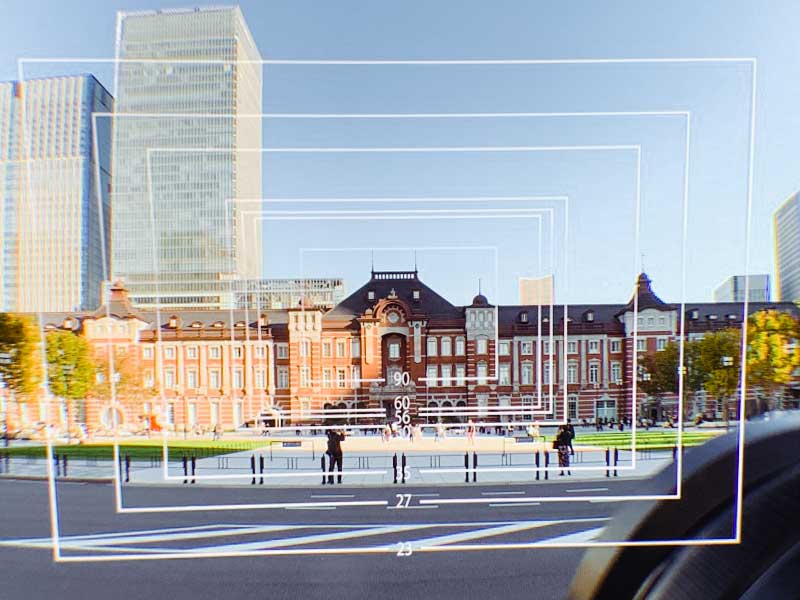 The focal length labels refer to the actual lenses for APS-C. Fujifilm X-mount lenses use a 1.5x crop factor, so a 23mm lens is about a 35mm lens, and so on.
The X-Pro3 is a beautiful camera. But it's not for everyone.
One feature unique to the X-Pro3 is that it doesn't have a traditional LCD screen design like most digital cameras do these days. Instead, you get a hidden LCD on the back.
By default, all you see is a small "sub-monitor" on the back of the camera. It shows you the film simulation you're currently using, and your ISO and white balance settings. It's no different from tearing off the film box top and sliding it into the back of your film camera.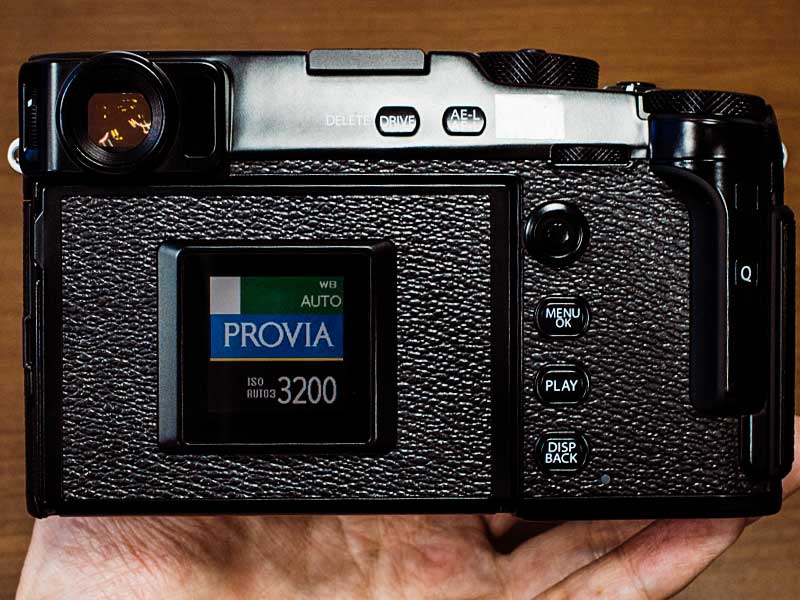 But, this also means that if you wanted to use the touch screen LCD, you have to pull it out and away from the body. This is fantastic for waist level shooting, but not great if you are used to composing off the LCD like most cameras.
Fujifilm says this is to keep the photographic process simple, to keep you from "chimping" – that is, to keep you from reviewing your image immediately after you take it. In many ways, that helps emulate film photography where you can't review your image immediately.
But, on the flip side, an LCD is one of the biggest viewfinders for a camera. It's not completely gone on the X-Pro3, it just requires an extra step to get to.
But I think that for some people, this design with a hidden LCD screen will be a big plus. It really changes the experience and gives you a more 'analog' shooting experience.
But unlike a Leica M10-D which completely removes the LCD screen – Fujifilm still wisely gives you one here. It may sound like a gimmick, but for better or worse, it does change the shooting experience quite a bit. If you're one of those who find that a large, bright LCD gets in the way of capturing images, it's well worth trying this one out.
Fujifilm X100V
The Fuji X100V is the latest model in the Fujifilm X100 series and it builds upon the success of its predecessors.
The original Fuji X100 released in 2010 was the camera that put Fujifilm's digital cameras on the map and almost single-handedly "saved" their digital camera line.
At that time, retro cameras simply weren't a thing. Everyone was trying to one up each other with the latest features and unique designs. The original X100's retro look was an instant hit.
The X100V is probably more popularly known as a great street photography camera, but it is also an amazing everyday camera.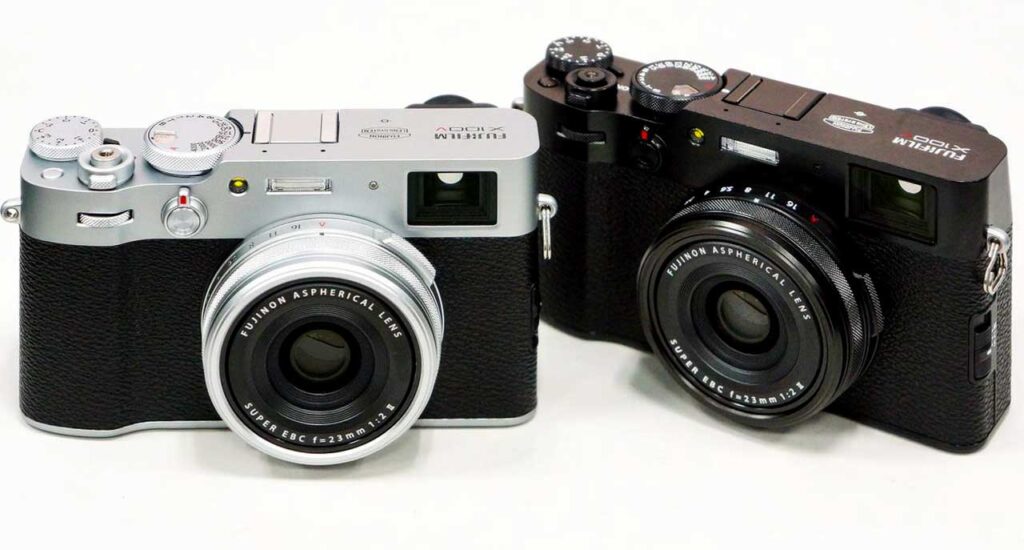 It's small, lightweight and has a beautiful retro design. It features a 24 megapixel sensor and, similar to the X-Pro3 above, it has a unique hybrid viewfinder that lets you switch between electronic and optical viewfinders.
It is also the first X100 camera to feature weather sealing.
The Fuji X100V is the only camera on this list that features a fixed lens. That means you can't use different lenses on it. It comes with a 23mm f/2 lens (equivalent to a 35mm lens in full frame camera terms).
You can purchase 2 attachments for it: The WCL-X100 that gives you a 28mm-equivalent and the TCL-X100 that gives you a 50mm-equivalent field of view.
You can also choose to use the Fuji WCL-X70 wide angle attachment – this was designed for the Fujifilm X70 compact camera, to bring it's 28mm field of view to a 21mm field of view. By attaching this to the X100, you get about a 26mm-equivalent field of view.
That's it. If you wanted a telephoto or an ultra-wide look, you'd need to use a different camera.
Some will view that as a constraint – no zoom lenses!? But, not having access to a wide selection of lenses is also a great feature. Especially for your wallet – you won't be tempted to buy more lenses. And, it will allow you to focus on making the most of the field of view available to you.
The original X100 was one of the earliest cameras to embrace the retro design trend. But while the design is universally loved, the original X100 was a love-it-or-hate-it camera, with many photographers criticizing its slow performance. But, today, the X100 series has come a long way. The X100V is fast and full featured, with astounding image quality. It remains one of the most stylish and unique digital cameras in the market right now.

Above, you can see the X100V on the left, with the X-Pro3 in the middle, and the Fuji X-T3 (similar in size to the X-T5) on the right. As you can see, the X100V is considerably smaller compared to already small-ish cameras.
In this top-down view, you can see the X100V next to the X-Pro3 and the X-T5 fitted with the Fujifilm 23mm f/2 prime lens. This lens is similar to the 23mm f/2 built-in lens on the X100V and is one of the smallest in the Fujifilm lens line-up. (RELATED: Complete list of Fujifilm prime lenses)
But, as you can see, the X100V has a distinct size advantage.

The X100 series a popular choice for serious photographers and not-so-serious photographers, thanks to its beautiful design and powerful features. So popular in fact, that the X100V is constantly sold out, and occasionally sells for more money on the resale market. If you find one at a good price, grab it immediately.
Nikon Zfc
Nikon were one of the first to the retro style cameras game with the Nikon Df in 2013. But, the Df wasn't a runaway success.
The Df was a stylish camera, beloved by many many photographers, but it's price at that time was considered a major hindrance.
The Nikon zfc is a camera that came out of nowhere. While Nikon has, to date, built out it's full frame Z-mount line-up, it's line-up for its crop sensor APS-C line-up (known as DX lenses) is quite a bit more limited.
Where the Df was limited by its DSLR design, the new Nikon zfc is a mirrorless design, for use with Nikon's new Z-mount. (Although old F-mount lenses can still be used via an adapter).
The most obvious advantage of the mirrorless design is an extremely small and compact camera. Here, you can see the Nikon zfc next to the Nikon FE film camera, first released in 1978: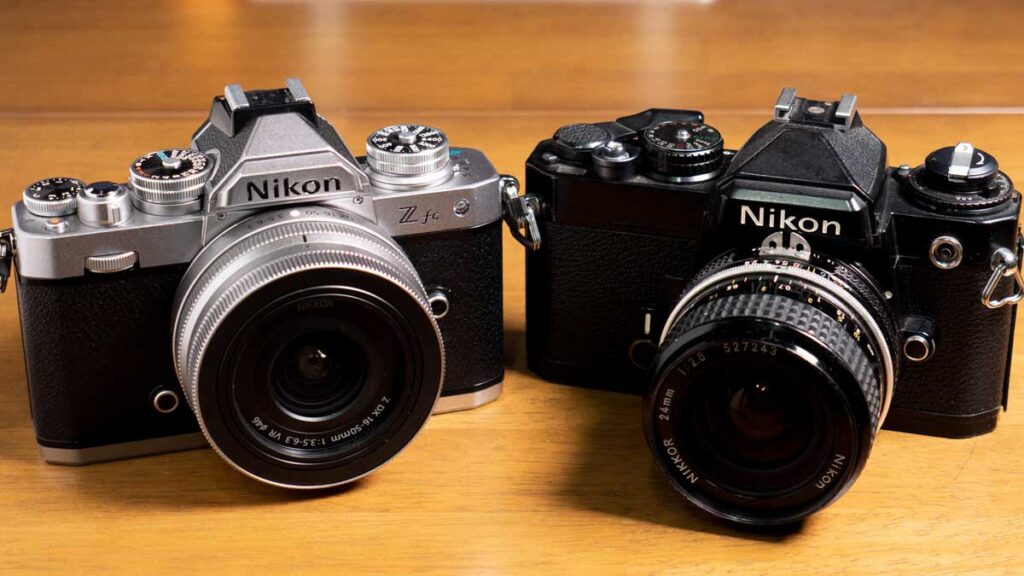 Even with a more limited mirrorless lens line-up, that doesn't necessarily mean that you won't find what you need. While Nikon's prime lens line-up for APS-C is limited (they have none at the time of writing), they do have a very good line-up of entry level DX zoom lenses.
For prime lenses, they do have the excellent and ultra compact 28mm f/2.8 and Nikkor 40mm f/2 prime lenses, which are full frame (FX) lenses, but are light and compact. The former is actually available as a "kit lens" with the Nikon zfc. Nikon's full frame and APS-C mirrorless cameras use a single mount (the Z-mount) so you can use lenses across cameras.
Here, you can see the Zfc next the beloved Nikon FM2 film SLR, first released in 1982 and in production for almost 2 decades. The Zfc is fitted with the Nikon 28mm f/2 full frame lens, but as you can see, it is a compact lens that pairs well with the Zfc. With the 1.5x crop factor, the 28mm gives you a ~42mm equivalent field of view on the Zfc.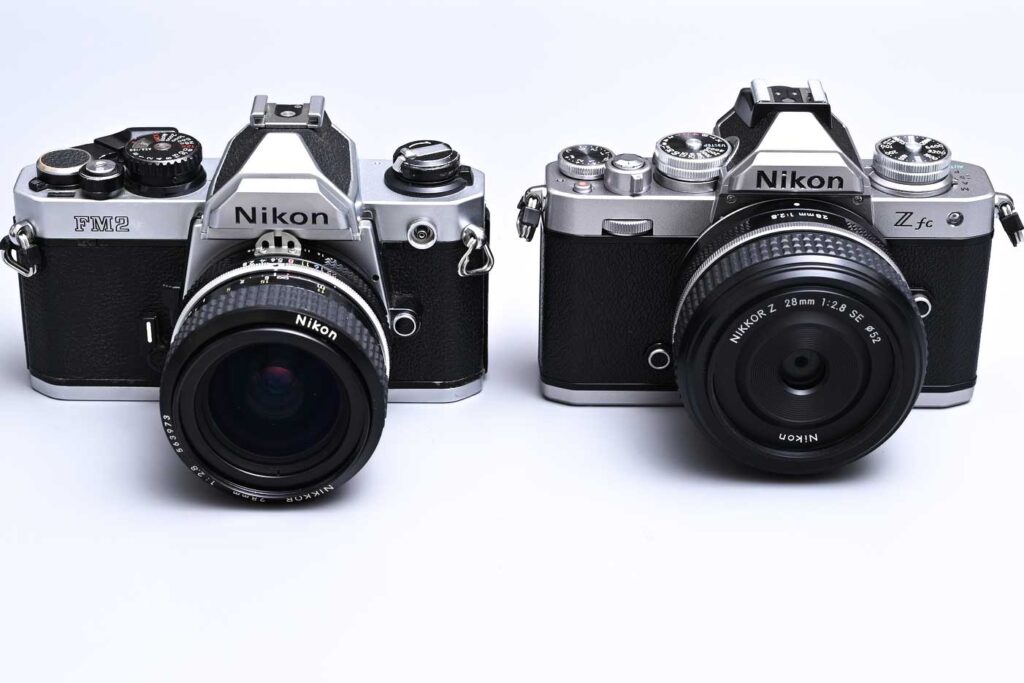 But, if you wanted a 24mm-equivalent or 35-mm equivalent DX prime lens, for example, you won't find one at this time. The Fuji X-mount and Olympus micro four thirds line-up are simply more extensive than Nikon's offering at this time.
But, if you don't need that many lenses, the Nikon zfc is one of the best value retro cameras out right now and its retro looks are only part of the appeal to many photographers. It's small and lightweight, making it easy to carry around with you and you've got the usual Nikon color palette that many photographers love.