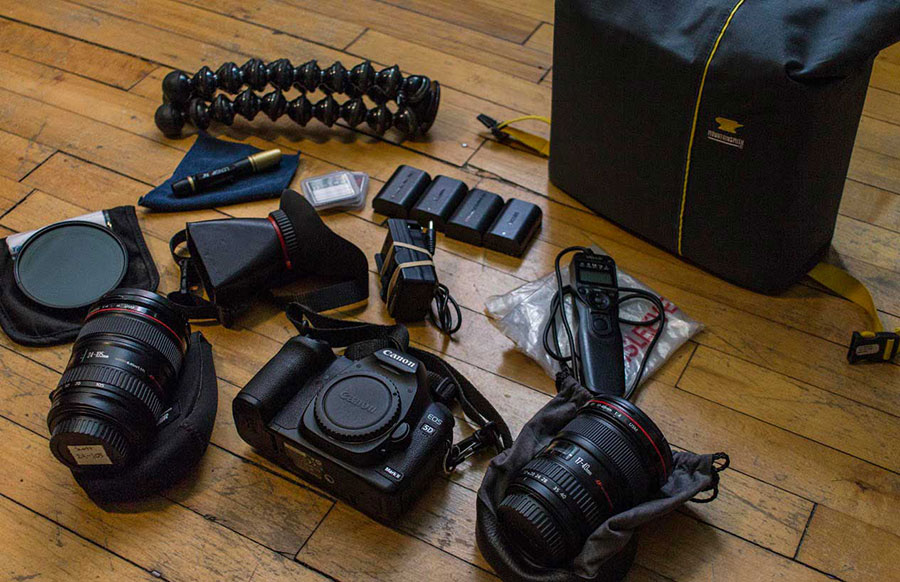 If you're anything like me, you probably own more than one camera bag. For the simple reason that there just isn't a perfect camera bag.
The problem with most camera bags is that they are basically over-engineered, heavily padded boxes with straps attached. They're designed to haul a lot of photo gear, maybe a laptop, or a bottle of water if you're lucky. But they're not optimized to carry other things, such as work or school related things or other daily carry (EDC).
The primary goal of most photo packs is to carry as much camera gear as possible, regardless of comfort or lumbar support. And if you choose not to fill them up with photo gear, not only will you be carrying a lot of unnecessary weight, the extra padding also takes up space that you could otherwise use for other stuff!
Now, you could learn the hard way like I did – by just buying lots of camera bags until you end up with an entire closet full of them. Then you will finally come to the realization that in most instances the best camera bag is actually not a traditional camera bag.
Properly designed regular backpacks, messenger bags, hiking bags or shoulder bags are far more comfortable, typically have more features, weigh significantly less and also cost way less (!) than your typical over-engineered camera backpack. Even more expensive regular backpacks are overall a better value than your typical overly padded camera bag.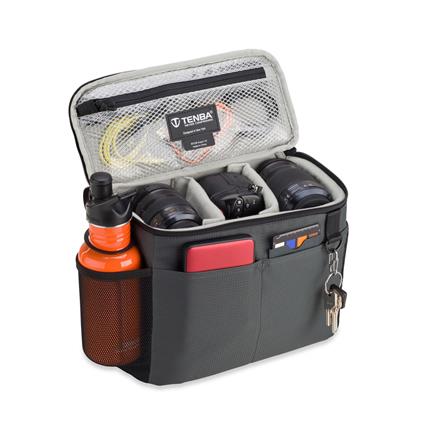 If you want to carry other stuff aside from your photo gear, instead of searching high and low for that perfect camera bag, the solution is to buy padded camera inserts and place these inside regular back packs, messenger bags, shoulder bags or tote bags!
Not only does this give you significantly more options (in terms of looks, price, features) you also have the huge benefit of carrying around something that does NOT look like you're carrying expensive gear! You can even turn your old school bag or an ultralight hiking backpack into a camera bag.
One other usually overlooked advantage is that you usually end up with a lighter bag too. This is especially important in some places in Asia or Australia where some of the smaller airlines strictly limit hand luggage to 7kg, so every bit counts!
The best camera inserts to turn any bag into a camera bag:
Available in a variety of sizes, the Tenba BYOB range is a great bag organizer. You get two external front pockets, stretchy mesh pockets on each side and an internal zippered pouch on the inside flap of the top cover that's good for batteries, memory cards, maybe even some cash. There's a back pocket that you can also use to tuck in the top cover for those times when you want the insert to remain open at the top. There is even a d-ring for your keys.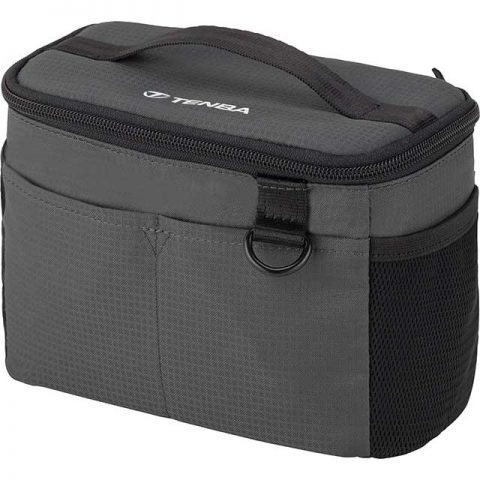 There is a useful top handle for easily transferring between bags, and it's also got two tabs to attach your own shoulder strap if you want to use it as a stand-alone bag. If you use something like a Peak Design Slide camera strap, you could even attach anchors to these tabs and use your camera strap as a bag strap! We do it all the time! It won't beat a proper shoulder bag, but it's a great option if you want to bring only the essentials. (Say you're on vacation and don't feel like bringing your entire backpack to dinner, then you can just grab the insert and use it as a small bag)
Best of all, Tenba makes these in various sizes to accommodate different sized kits:
BYOB 13: 13 inches x 9 inches x 5 inches
BYOB 10: 10 inches x 7.5 inches x 4 inches
BYOB 9: 8.5 inches x 6 inches x 3.5 inches
BYOB 7: 7 inches x 5 inches x 3 inches
These are measurements of the INSIDE of each BYOB insert, add about 0.5" in each direction to get the exterior measurement.
The Tenba BYOB 10 is one of my most used inserts. It's large enough to carry one body, with up to 4 small lenses. And it's not too big that it fits a variety of bags.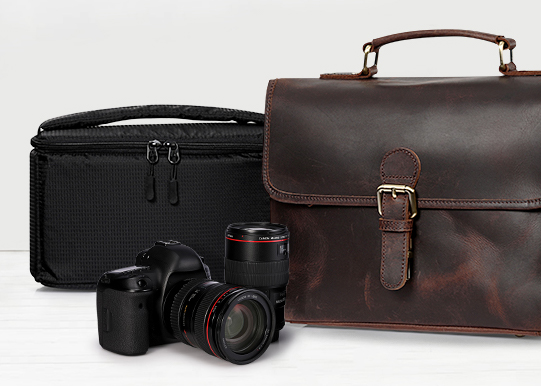 Exterior dimensions: 10.2 inches long x 6 inches high x 4.7 inches deep
This is an ultralight insert, with a nice large handle for easily grabbing the insert out of your bag, when needed.
Made of water resistant nylon, this is great for that extra piece of mind if your main bag is not water resistant.
The insert also features dual zippers, for faster access. Although it is important to note that the zippers are NOT water resistant zips.
There are two long zipper pulls, with plastic ends. Some like this because it makes the zips easier to grab, but some hate them because they could get caught with the insides of your bag. But, you can always cut them off if you don't like them.
The inside features a mesh pocket on the top cover, large enough to fit an extra battery, a lens cloth or lens pen and your lens caps.
Check the current price of the S-Zone water resistant insert on Amazon.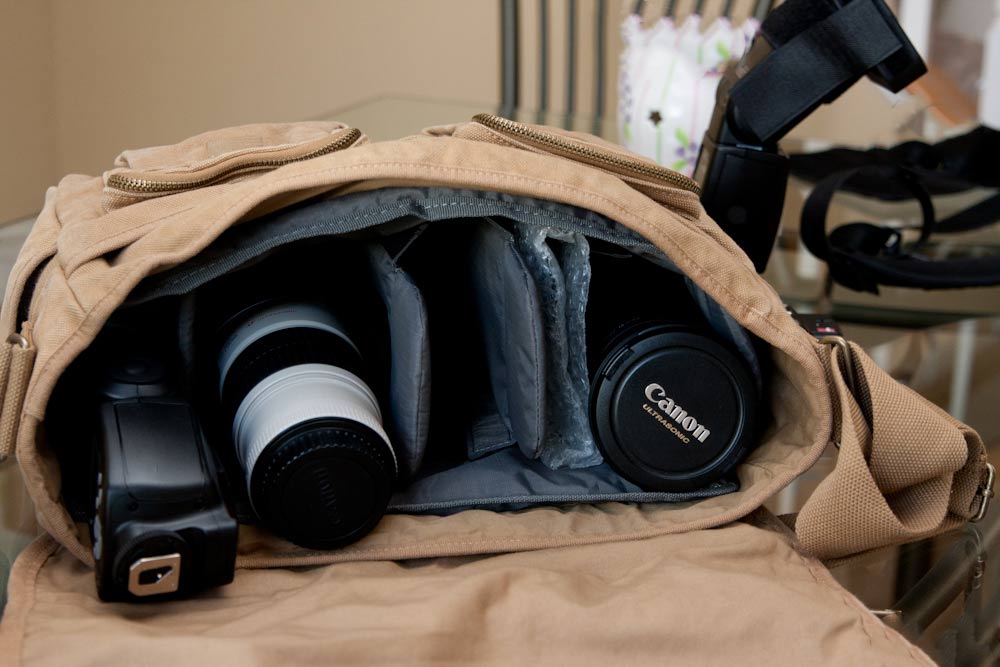 Interior Dimensions: 13 inches long x 8 inches high x 5.8 inches deep
Originally designed for their own messenger bags, this is a simple padded camera insert with adjustable dividers.
This insert can be used to turn any non-camera messeger bags, laptop backpacks or tote bags into protective camera bags.
It can fit a mirrorless or DSLR camera with 3-4 lenses. It's tall enough that you could actually fit a DSLR with a 24-70mm f/2.8 pro zoom on it, face down.
Why not just get a dedicated camera messenger bag? Well, I know a lot of people who just don't like carrying known camera bag brands. A lot of people also prefer using non-camera messenger bags, such as those from Timbuk2, Chrome, Mission Workshop, LL Bean, Filson etc..
Check the current price of the Tenba Messenger Insert on Amazon.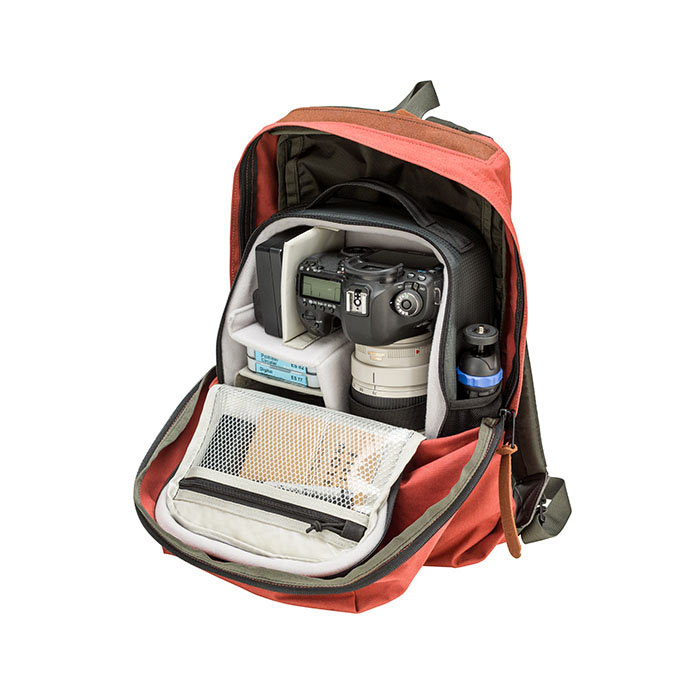 Exterior Dimensions: 9 inches wide x 12 inches high x 5 inches deep
NOTE: Don't confuse the BYOB 10 Backpack insert with the "regular" BYOB 10 insert, discussed above. That one measures 10 inches x 7.5 inches x 4 inches. This backpack insert is taller, an inch slimmer and an inch deeper – perfect for backpacks.
Tenba's BYOB backpack models have a vertical orientation and wide top-access opening that makes theme easy to use in backpacks.
This is a full featured insert, with thick padding, but pliable enough to mold itself to the shape of your bag.
The interior is lined with a material called 'tricot' which is great for keeping your gear scratch free, without being a dirt magnet.
If you shoot on-location, you can also pull the insert out completely, and have easy access to your gear via because you open the zips and lay it fully flat.
There is a see-through interior pocket, great for batteries or cables. And the outside also features a mesh pocket, great for additional gear, or even a water bottle.
Check the current price of the Tenba BYOB 10 Backpack Insert on Amazon.
Note: There is also a smaller, slimmer version of this insert: The Tenba BYOB 9 Slim Backpack Insert – 9 inches wide x 9 inches high x 4 inches deep (exterior dimensions) – so this one is shorter, and an inch slimmer in depth. Perfect for smaller backpacks or daypacks. The BYOB 9 Slim can fit a mirrorless camera like the Sony A7III and about 3 small prime lenses.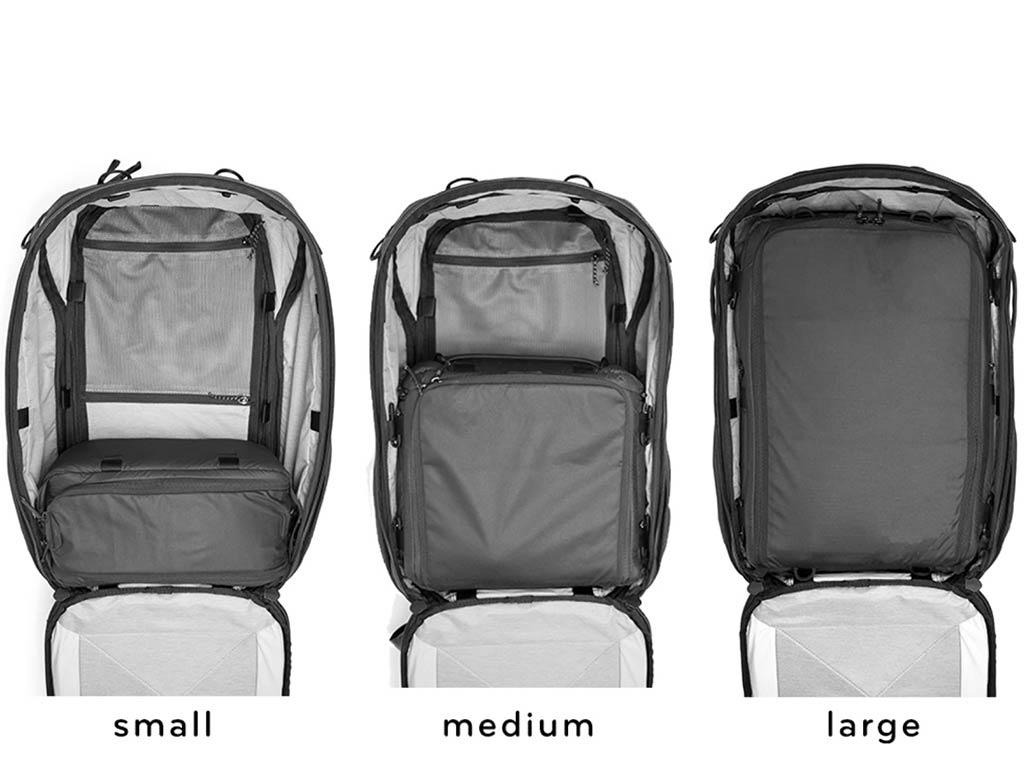 Exterior Dimensions: 12.6 x 12.6 x 6.7 inches
This is a new favorite, and one I see myself using a lot. The best thing about this insert is that it has a side opening, which is extremely useful for backpack carry.
Carrying camera gear in backpacks get a bad rep. because they're hard to get to, usually requiring you to take your backpack off.
What's the fastest way to get into a backpack when wearing it? You do the one shoulder swing, and bring the bottom up to the front of your body and open the bag from the side facing up.
This is where this Peak Design insert cube really shines. Because it's got a side zip, I can position it inside a backpack in such a way that I can still access my camera regardless of whether I open my bag from the top or by doing the one shoulder swing.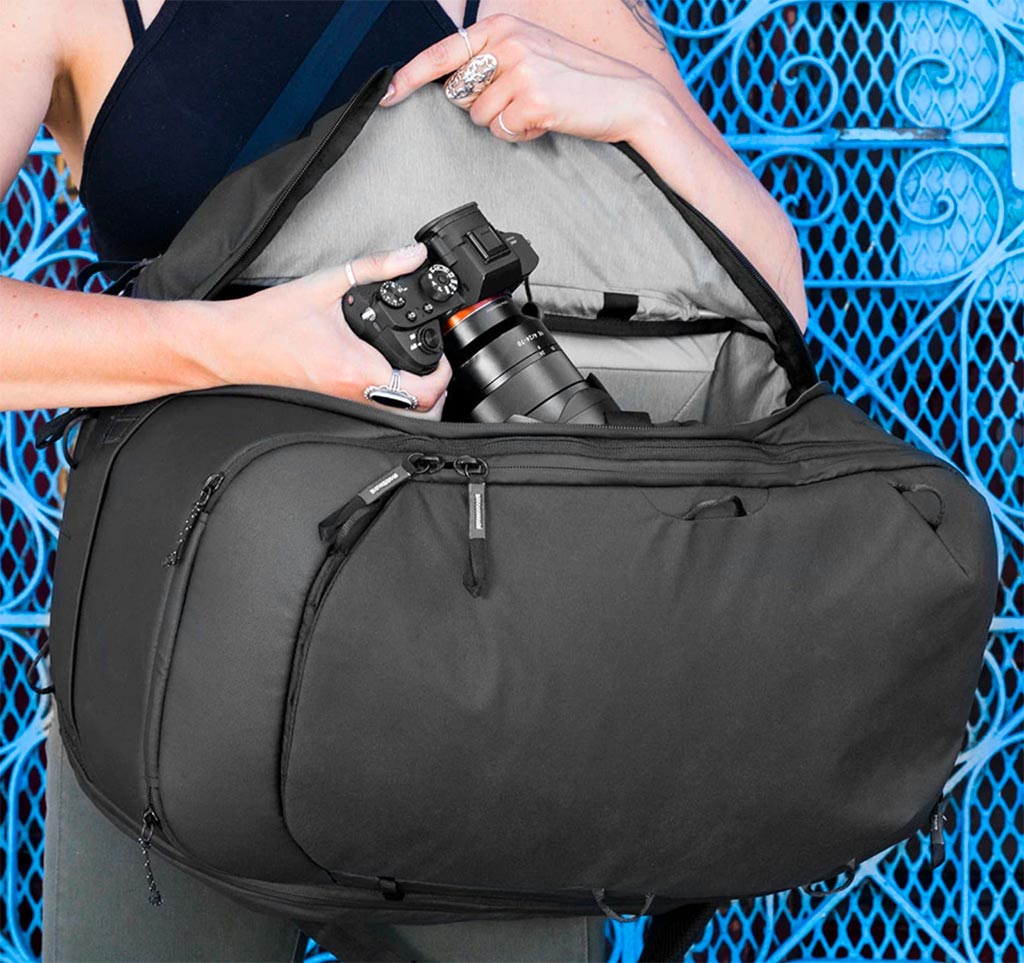 Although these camera cubes were originally designed to be used inside the Peak Design Travel Backpack – they have clip loops that allow you to secure the cube inside their own bags, for example – there is no reason why they can't be used with your own backpacks or hiking packs, as long as it fits inside.
In typical Peak Design fashion, these are a bit over-engineered with generous padding. I don't mind this, since I don't really baby my packs. I like having the extra protection.
But, if you dislike the bulk, and take extra care to not throw your bags around, you're probably better off getting either the Tenba BYOB 10 Backpack Insert or the Tenba BYOB 9 Slim, discussed above.
The Medium Cube features a nice, large, and soft top grab handle made of hypalon, allowing you to easily yank it out of your bag.
The outside is made of high quality weather resistant 200D nylon. The inside features their patented flexi-fold dividers.
The insert also features a lay flat opening, great for on-location shooting or when packing, because it allows you to easily see all the contents of your insert. This way, you can maximize packing space.
If you use Peak Design camera straps, such as the Slide or Slide Lite, there are also loops on the outside of the insert where you can attach these straps so you can carry it like a shoulder bag.
It's not as good as a dedicated shoulder camera bag or messenger bag, but it can work in a pinch.
Note: Peak Design also makes a smaller camera cube, but unfortunately it loses the side access, so make sure you get the medium one if you want the dual access.
There is also a Large Camera Cube, with similar features as the Medium one – including the side access. But this one is huge – 18.1 inches tall, 12.6 inches wide and x 6.7 inches deep. It's designed to completely fill their 45 Liter travel backpack. Unless you've got a really large hiking backpack or duffel bag, this is likely way too big for you.
Other inserts we use to protect our photo gear:
These come in a variety of sizes, but take note that they are fairly flat.  These are perfect for very compact set-ups or other miscellaneous gear such as audio recorders, hard drives and flash triggers or maybe a bunch of action cameras like GoPro's and various GoPro mounts.
They won't fit most DSLR bodies, and most medium-sized lenses will need to lie on their side. These come with a clear (see-thru) plastic top that's great for visibility, but obviously this won't offer much protection on the top side.
All the other sides are hard-sided though, but if you're looking for 360 degree padding, don't get these.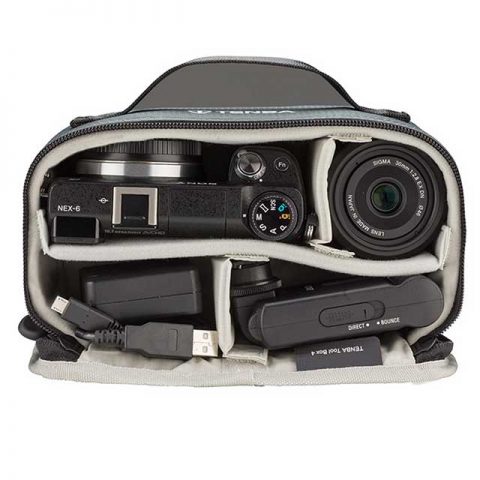 Lens Wraps:
If space is at a premium, or if you don't want the bulk of an insert or a pouch, one great way to protect your gear inside non-camera bags is the use of gear wraps. There are multi-purpose, padded "blankets" for your gear. We recommend the Tenba Portable Protective Wraps which have Velcro tabs on each corner to help with wrapping. Domke also make a very similar protective wrap in a variety of sizes.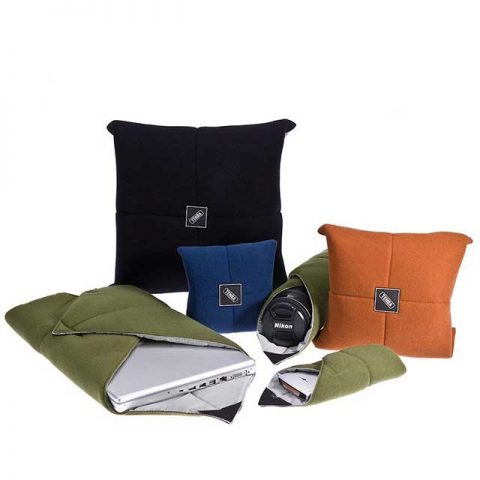 This is a great neoprene pouch, great for a rangefinder style camera, or a small mirrorless body with a small prime lens.
Similar to the lens wraps above, this is designed to cover your camera, while in transport inside another bag. Although the great thing about this pouch is that it can also be used while you have your camera slung over your shoulder.
These are made in the USA of high quality stretchable neoprene.
Lens Pouches:
Another we use occasionally are various pouches such as these excellent 4-pack of Altura Photo Thick Neoprene pouches. They're designed for lenses, but we use them for various other things like gimbals, microphones and even compact cameras and camcorders.
—–
Note: CompactShooter.com is a participant in the Amazon Services LLC Associates Program, an affiliate advertising program designed to provide a means for sites to earn advertising fees by advertising and linking to Amazon.com. This means that we get a small commission on products sold through affiliate links at no extra cost to you.