I've never been a fan of most camera straps. They are typically ugly, with big bright colors and big letters advertising your camera brand. Most are also unwieldy, with way too much padding making them not easily packable and not easily removed from the camera when I want to go strapless.
Since I mostly shoot small cameras, I find myself skipping most camera straps since they're really not designed for small cameras. There are times I'd use a wrist strap, if a camera were particularly slippery, but I still missed having a real full size strap to give me the option to have both my hands free. I'd tried dozens of camera straps, but didn't really find one suitable for tiny cameras that was a significant upgrade from the ugly manufacturer-provided straps.
The best strap for your little and not-so-little cameras:
But that was until I came across the Peak Design Leash Ultralight Camera Strap. It's the only strap I'd used on my Sony RX1 for the past year, and I think it's the almost perfect strap for most small and compact cameras. It's light weight, easily packable (easily crumpled into a ball), easily adjustable in length, and can also be easily disconnected from the camera when needed.
Now, Peak Design makes a few other straps, their most popular being the Slide strap, which is a bigger and bulkier strap with some padding designed to carry heavier cameras. I also own this strap, but I actually use it as a bag strap and rarely use it for cameras. It's fine for large cameras and heavy set-ups, but for anything other than that, I find it too bulky and unwieldy. It's a pretty good bag strap though.
The Peak Design leash strap on the other hand is a much simpler strap with zero padding and minimal hardware, and that is what makes this the perfect camera strap for compact cameras.
It has a width of just 0.75 inches, and is approximately 56 inches long. Most people are not going to have any problems making this work as a sling strap, as a shoulder strap, or as a regular neck strap.
No large buckle – no danger of scratching your gear:
It has minimal hardware, it doesn't have the large buckles (this is a good thing!) of its siblings – the larger Peak Design Slide and Slide Lite – but it does have a little plastic buckle that allows you to easily adjust the length of the strap without taking it off (Peak Design says this buckle is glass enforced. Not sure what that means, I'm just assuming it's a good thing.)
The good thing about the small buckle on the Leash is that it allows you to fold, squeeze or crumple this strap into tiny camera bags or camera cases where the other straps can't even fit in. And you don't actually lose any functionality vs the Slide because the buckle on the Leash still allows you to quickly adjust the length of the strap on the fly without having to take it off! You can adjust it from about 33 inches to 56 inches long.
One huge advantage of all straps from Peak Design is that they can all connect to your camera (or your bag, binoculars, lens pouch etc..) via these little anchor links that you attach to your camera.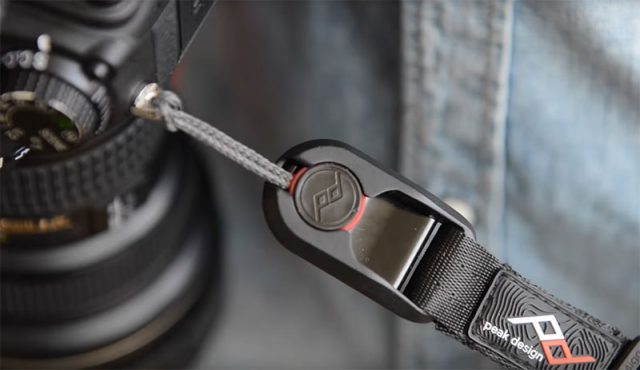 These anchors are what make this strap extremely versatile. Basically, you thread these anchors into your camera, then you push the discs into a spring on the strap. It's that simple. If you want to go strapless, you just push on the discs again, slide the opposite direction and they pop right off. Easy!
Each anchor is rated to up to 100lbs, so you'll have no problems carrying heavy cameras or long lenses. The Leash comes with four anchor links, and you can easily purchase additional anchors for use in different cameras, or even bags.
Peak Design Strap Issue and Anchor Failures:
Note: There were a couple of well publicized incidents of Peak Design straps and anchors failing when the straps first came out. There were initial problems with the anchors and straps that were first manufactured and unfortunately they resulted in some major accidents like cameras dropping to the ground due to the anchor and connection points failing. The early failures were due to a defect in the way the clips were built, and and these have since been addressed by Peak Design. I haven't heard of any reported problems since they were fixed. The anchors themselves have a fairly high failure strength and longevity.
With that said, the biggest thing to watch out for is fraying – there have also been instances where some of the first users of Peak straps reported having their cameras and lenses fall to the ground because of complete fraying of the anchor cords. What Peak Design have done is redesigned the anchor links to have 3 layers of material with different colors so you know when it's time to replace your anchors.
In my experience I've found these anchors to be well designed and to work very well. I've had my Leash and Slide for over a year now, and have never had problems with mine, and have always found them to be very secure. My anchors are the same ones that came with the strap, so they are just over a year old and the anchors still look pretty good. I haven't heard of any recent major failures when checking forums or blog news sites. As long as you watch out for fraying, and replace your anchors when needed, it's unlikely you'll experience any problems.
No Padding? That's a good thing!
One other thing to note about the leash is that its got zero padding. It's basically a softer seatbelt strap, which means it can easily slide over clothing. Personally, I love this since it means I can easily slide it up like a sling strap. If you want a strap that stays in place on your shoulder, this strap is not for you. If you want a strap that can easily glide over clothing and still have the option of a grippy strap, I'd recommend either the larger Slide strap or the slightly smaller Slide-LITE strap, since these straps have one side which has some silicone material that helps with grip (just take note that the Slide is also padded, which means it's got more bulk than the Leash or the Slide LITE which are NOT padded, and both versions of the Slide strap have larger hardware, which means they aren't as packable, or pocketable, as the Leash).
Need extra rings to fit ultra-compact cameras:
One important note for extremely compact cameras like the Sony RX100, Ricoh GR or even larger cameras with similar strap lugs like the Leica Q: the Peak anchors will NOT fit into the tiny strap lugs built into these cameras. In order to use these straps, you have to purchase some split rings like these O-rings or these triangle rings where you can then attach the anchor points. A minor annoyance, not a biggie in my opinion, since the advantages the strap brings are well worth the extra hassle and cost of getting these split rings.
If you're looking for a versatile, easy to use camera strap (for compacts, bridge cameras and mirrorless set-ups) that won't get in your way and doesn't take up too much room in the bag, the Peak Design Leash is the best option. It's the best ultra lightweight strap for little cameras.
It's perfect for little cameras like the Ricoh GR, Sony RX1R, Fuji X100T, Leica Q and mirrorless set-ups like the Sony a6300 and a6500, Fujifilm X-T2 and Fuji X-Pro2, Olympus O-MD E-M1 II, and even the diminutive but relatively heavy Panasonic GX85 and even the larger Panasonic G80 as long as they're not paired with extremely large lenses. I haven't found a better strap for small cameras just yet.
You can check out the Leash as well as other Peak Design straps not shown in this article, such as the Peak Design Cuff and Clutch here.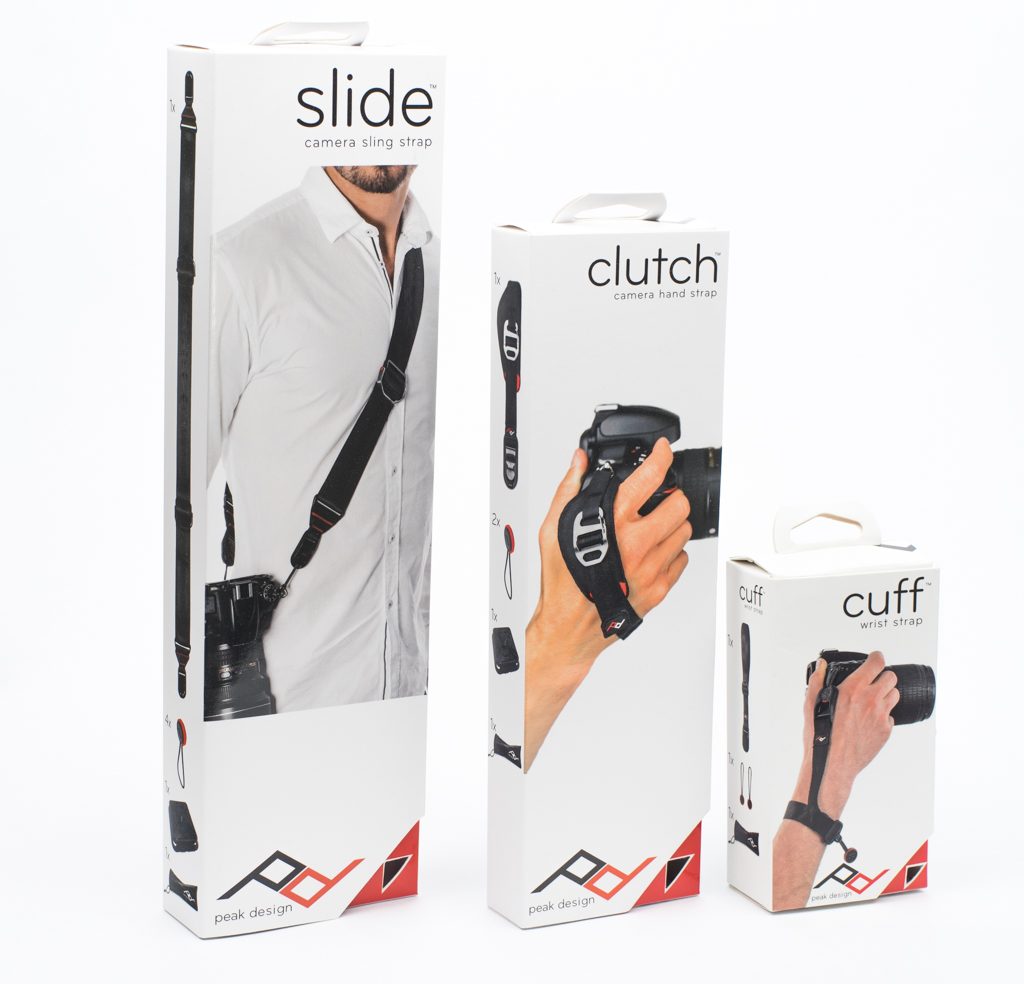 —-
CompactShooter.com is a participant in the Amazon Services LLC Associates Program, an affiliate advertising program designed to provide a means for sites to earn advertising fees by advertising and linking to Amazon.com. This means that we get a small commission on products sold through affiliate links at no extra cost to you.