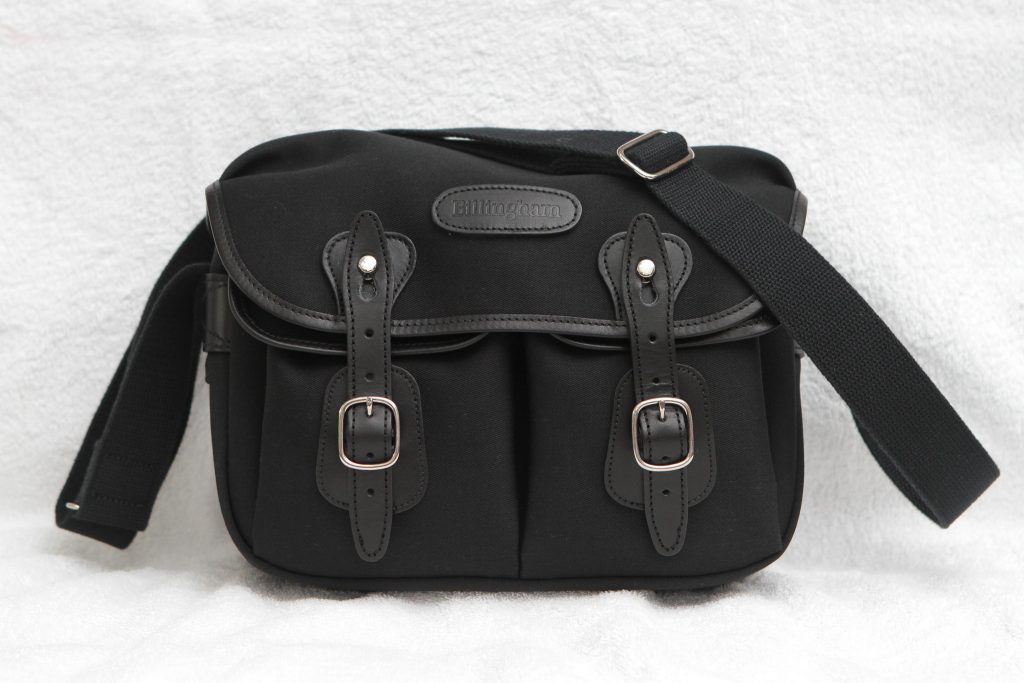 The Billingham Hadley Small is a stunning bag. It's the smallest in the Hadley line of bags, but it is in fact the perfect size for an everyday-carry (EDC) camera bag. It is an absolutely brilliant bag for walking around, for street photography or for travel. If you have a small camera, or a compact system, I believe it is the best small camera shoulder bag available right now.
First things first, this is an expensive bag. If you think it's ridiculous to spend hundreds of dollars on a bag when you can get a Lowepro bag or perhaps a Think Tank camera bag for less, then you can stop reading right now and hit the back button on your browser.
I've tried a lot of bags over the years, both photography specific bags and non-photography bags with inserts, and this is one of the best camera bags I've ever used.
Before I purchased this bag 4 years ago, I remember agonizing over two things – the cost, and whether I should get the Hadley Small or step up to the larger Hadley Pro version, and if I knew then what I know now, I could have saved myself a lot of indecision and dozens of wasted hours reading forums and reviews and just go ahead and purchase the Hadley Small.
One of the most versatile small camera bags
Versatility. This is where the Billingham Hadley Small consistently and handily beats every other small camera bag I've ever used.
From beach to urban, this bag is never out of place. From the side streets of Shinjuku, Japan to the limestone cliffs of Palawan, Philippines this bag will protect your gear and won't look out of place doing it. You won't be embarassed to take this to the office; or to a nice restaurant in Manhattan or London; and it'll still fit right in when you hit a beach in Thailand or a temple in Cambodia. You can't say that for a lot of photo gear.
I've spent a lot of money (way too much) on dozens and dozens of camera bags to know that versatility is an insanely important factor in a bag that you plan on using a lot. And when you pay this much for a bag, you know you're going to want to use it a lot.
The Hadley Small is a simple bag, and that's where most other bags fall short. There are no hidden pockets here, no noisy velcro, no fancy cobra buckles, no magnetic flaps. Just the essentials, and nothing that you don't need.
It has one main compartment and two large cargo pockets of similar size on the front. It opens via a well designed flap that closes with fantastic quick release, ultra-silent leather straps. The main compartment houses a padded insert, while the two dump pockets are unpadded.
The insert is very nice with padding on all sides, even the top. The insert is completely removable, if you need more space and don't need the padding you can take it out and use the bag like a regular messenger or shoulder bag although it is going to be really floppy unless it's at least 80% full. Also included are a couple of dividers for customization.
There isn't a laptop pocket. Most laptops won't fit in the bag anyway. If you need to lug around a laptop, this isn't the bag for you. If you feel the need to carry a laptop and photo gear in an EDC bag, I strongly suggest you get a backpack, and not a shoulder bag or messenger bag.
There isn't a dedicated tablet pocket either, but you can fit a 9.7″ iPad in the space between the back of the insert and the back of the bag. It's a prefect fit. A smaller ipad or a Kindle will of course fit even better.
I also use this bag as my "flight bag". It's the bag I have under the seat in front of me while my carry-on bag is in the bin above. It's small enough that it won't cut into your leg room, but it's surprisingly roomy enough to fit everything you need. I typically have my headphones, my phone, wallet, passport, a small toiletry kit for the flight (toothbrush, floss, mouthwash, wet tissue), my Sony Rx100 V compact camera, a small water bottle (12 oz Klean Kanteen), my iPad Air 2 AND my Kindle Paperwhite. The Hadley Small easily handles all these with no problems.
Great bag for street photography
One of the best features of the Hadley line, compared to other Billingham bags, is their depth. They're fairly "thin" bags, meaning, they aren't very boxy like most camera bags. They stay closer to your body which helps with weight distribution. The low profile and the nature of the materials also allows the bag to sort of mold to your body (as long as you don't have a tablet/iPad on the side closest to you) – this allows the bag to more easily move with you and not get in the way when shooting. This is fantastic when working in a crowd e.g. a festival, parade or similar event; or shooting in busy streets e.g. NYC, Hong Kong, Tokyo. I typically wear the bag cross body, like a sling bag. This way, it sits on the small of my back and won't get in the way when shooting, and I can easily swing it to my side if I need to access the bag.
The bag opens and closes with a really fantastic quick release system – it looks fiddly, but it is actually built for quick access. This is the best closure system I've seen in any bag. It's faster to open than any zipper. It may be a tiny bit fiddly when you first get the bag, since the leather straps haven't been broken in yet. But once the leather softens, the straps can easily be opened one-handed even if the bag is almost empty.
This doesn't sound like a major feature worth talking about, but it is actually one of my favorite things about this bag. There are no fiddly zippers or loud velcro openings here. This is an ultra-silent bag. Also, since the closure looks complicated, would-be thieves won't be as tempted to try and get into your bag. It only looks complicated, but in practice, it is extremely fast to open, even when the bag isn't full. It may be stiff when you initially get the bag, but once the leather wears in, it's an easy one-handed operation.
Billingham Canvas vs Fibrenyte
You can get the bag in either canvas or a synthetic material called fibrenyte. There isn't much difference, except that the fibrenyte weights nominally less and will show less wear over time. This is all personal preference. If you want your bag to show character and patina faster, then get the canvas version.
Regardless of which material you pick, the exterior will be extremely rain-proof. I have used this bag in heavy tropical rainstorms all over South East Asia (Philippines, Hong Kong, Vietnam, Taiwan) and it has effortlessly kept my gear dry. Obviously you can't jump in the pool with this (that's why it can't be called waterproof), but you can walk for miles under heavy rain with no worries. You will be soaked to the bone before this bag will let water through. I never worry about my gear, or even valuables like my passport when I get caught in a rainshower.
The canvas or fibrenyte is also extremely lightweight. This is something that is often overlooked in a lot of camera bags. Add in the weight of all the padding, and you know why most camera bags are ridiculously heavy. With this material, you're saving the weight for your gear, and not the bag.
Regardless of what material you pick, the Hadley Small is available in a variety of colors – from top, L – R: Khaki with tan (brown) leather; Sage with tan leather; black with black leather, and black with tan leather. There are also options for chocolate leather, which is a darker brown than the tan leather.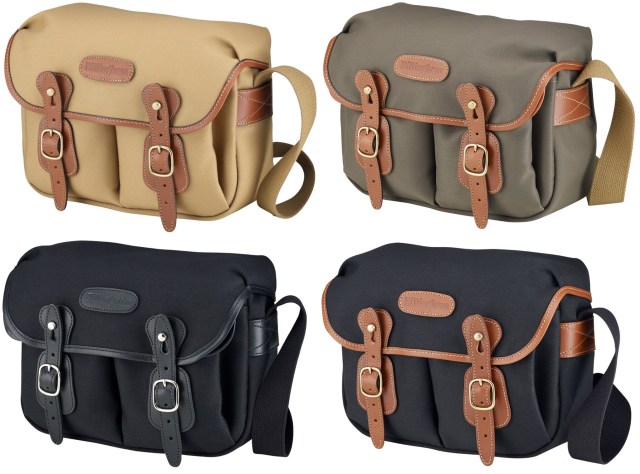 Stealthy, minimalist camera bag: It doesn't look like a camera bag
Almost every camera bag maker says that about their bags. Sure, there are tons of photographers salivating over a Billingham, and they'll probably spot you a mile away. But to most non-photographers, a Billingham looks just like a nice shoulder bag. This is especially true of the Hadley line (because they aren't as boxy like your typical camera bag) and most especially of the Hadley Small, because… well, because it is the smallest!
It looks small, it carries small, yet it can fit a surprising amount of stuff. But not too much stuff. The size of this bag is perfect for small cameras and kits. It will force you to think about what you need to carry. It forces you to pare down to the essentials. It sounds like a negative, why carry less gear when you can instead pick a bigger bag, put in less stuff and still have the option to carry everything when you need it to?
Because 9 times out of 10, you'll be tempted to fill your bag. As photographers, we are so scared of missing a shot that we try to justify bringing a lot of "just-in-case" gear. But in real world use, carrying a lot of gear doesn't equal a fun shooting experience. If your shoulders won't hate you after a full day of carrying a heavy shoulder bag, then your older self suffering from neck and shoulder pain due to degenerative joint disease surely will.
Look, if you carry a large DSLR, with three f/2.8 zooms, it's not going to fit. This bag isn't for a full pro kit. It'll fit a nice mirrorless kit, like micro four-thirds, or the Fuji X system. It can fit a mid-sized Pentax DSLR with a set of Limited lenses or a mid-sized full frame DSLR and one or two primes. If you can't leave your house without at least carrying your 24-70mm f.28 and 70-200mm f/2.8 lens, this bag is obviously not for you. In fact, this website us not for you. In case you didn't notice, we like small cameras and light weight kits around here.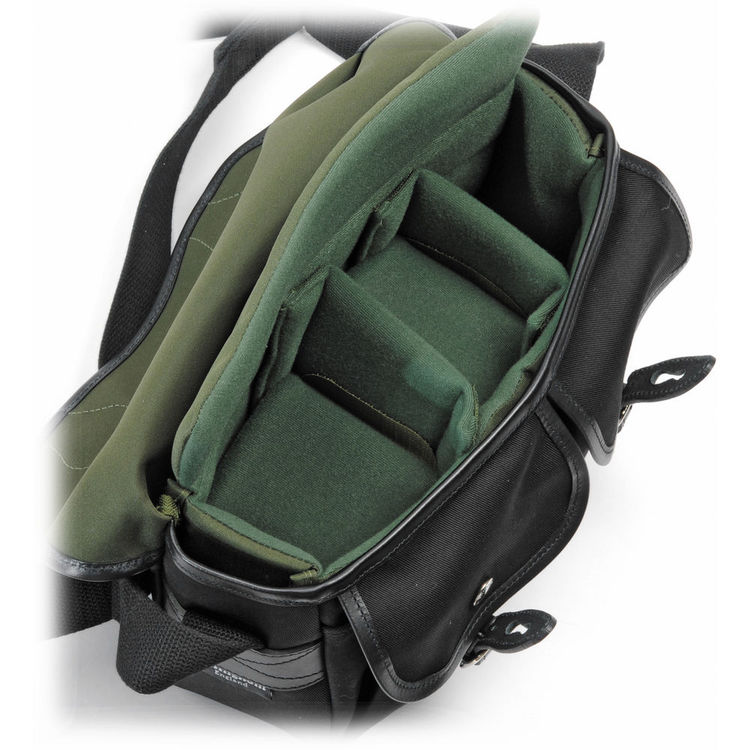 Billingham Hadley Small vs Hadley Pro
If, like me, you don't have a local store where you can easily check out both these bags in person, then you're likely agonizing over this decision. The Billingham Hadley Pro is the next bag up from the Hadley Small. Where the Hadley Small has a capacity of 3.5 Liters, the Hadley Pro almost doubles that to 6 Liters. But it's not just a larger Hadley, it has a few extra additions – the Hadley Pro has a very useful top handle and an extra external zippered pocket in the back.
I know what you're thinking – you can easily fit less stuff in a larger bag, yet you can't fit more stuff into a smaller bag, so might as well get the larger Hadley Pro right?
Yes, but nope. Yes, the Hadley Pro has almost double the capacity of the Hadley Small (6 Liters vs 3.5 Liters), but the Hadley Pro isn't just a larger Hadley Small with a top handle, it's a much larger bag, period.
Let me repeat that – it is a larger bag. It doesn't carry the same way, it doesn't feel the same when used as a walkaround bag. Because it's a larger bag, it's easier to fill up with more weight. That's just the way it works – the bigger the bag, the more stuff you try to cram in there. Think about the last time you went on a trip. Did you purposely underpack your luggage? Or did you somehow manage to fill it up with everything you thought you needed? That's the psychology of packing. And it's a dilemma that even seasoned photographers face. 9 times out of 10, we always take more gear than we need. Whether you're a seasoned pro or a newbie hobbyist. We all like to overpack.
Another thing to note is that the size of the Hadley Pro approaches backpack territory. If you carry enough photo gear to pack a Hadley Pro to near capacity, it's likely not going to be something you want to carry on one shoulder all day. If you want to carry a ton of gear, enough to fill the Hadley Pro, you shouldn't really be comparing it to the Hadley Small, you want to also be looking at backpack options.
The Hadley Small is the perfect size for everday carry and walkaround shooting. You won't overpack, you'll be forced to evaluate your gear and only bring the absolute essentials. It's a size designed to make you shoot, to make you enjoy your photowalk. It's not a bag designed to make sure you bring all your gear with you.
But, if after all that, you still want the larger Hadley Pro – then you can click here to get it on Amazon right now.
What could be improved:
The Hadley Small is a solid camera bag, and is the perfect camera bag for small cameras, but it is not without some flaws.
No top handle: This is the biggest negative for me. Not a deal breaker, but I do wish it had a top handle similar to the Hadley Pro. I don't notice it most of the time, but if I carry the Hadley Small together with a backpack (e.g. While in transit when traveling) then a top handle would come in really useful. But for day to day use, when street shooting and walking about with just the Hadley, it's not something a look for.
No rear pocket: I thought this would be a bigger problem, but it's also not something I notice in day-to-day use. But it would again come in handy while traveling. Having an external pocket where you can quickly slip your passport or boarding pass, or receipts, would be nice.
It doesn't always sit flat. Because of how much you can fit in the front pockets, this will occassionally cause the bag to tip over if the main compartment is empty. Not a big deal most of the time, except when you forget to lock the flap, then all the contents of the pockets get dumped on the ground.
The Best Camera Shoulder Bag for Small Cameras
The Hadley Small has been my most used bag for the past 4 years, and that's saying a lot. I'm a bag geek, in fact I probably spend more time researching bags than I do my camera gear. I've tried dozens and dozens of camera bags, and that's not counting other bags not specifically designed to carry photo gear. No other camera bag has given me such versatility. I know I keep saying this – but it really is the perfect size for a walk-around photo bag.
Who this bag is for:
Street and travel photographers looking for a walk around bag that won't draw too much attention, but can still fit in at a nice restaurant.
Photographers who want to focus on shooting with a minimal kit. Big enough for a mirrorless kit with a zoom and a prime. Or a small camera like a Fuji X100, Sony RX1R Mk II or Ricoh GR II and other items, such as a rain jacket or a pair of headphones.
Photographers tired of carrying around all their gear. How many times have you brought "just in case" items only to never use them? Because this bag is small, it forces you to really think about what you throw in it. The lighter you travel, the more places you'll see, and the more shooting you'll get done. Here's a tip: If you have to ask yourself, do I really need this? It probably has no place in your bag. This is especially true when traveling. The secret is to always have less gear than you think you need.
Photographers tired of ugly and boxy camera bags. You've probably heard all the "practical" photographers out there – why spend hundreds of dollars on a Billingham bag if any other $50 camera bag from Walmart can carry your gear just as well? But since you've read this far, you're probably not a practical photographer. It's the same reason you don't wear cargo shorts no matter how 'practical' they are. You know the value of an aesthetically versatile bag that won't look out of place in any situation. You're willing to pay for the "right" gear and equipment.
The Hadley Small is minimalist, yet extremely functional. It looks great, and it's small enough that you won't feel the weight even at the end of the day.
It's hard to not like a bag made with high quality materials coupled with a timeless design and that can go from beach to urban without looking out of place.
It's small enough to move through a crowd, dressy enough for more formal occassions, big enough to carry all you need for a day of street shooting while making sure you don't unintentionally pay the weight penalty at the end of the day.
You can find bags with one or two of those features, but none that combine them in the perfect package. This is probably the only camera bag that I can readily recommend to someone with no plans to carry photo gear.
Buy Once, Cry Once: It's the best value camera bag for small cameras and systems
Yes, it's pricey, but one thing this bag has taught me is to look at value and not just price. Or, as they say – 'buy once, cry once.' An expensive bag that I can confidently use in virtually any environment and any weather for years and years is more valuable than a cheaper bag that is less versatile and built with lesser materials. I've been there. I have an attic full of bags. Have you ever settled for a cheaper alternative, yet after using it for a few days, you're back on your computer still looking and comparing? Then you know. Buy once, cry once. It really works.
The Hadley Small is a true BIFL (Buy-It-For-Life) purchase, and it's true value will show once you've logged over a million miles with this bag. Pricey, but not over-priced. This is a bag that gives you more than the asking price. Buy once, cry once, but own one of the best camera bags ever made.
Click here to buy your Billingham Hadley Small on Amazon.
—–
Note: CompactShooter.com is a participant in the Amazon Services LLC Associates Program, an affiliate advertising program designed to provide a means for sites to earn advertising fees by advertising and linking to Amazon.com. This means that we get a small commission on products sold through affiliate links at no extra cost to you.