A lot of street photography enthusiasts will tell you that the best lens for street photography is the 35mm lens. Alex Webb and Joel Meyerowitz for example, typically favored the 35mm focal length.
But as with anything photography related, opinions are divided.
A good number of modern street photographers also prefer the wider 28mm, as on the Leica Q and the Ricoh GR. 28mm was the favorite focal length of the the late, great, Garry Winogrand, for example.
Some photographers prefer the slightly longer 40mm, and some go even longer with a 'normal' 50mm, which was Henri Cartier-Bresson's favored focal length.
Of course, there will always be exceptions. Some go as wide as a 24mm-equivalent, and some prefer a much tighter field of view with an 85mm-equivalent. There are no rules – you can shoot street photography with any lens. But the vast majority of street photographers today enjoy shooting the wide to normal focal lengths (28mm – 50mm).
Today, we're going to go even wider.
NOTE:

To avoid any confusion, I'd like to make it clear that I'm talking about equivalent focal lengths in the paragraphs above. Given the different sizes of digital camera sensors and their effects on focal length and field of view, it's much easier to refer to equivalent focal lengths. So, when I refer to the 35mm focal length, that could be a 23 or 24mm lens for Fuji X-mount, Sony APS-C E-mount, Nikon DX lenses (1.5x crop factor), or it could be a 17mm or 17.5mm lens for micro-four-thirds (m43, 2x crop factor) and so on.

The lens used to take all the images in this article is a Pentax 15mm lens for APS-C, so given the 1.5x crop factor of Pentax APS-C it's roughly equivalent to a 22.5mm lens on full frame. Of course, there isn't really a 22.5mm lens for the "full frame" 35mm format, so most people generally think of it as a 21mm ultra-wide lens.

Other ~21mm FOV prime lenses on other systems would be the likes of the excellent Fujinon 14mm f/2.8 for X-mount. The closest for micro four thirds would be a pair of 24mm-equivalent primes: the Panasonic 12mm f/1.4 and the Olympus 12mm f/2. The 21mm conversion lens for the Ricoh GR also provides a similar field of view.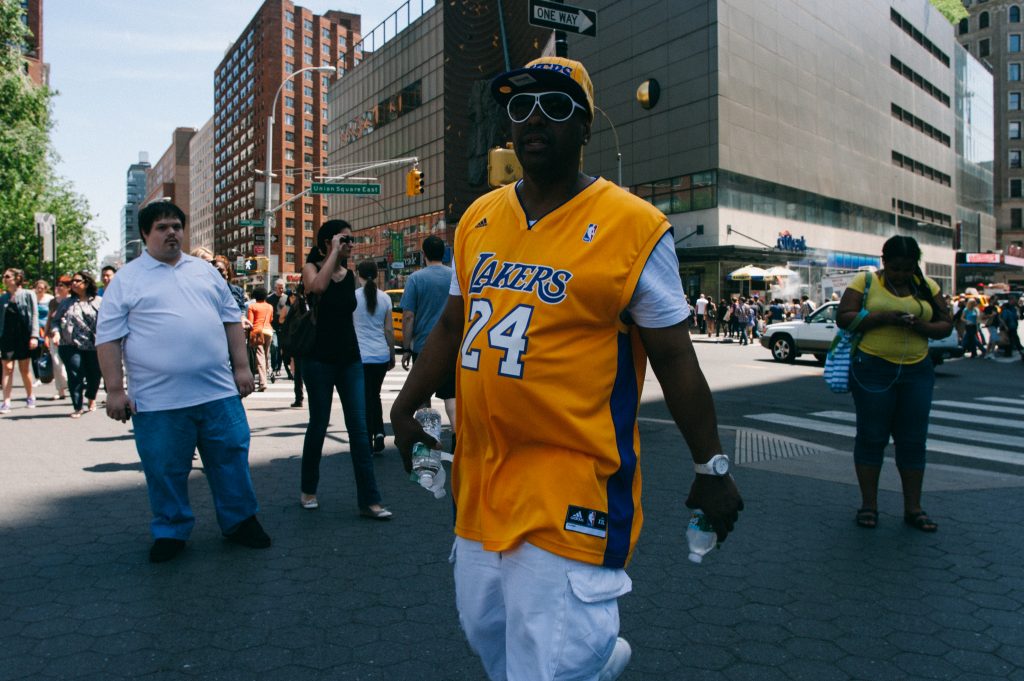 Shooting with an ultra-wide angle for street photography
The biggest challenge when shooting with a wide angle or an ultra-wide angle lens is that you need to get close to your subject. For beginners, this is the biggest hurdle. Photographing strangers is hard enough, shooting from 3 or 5 feet away is even harder.
If you shoot from farther away with an ultra-wide angle lens, your images will lack drama (most of the time). It won't have that oomph that a wide angle field of view can provide. Your subjects will look tiny, and your images will have a tendency to look boring.
To take full advantage of a wide angle, you need to get close. This is how you provide the intimacy and drama that wide angles are known for.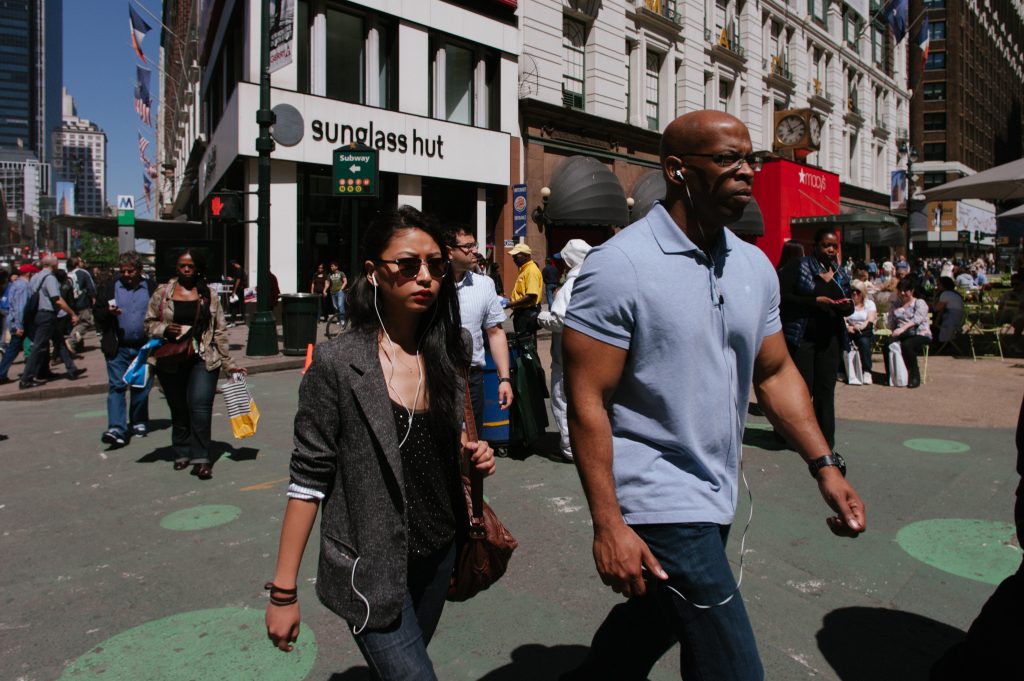 Then you have to deal with framing – if you're used to clean compositions, shooting with an ultra-wide means you have to deal with a lot more elements in any given frame.
You have to pay extra attention to the edges of your frame, to avoid unwanted elements.
Most wide angle lenses, especially an ultra-wide, will force you to get closer in the streets. Now, not everyone likes this in-your-face approach, but I think it's at least good for practice. I think any aspiring street photographer should try it once or twice.
I mean, if it's not your style, then it's not your style. But if you're a beginner to street photography, how will you know what your style is?
Plus, working close will help you get over your fear of shooting strangers.
There will be times where you feel that you just can't use a lens because it's too wide – but as with everything – just shoot, and shoot, and shoot, and you'll get better.
Even when you're already comfortable shooting out in the streets with, say, a 35mm or a 50mm, it's always good to mix things up once in awhile and put a wider lens on your camera.
The Pentax HD 15mm f/4 Limited
This isn't going to be a full review of the Pentax HD DA 15mm f/4 Limited lens, just a few of my thoughts while using it for street photography.
The Pentax 15mm f/4 Limited (aka Pentax DA15) is an auto-focus prime lens designed for use with APS-C sized, crop-sensor Pentax DSLR's like the Pentax K3, K-70 and the Pentax KP. It is NOT designed to be used with full frame cameras like the Pentax K-1.
You can use it on the Pentax K1 (or K1 Mark II) if you really want to, but it will only crop the sensor to APS-C mode. That means you're throwing away a lot of pixels, and you're not really taking advantage of the full frame sensor. If you want a similar ultra wide that's designed for full-frame, you need to take a look at the old Pentax FA 20mm f/2.8 lens, or the newer Pentax D-FA 15-30mm zoom lens.
On a crop sensor Pentax DSLR, the Pentax 15mm f/4 Limited has an equivalent field of view of 22.5mm (that's 15mm x the 1.5x crop factor = 22.5mm), which puts it pretty close to ultra-wide territory.
Specs
Format: APS-C
Focal length equivalent: 22.5mm
Angle of view: 86 degrees
Length x Width: 63mm x 39mm (2.5 x 1.8 inches)
Weight: 190 grams (6.7oz)
Filter thread: 49mm
Diaphragm blades: 7
Minimum Focus Distance (MFD): 18.03cm / 7.1 inches
Max. aperture: f/4
Lens hood: Built-in, telescoping
Manufactured in: Vietnam
The best things about this lens
It's small and light! Measuring just 2.5 inches wide by 1.58 inches long (with the hood retracted) and weighing a mere 190 grams, this lens is tiny! Unusually in a wide lens, it's also got a small front element, with a 49mm filter thread. It's smaller and lighter than some mirrorless lenses, which is impressive. It's not a pancake lens, like the Pentax 21mm f/3.2 Limited, but it is smaller than most prime lenses and is Lilliputian compared to a typical zoom lens.
Build quality is astounding. Like all other Pentax lenses carrying the 'Limited' tag, this thing is built like a tank. Despite the deceptively low weight, this lens is made of high quality machined aluminum. Tolerances are perfect, and this lens looks and feels like a much more expensive lens.
The built-in hood is really clever. It's a nice pull-out hood, it's there when you need it, and it slots away for storage, barely adding any bulk to the lens and not taking up space in the bag.
Built-in distance scale! This alone is worth the price of the lens, in my opinion. Having a built-in distance scale allows for quick and easy zone focusing, which is my preferred way of shooting street photography. For those familiar with the Ricoh GR, zone focusing is basically what the GR's 'snap focus' feature does. Except on the Pentax 15mm lens, you get an actual distance and depth of field scale. Because it's a wide angle on a crop sensor, you also benefit from broader depth of field on any given aperture, which helps in making zone focusing much easier as well.
Great color and contrast – this is one thing that surprised me about this lens. It's capable of rendering some astounding color and contrast which help contribute a nice pop to images.
What I don't like
Not ideal for low light street photography – since it's 'only' f/4, you'll be limited to street shooting in good light. Most street photography is done with higher shutter speeds, to freeze motion, so you'll find yourself cranking up your ISO as the sun goes down. If you want a faster option, Pentax does make the 14mm f/2.8 DA lens, but it is significantly larger than the 15mm Limited. Personally, I'd rather live with the f/4 of the Limited. Despite being a full stop slower, it's a much better lens overall, in my opinion. Plus, even if you crank up the ISO quite a bit, the way the 15mm renders lends itself well to black and white images.
Screw on lens cap – this is the most annoying thing about this lens. The lens cap itself is actually really nice, made of the same machined aluminum as the body of the lens. But since it's the screw-on type, it takes a few seconds longer to take on and off. After a few days of shooting with the lens, I banished it to the box, and purchased a generic plastic clip-on lens cap. Any 49mm lens cap will do. It's not as nice as the original cap, but it's so much less fiddly.
Not weather resistant. This one isn't a biggie, but it would have been nice to have. Although Pentax has one of the best weather resistant line-ups right now, none of the Limited primes are weather resistant. I've used my 15mm in light rain, and haven't had any problems. Just wipe off the lens every now and then, if water builds-up.
Should you buy the Pentax DA15?
The Pentax 15mm f/4 Limited is a strange beast. But it's my kind of strange beast.
On paper, it doesn't look very sexy. It's "only f/4", it's not an everyday focal length, it's not really great for serious landscapes.
But on the flip side, it's tiny, it's really fun to use, and it offers a great perspective for street shooting.
It will pair will with any of the Limited primes – e.g. the DA 21mm, FA 31mm, DA 40mm, FA 43mm etc.. or the Pentax 20-40mm Limited zoom. Pair the DA15 with any of these and you've got a fantastic 2 lens lineup that can take care of most any situation.
It'll also work well as a trinity set-up with the longer Limited primes – the DA 70mm and FA 77mm. If I were doing a Pentax Limited prime trinity, I'd probably do something like DA15/FA31/DA70. That's a tiny, high quality trinity kit right there.
The DA15 can also pair well with any of the cheaper Pentax plastic fantastics – the Pentax DA 35mm f/2.4 and Pentax DA 50mm f/1.8. That's also a great trinity right there. Relatively cheap, ultra-light (lighter than some mirrorless set-ups), a nice budget trinity set-up that won't take up a lot of space in the bag…
It's a great addition to any Pentaxian who wants to keep their kit small and light.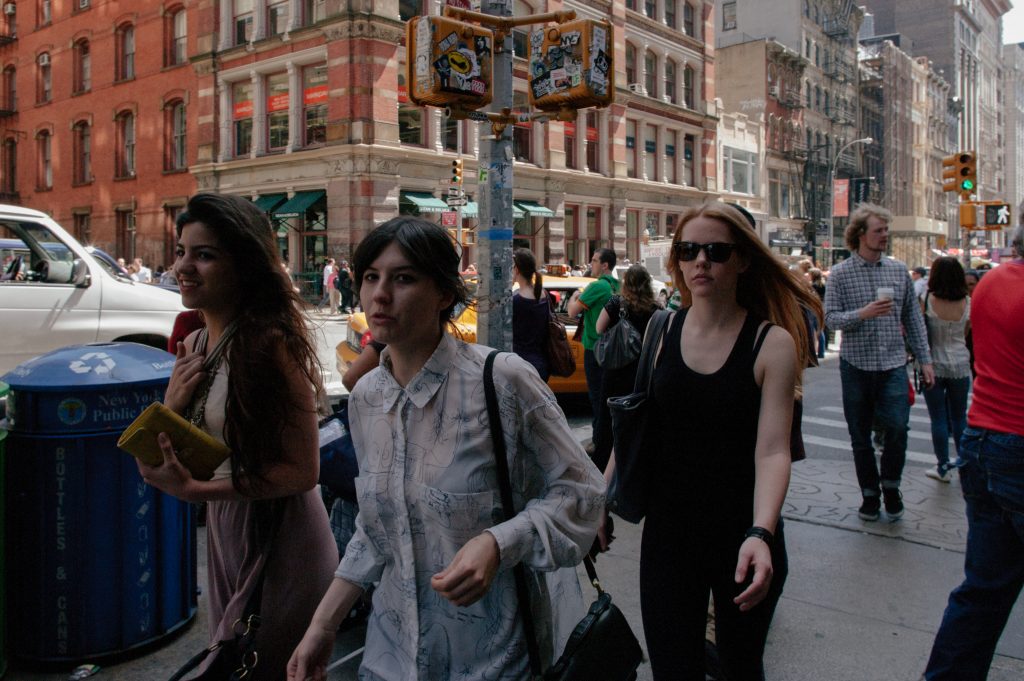 Yeah, it's not great for low light street shooting, because you usually want higher shutter speeds (at least 1/200) when doing some street photography. But it's not that bad.
You can still use it in low light with slower shutter speeds, since all Pentax DSLR's have in body image stabilization (shake reduction).
The f/4 doesn't really matter in most everyday street shooting (in good light), since you'll want to be working at f/8 or so anyways.
The on-lens distance scale and metal build are already worth the asking price in my opinion. Having the ability to quickly change and check the focus distance with just a glance just makes street shooting a hell of a lot more fun.
With its wide focal length, it's not an everyday lens, but it challenges you to look at the world differently.
The reason most ultra-wides aren't popular with street shooters is that it's easy to make an image about what the lens is doing (distortion etc..), rather than about the image itself. But this lens isn't so wide that it becomes a distraction.
It's wide enough to provide drama to a scene, just wide enough to be fun, and just wide enough to be an interesting alternative to a 24mm-equivalent or a 28mm-equivalent.
It won't be the only lens I own, but I have gone out many times with just this lens. Limiting yourself to a single lens, a single prime, especially with a focal length that isn't your typical walk around focal length is always fun.
It allows you to grow as a photographer, and it helps keep things interesting.