If you've never owned a Ricoh GR yet, the first thing you have to know is that there isn't any provision for attaching an electronic viewfinder (EVF).
You can check out my long term review of the Ricoh GR III here.

My real world review of the original Ricoh GR is here.
The only way to get an external viewfinder on a GR camera is with a "dumb" finder attached to the hotshoe. That means that it's a finder with no electronic contacts to the camera.
These viewfinders do not "see through the lens" like on a DSLR, and because there are no electronic contacts, it won't see what the LCD sees either.
That means that you WILL NOT see your AF point, you won't see your exposure parameters when you look through the viewfinder.
Like any external finder, they will also suffer from parallax. That means that it is only used for approximate framing. If you want critical framing, you will have to use the back LCD.
Also, if you use the Ricoh GW-4 or GW-3 wide angle lens converters, the lens will block a significant portion of your view from the finder.
So, that sounds like a lot of negatives. Why even bother?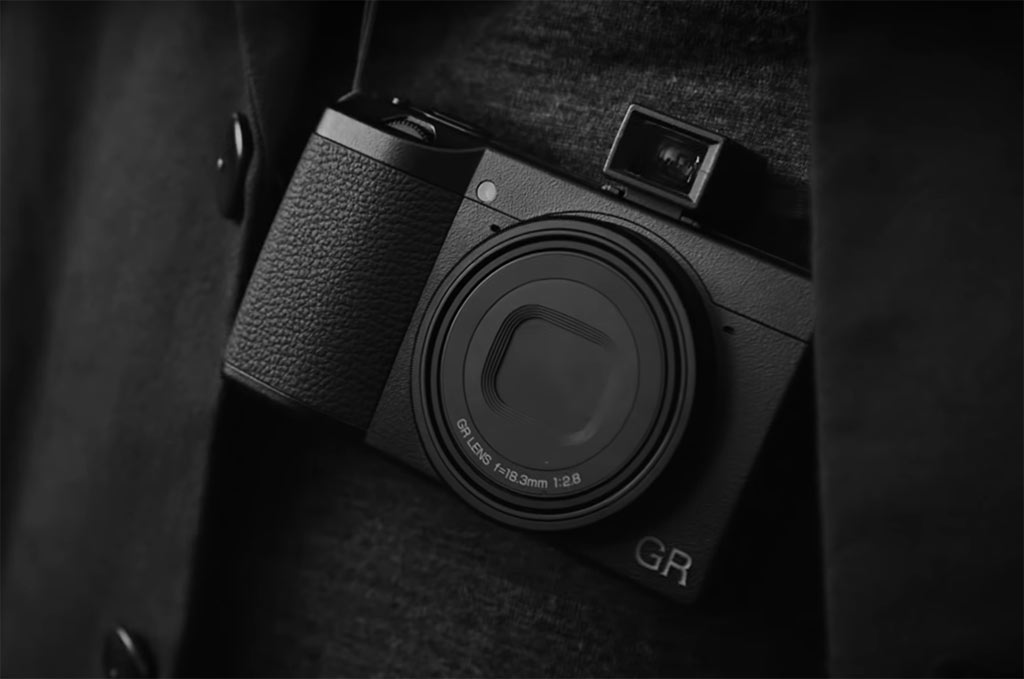 Are they even necessary?
Not really. For most people, it isn't.
If you MUST have a real viewfinder, with AF indicators and exposure information, then you MUST use the back LCD on the GR III, or you must buy an entirely different camera.
But it does help in changing up the shooting experience.
One of the things I love about the GR series is that the lack of a finder + the small size encourages a very loose, very fluid way of shooting. This is why this camera is the king of snapshots.
The GR III is a pocket rocket. It's small, extremely portable, fast to power on, and doesn't require waiting for focus if you use snap focus.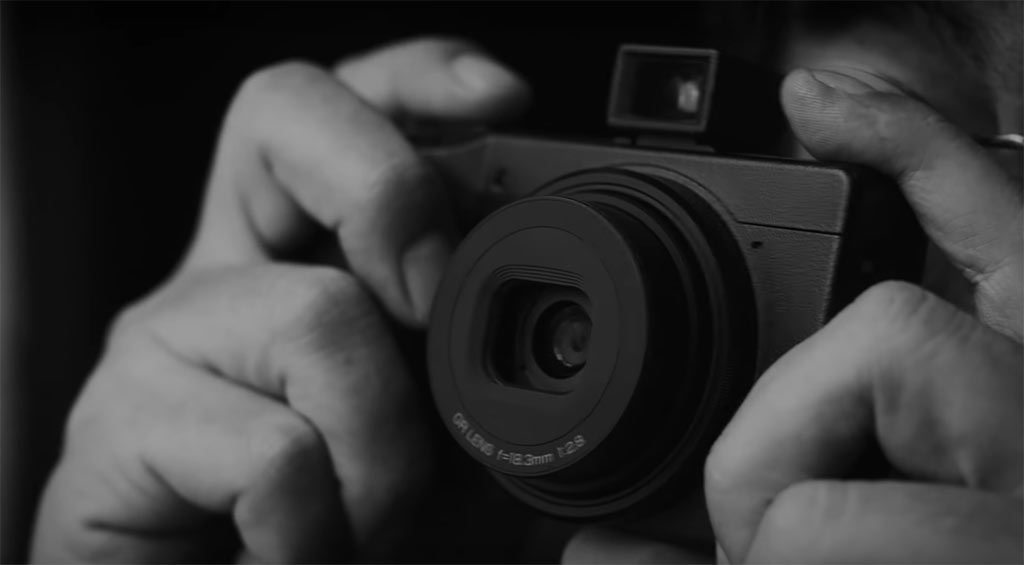 Adding a viewfinder turns it into an entirely different kind of camera. With most viewfinders (with the Ricoh GV-2, see below, being the only possible exception) the GR will no longer be pocketable.
Putting the camera to your eye will change the shooting experience considerably.
It changes your flow, it changes subjects' reactions towards you, and therefore it changes the kind of images you are able to make.
Not better or worse. Just different. And that's what I love about attaching an external finder. It's like a having a different camera, but the controls are still very familiary.
Having an external viewfinder offers a quick way to check your frame without even turning on the camera. I find that it helps me decide if it's even worth exploring the scene further or not.
Having an external finder is also useful in extremely bright light. Unfortunately, even at max settings, the GR III's LCD isn't visible in direct sunlight.
Another added benefit is shooting with a finder with the back screen off can help conserve batteries. I don't have actual numbers, but just based on actual experience and the way I shoot, I can squeeze out another hour of two of shooting by just using the finder with the LCD off. (But this also depends on a lot of factors – whether you have IBIS on or off, whether you shoot in bursts, whether you chimp or not etc…)
On the GR cameras, you can disable the back screen (there is a little light on the upper right of the LCD that tells you if you've achieved AE lock (or AF lock) once you half-press the shutter) for when you use an external finder. NOTE: On the current firmware of the GR III, disabling the back screen doesn't disable touch abilities, you have to disable it separately. Not sure why this is, but it can be an annoyance.
Ricoh GV-1 Viewfinder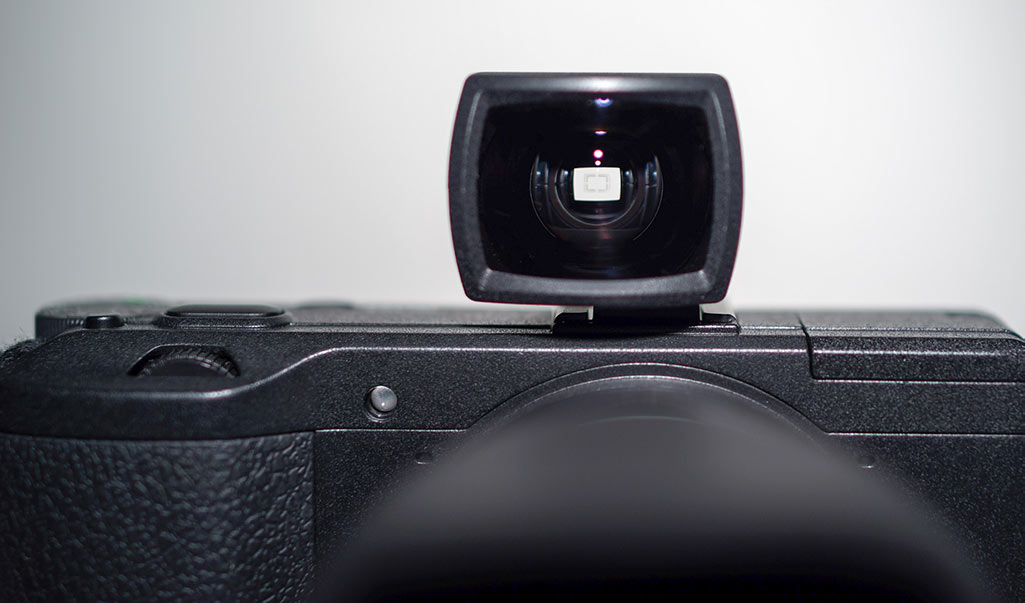 The Ricoh GV-1 viewfinder comes with frame lines for 28mm and 21mm.
This means the GV-1 is the viewfinder to get if you plan to use the Ricoh GW-4 wide angle lens (21mm equivalent) (see above).
If you're the type who likes seeing outside the frame (like on a range finder or the Fuji X100 series or X-Pro series) then you should also consider the GV-1, even if you don't plan on using the wide angle adapter.
It's well built, and fits into the hot shoe with no play.
But because it supports both the GR III's native 28mm field of view as well as the 21mm field of view of the GW-4 adapter lens, the GV-1 is much larger in size than the GV-2. About twice the size in fact.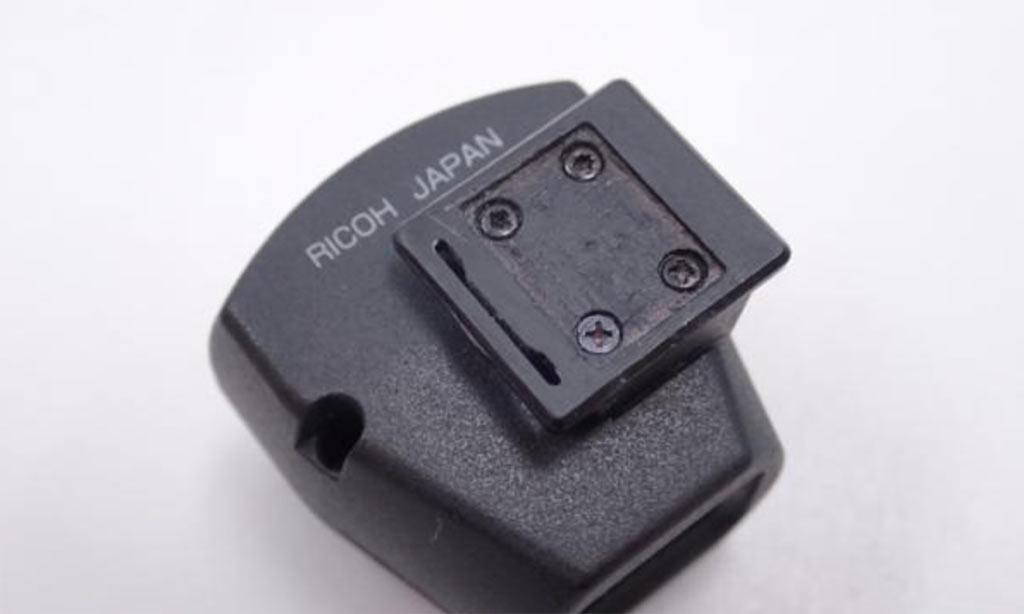 One thing to note is that the finder is offset to the right, in order to allow the flash to pop-up in older GR models (the GR3 does not have a built-in flash).
Get the Ricoh GV-1 21/28mm viewfinder on Amazon.
Ricoh GV-2 Mini External Viewfinder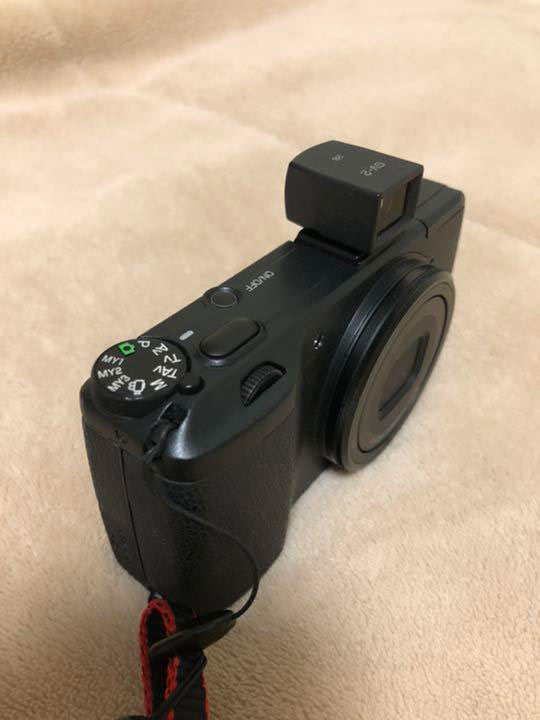 If you want the smallest possible finder, the Ricoh GV-2 mini finder is the one to get. This is the only finder that I know of that you can keep on your camera permanently while still keeping your set-up pocketable.
Unlike the GV-1, the GV-2 only has markings for the 28mm field of view. (It also has small notches to indicate the 1:1 aspect ratio (square crop).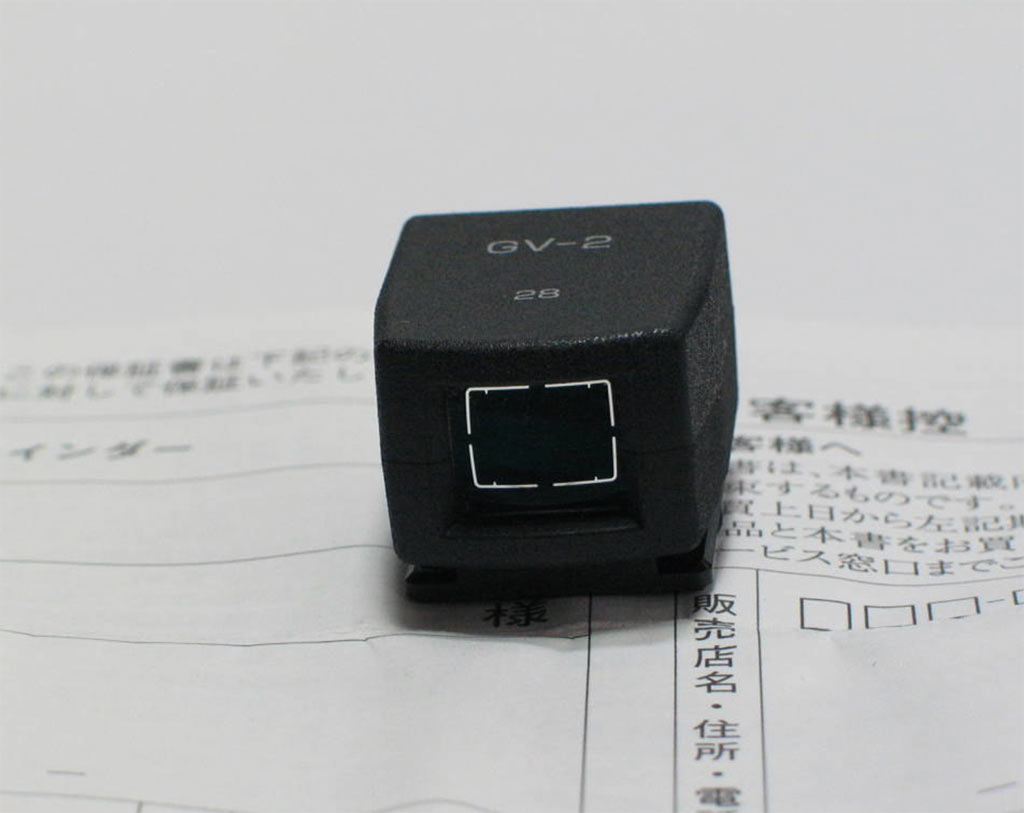 It's mostly plastic, but it is still built very well. Despite its small size, the finder is bright and clear.
The GV-2 is the one to get if you don't want the 21mm frame lines for the wide angle lens and especially if you still want to keep your set-up as compact as possible.
Get the Ricoh GV-2 mini viewfinder on Amazon.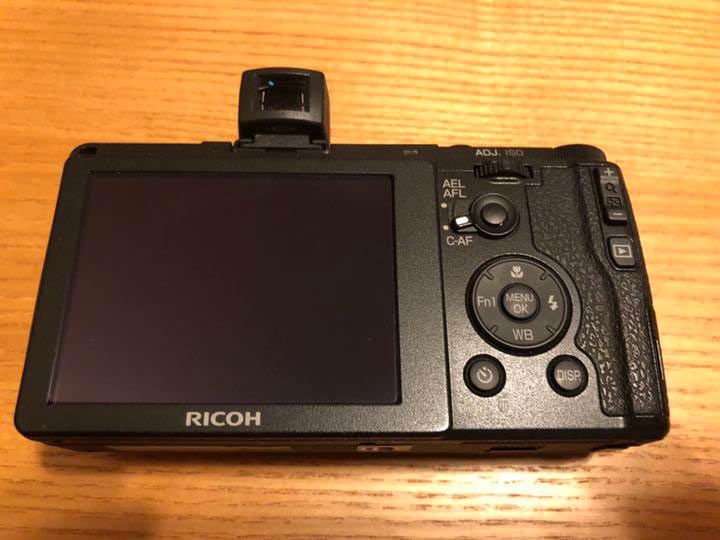 Third party viewfinders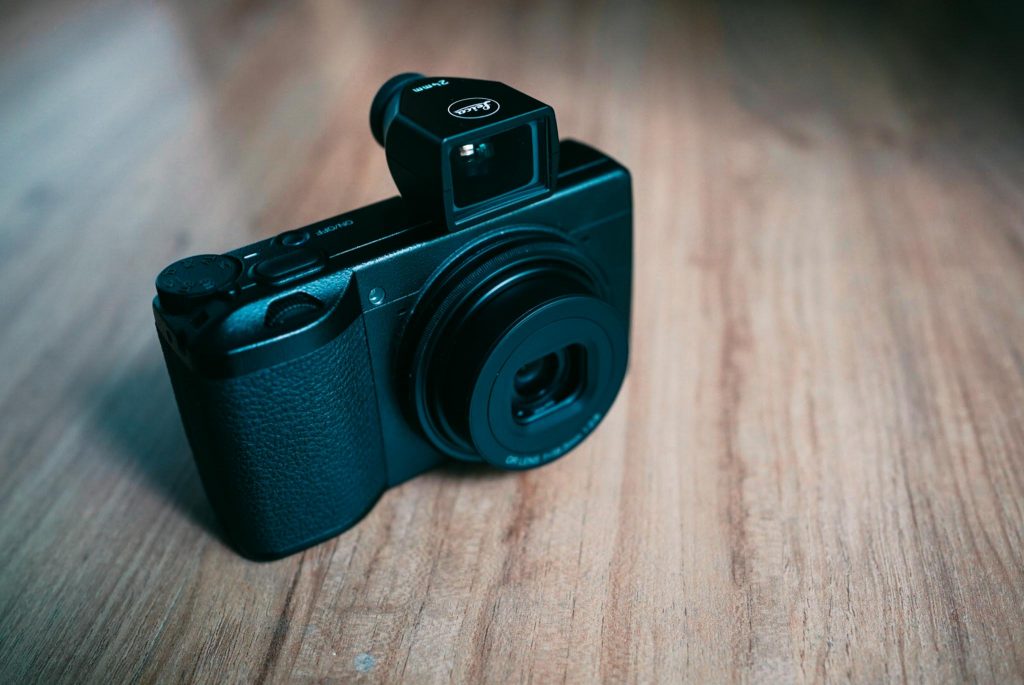 As you can see, on mine I use the Leica Brilliant Viewfinder 18696.
It's not bad, but not great either. The only reason I use it is that it's what I currently have. I had it lying around, previously used it for a different camera.
My biggest problem with it is that it's not very bright, and if I didn't have it, I'd prefer having the Ricoh GV-1 above.
One great advantage of this particular Leica is that it's designed for a 24mm field of view. For my style of street shooting (with snap focus usually set to 1.5 meters) I find that 24mm finders are generally perfect.
This particular Leica also has brightlines for 35mm. Which makes it useful for use on other cameras I own, which have a 35mm focal length.
Here are other viewfinders you can consider for the Ricoh GR III:
Voigtlander 21/25mm viewfinder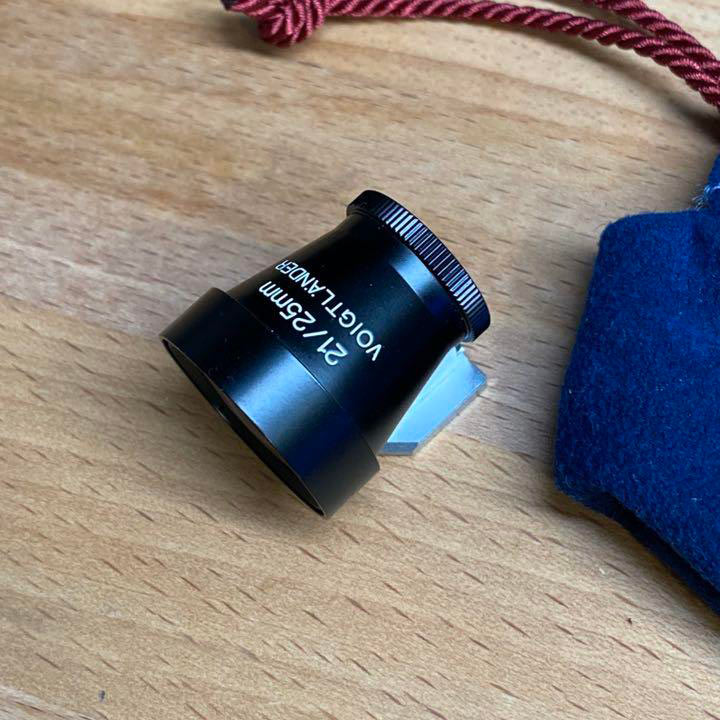 If you want something similar to the Ricoh GV-1, the Voigtlander 21/25mm viewfinder is your best bet. It's metal, and the glass is just as bright as the Ricoh. (Very slight advantage to the Ricoh).
This was the one I used to use for my old GR. Unfortunately I lost it while out street shooting. It's not loose or anything, it seats firmly on the hotshoe, so I have no idea how I lost it without noticing. Just bad luck.
Like the name says, it's got frame lines for 21mm and 25mm. So this is great if you want to use the wide angle converter on the GR series and the 25mm frame lines work pretty well for the GR III's 28mm native lens.
Again, since these viewfinders don't see "through the lens" they're all approximations anyway, so the 25mm FOV vs the 28mm lens is not really an issue. It's close enough. I use a 24mm viewfinder on my GR III, and it's a non-issue. In fact, I prefer the slightly wider view.
Get the Voigtlander 21/25mm viewfinder on Amazon.
Fujifilm VF-X21 Viewfinder
This was meant to be used with the Fujifilm X70 compact camera – their answer to the Ricoh GR.
As far as I can tell, it is pretty much a copy of the Ricoh GV-1. It might even be a rebadged copy of the Ricoh GV-1 viewfinder. i.e. maybe they are made by a third-party in the same factory. This isn't uncommon. It's possible that Cosina or some other company creates these as an OEM, then just brands them for each camera manufacturer.
So, if you can't find a GV-1, it might be worth looking around for one of these Fuji's.
Get the Fujifilm VF-X21 viewfinder on Amazon.
Sigma VF-11 Viewfinder
Very similar to the GV-2. The Sigma VF-11 was designed for Sigma's DP-1 camera, which had a 28mm-equivalent lens. Similar to the GV-2, this Sigma's framelines are 3:2, matching the GR series.
It's made of plastic, and the glass isn't as bright as the Ricoh GV-2. The frame lines are also fairly dim, it's very similar to my Leica 18696.
Personally, I would only get this if I can find it for significantly cheaper than the GV-2. Otherwise, I'd just get the GV-2.
Get the Sigma VF-11 viewfinder on Amazon.
NOTE: There is another Sigma viewfinder – the Sigma VF-21 – but this one was designed for the Sigma DP-2 camera, which had a 40mm equivalent focal length. So make sure you don't accidentally get the VF-21.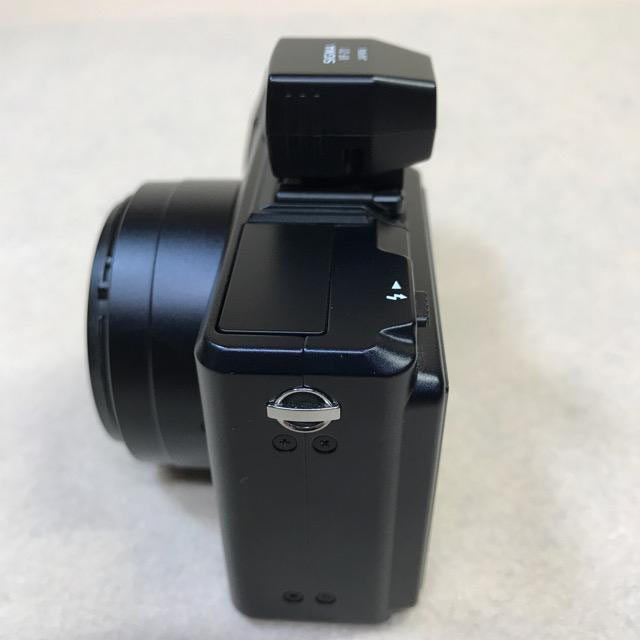 Leica Bright-Line Viewfinder M (12026/12027)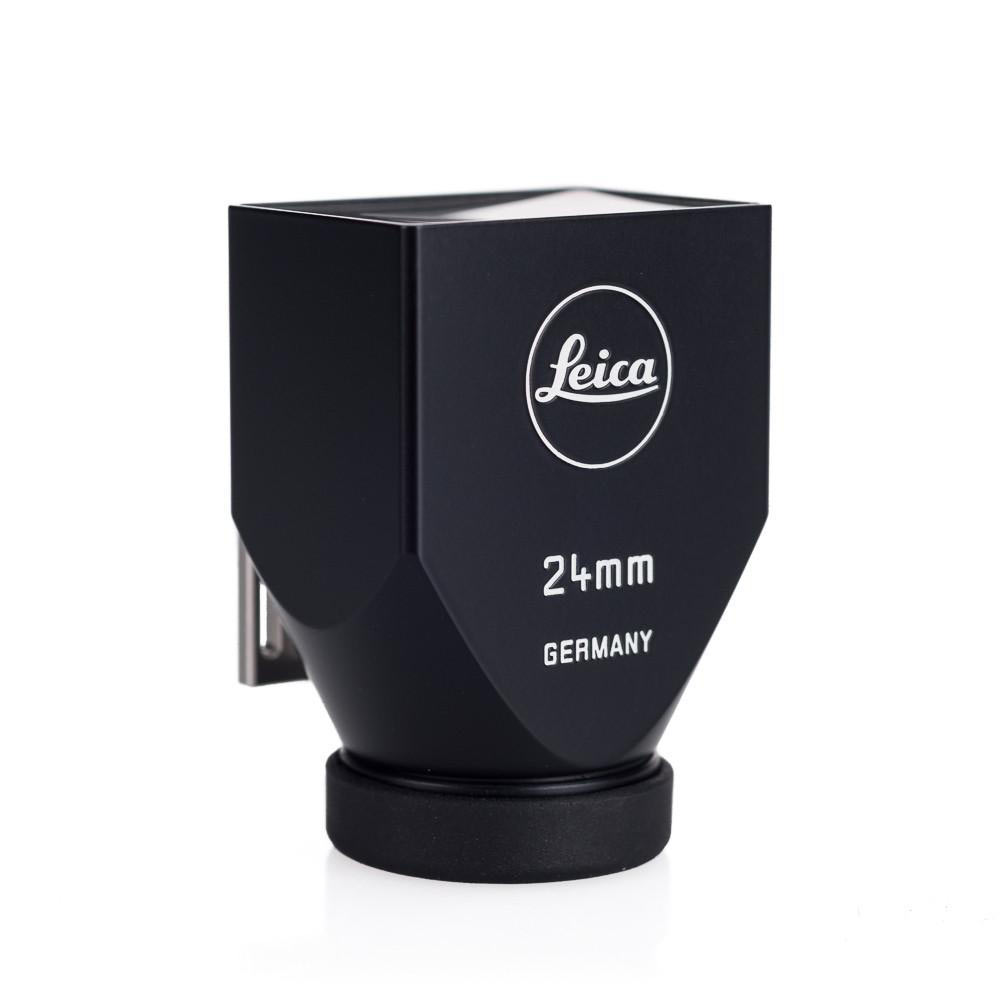 If money were no object, this is the one to get.
It costs almost as much as the GR III, and costs much more than you can get a GR or GR2.
But oh boy, is it bright and beautiful. Eye relief is great, even for eyeglass wearers like me. There is even a rubber cup to keep your glasses from getting scratched.
Bottom line, it is one of the best external finders ever made. And I don't say that lightly.
If you MUST have the best of the best, look no further than this.
It's designed for a 24mm field of view, but as I said above, I actually prefer this for the 28mm lens of the GR since it shows just a bit more of the scene, almost like a rangefinder.
Whether it's worth it really depends on you. If you see yourself owing a GR series camera for a long, long time, and you really want a viewfinder – and if you can afford it, why not? It's that good.
Take note – Leica models can be very confusing. And items that seem similar might have wildly different qualities. What you want is model # 12026 (the black one) or model # 12027 (a silver one).
There is an older plastic version – model # 12019. But this one is similar to the one I use (model # 18696) in that the glass isn't very bright. So, these ones are not recommended.
You might see other Leica Bright-Line Viewfinder-M's: 12022/12023 and 12024/12025 – these refer to black/silver versions of the 18mm and 21mm viewfinders, respectively. They might be worth a look if you plan on using the Ricoh GV-4 wide angle permanently on your GR III. But be prepared to drop a lot of dough.
Get the Leica Brightline Viewfinder M from Leica.
Related reading:
Ricoh GR III: Long Term, Real World Review
Original Ricoh GR: Long Term, Real World Review
DISCLAIMER: CompactShooter.com is a participant in the Amazon Services LLC Associates Program, an affiliate advertising program designed to provide a means for sites to earn advertising fees by advertising and linking to Amazon.com. This means that we get a small commission on products sold through affiliate links at no extra cost to you.