The Sony a6000 is a legend. It was the camera that made me realize that mirrorless was (is) the future.
Although I no longer own the a6000 – I have since upgraded to the Sony a6400 – the a6000 will always be one of my favorite cameras.
Sony had initially replaced the a6000 with the Sony a6100, but, likely due in part to the chip shortages of 2022, Sony has discontinued the a6100. This means that the Sony a6400 will likely be the "spiritual successor" to the a6000 camera – which up until 2020 or so, was still considered a current model and still sold as new in some markets.
Let's take a look at some of the best Sony lenses for the Sony a6400 and Sony a6100 or any of the a6000 series cameras:
You can click the links to go straight to the section below pertaining to that lens.
As you can see, just from this list, Sony's lens line-up has you covered for most everything you need. There just isn't any truth anymore to the old belief that Sony 'forces' you to buy full frame lenses for their APS-C crop sensor bodies.
Not to mention, there is a lot to like with Sony's new strategy with their APS-C mirrorless camera line.
For example, Sony has trickled down their "real time tracking" auto focus technology across their entire APS-C range. Yes, even the 'lowly' Sony a6100 gets this feature. As a point of comparison, the popular full frame Sony a7III does NOT have this feature.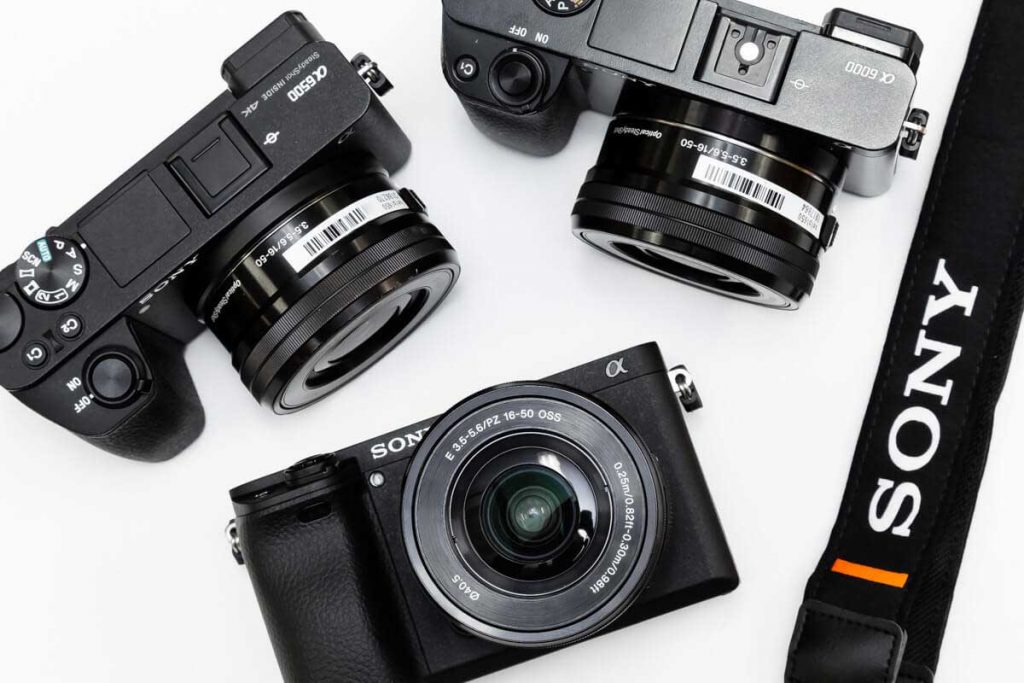 Sony's crop sensor lens line-up has gotten some criticism for not getting as much love as their full frame line-up. Which is probably fair.
Maybe they don't push the envelope as much as their full frame cameras, but, Sony's APS-C cameras have also come a long way from the days of the a6000, a5100 and Sony a6300.
Once you consider recent releases like the new zoom lenses from Tamron such as the Tamron 17-70mm f/2.8 and 11-20mm f/2.8 and Sony's superb 70-350mm G OSS lens (an incredible value). There just isn't a lot of holes in the line-up anymore.
Sure, the prime lens line-up may not be as extensive as that of the Fuji X-mount, for example, but it is still good. As long as you don't overlook the Sigma trio of f/1.4 prime lenses (16mm, 30mm, 56mm), you'll be able to build a killer kit.
Best all-in-one zoom and travel lens for the Sony a6400
aka the Disney world lens.
With a vast 27-202mm equivalent zoom range, this is the best choice if you're looking for an all-in-one zoom lens for travel photography.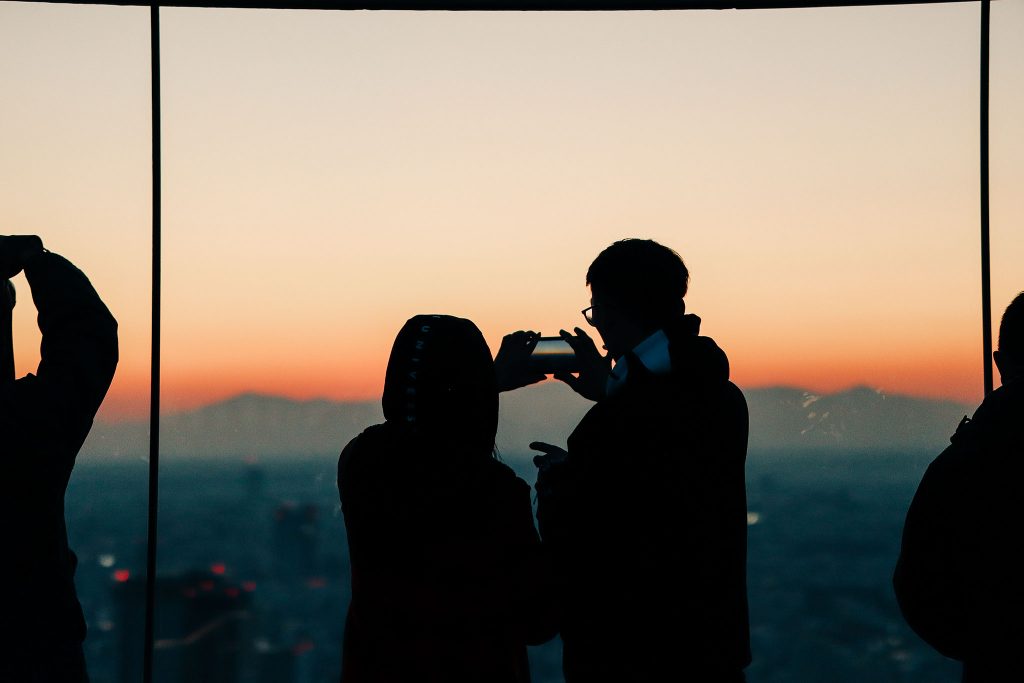 When this lens was first released, a lot of people were scratching their heads – Sony already had the 18-200mm OSS and the Zeiss 16-70mm f/4 – was there really a need for this lens?
I have to admit, I was one of those people.
When this was first announced, the general consensus was that Sony should have focused on rounding out the other gaps in their APS-C line-up, instead of developing this lens.
But, that's all water under the bridge now. Sony has since added more lenses, such as the higher end 16-55mm f/2.8 and the 70-350mm G lenses to plug the major gaps in the lineup.
And, it turns out, this lens is quite a performer.
As someone who is generally not a fan of zoom lenses – this lens has been a revelation to me. It's probably my favorite "all in one" zoom lens, for any system, for any sensor size.
It has less reach than the Sony 18-200mm LE (27-300mm-equivalent), but it comes in at a smaller size and substantially lower weight. For a travel and walk-around lens, the size and weight reduction is significant.
In terms of size-weight-performance vs price, the 18-135mm OSS is one of the hidden gems in Sony's line-up.
It sort of lies under the radar, because of its unsexy aperture range of "only" f/3.5-f/5.6. But, it's sharp across the zoom range, even wide-open and has surprisingly great bokeh rendering. All in a lens that tips the scales at just over 300 grams while covering a very useful focal range.
It works great as a single travel lens, or as a combo with a fast prime lens (like the Sigma 16mm f/1.4 or Sony 35mm f/1.8 OSS) or with an ultra-wide angle lens like the 10-18mm f/4 or the new Tamron 11-20mm f/2.8, depending on your needs and shooting style.
Compared to the Sony 18-200mm (SEL18200LE) and 18-105mm f/4 (SELP18105G)
In keeping with its travel friendly specs, this lens is smaller and lighter than the other ultrazooms in Sony's APS-C lineup, mainly the Sony 18-200mm and the Sony 18-105mm f/4.
The 18-135mm extends an inch when you zoom out from the widest end all the way to 135mm. Whether stowed in the bag or when shooting, the 18-135mm is smaller than the other two ultra zooms.
On paper, it's about 100 grams lighter than the Sony 18-105mm f/4 zoom, but I can say that in real world use, the difference feels much bigger than that.
This lens is significantly easier on the neck and shoulders, especially when you're walking around all day.
If you're just trying out lenses in your living room, the difference won't feel like much, but when you're traveling and walking around all day, the 18-135mm is definitely the more portable lens.
Here, you can see the lens zoomed all the way to 135mm. As you can see, barrel extension is fairly minimal.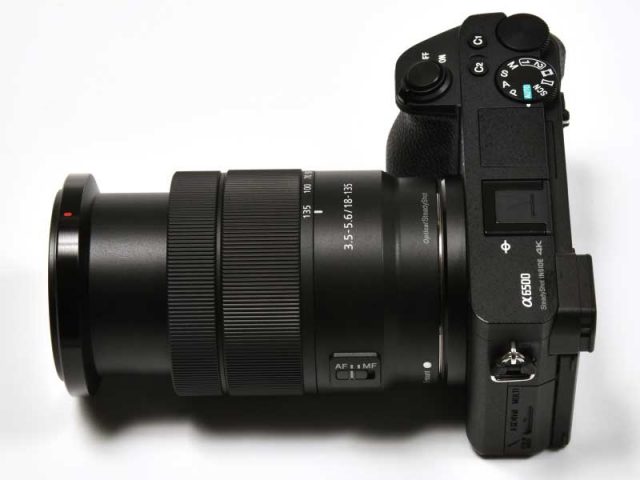 Compared to the Sony Zeiss 16-70mm f/4 (SEL1670Z)
The Sony Zeiss 16-70mm f/4 Vario-Tessar is the other all-in-one travel zoom option, but this lens is noticeably less sharp across the same focal range. And quite a bit more expensive, too. The Zeiss does of course have the advantage of the constant f/4 aperture and that wider range, but at a price that's 40% more, I don't think it's a good value.
Plus, the 18-135mm has the advantage of OSS built into the lens. Especially useful for cameras with no in-body stabilization, like the a6300 and a6400.
Upgrade from the Kit Lenses
Overall, the 18-135mm lens is a great step-up from the 16-50mm kit lens, and I'd prefer carrying just this lens vs carrying both the 16-50mm and the 55-210mm kit lenses together.
You give up a fair bit on the telephoto end vs the 2 kit lenses (because the 55-210mm is an 82.5-315mm-equivalent), but the quality you get is worth it. Plus, you have the advantage of not needing to swap lenses.
The close focus performance of the 18-135mm is also a nice surprise. It can do 1:3.4 reproduction. It's not a macro lens, but it can be called upon to do some close-ups of flowers and food.
There is very little to complain about here. The only thing I would have liked to see is some form of weather sealing. Unfortunately, this lens doesn't even get a rubber gasket on the mount.
Despite not being weather sealed, the advantage of an all-on-one zoom lens is that you won't need to change lenses in dusty environments
It's not a constant aperture zoom, it's not weather sealed, and it doesn't cover as much range as the 18-200mm OSS, but it's small and lightweight, and it is sharp through out the range at a price that won't break the bank.
Sony 18-135mm aperture at each focal length
As you can see, aperture closes down quickly. It's a slow lens, so it's not the best for getting creamy bokeh. But, bokeh rendering is very pleasing, which helps a lot. Quality of bokeh is a different thing from quantity of bokeh. Besides, when you're traveling, you want to show as much of the surroundings as possible anyway.
And f/5.6 at 85mm or at the maximum 135mm is more than good enough for subject-background separation. With the smooth and not too distracting bokeh rendering, it's more than good enough. I'd rate bokeh quality as even better than some lenses with brighter apertures.
Highly recommended.
If you're willing to spend a bit more, and carry a bit more weight, the Tamron 17-70mm f/2.8 (see this lens discussed below) is the next step up, albeit with less zoom range.
Sony 18-135mm Main specs:
Price: Check the current price on Amazon
Full frame equivalent focal length: 27-202mm
Filter thread size: 55mm
Size – Length x diameter: 3.46″ x 2.65″
Weight: 326g
Minimum focusing distance: 45cm or 17.7 inches
Best everyday lens for the Sony a6400 (Zoom lens)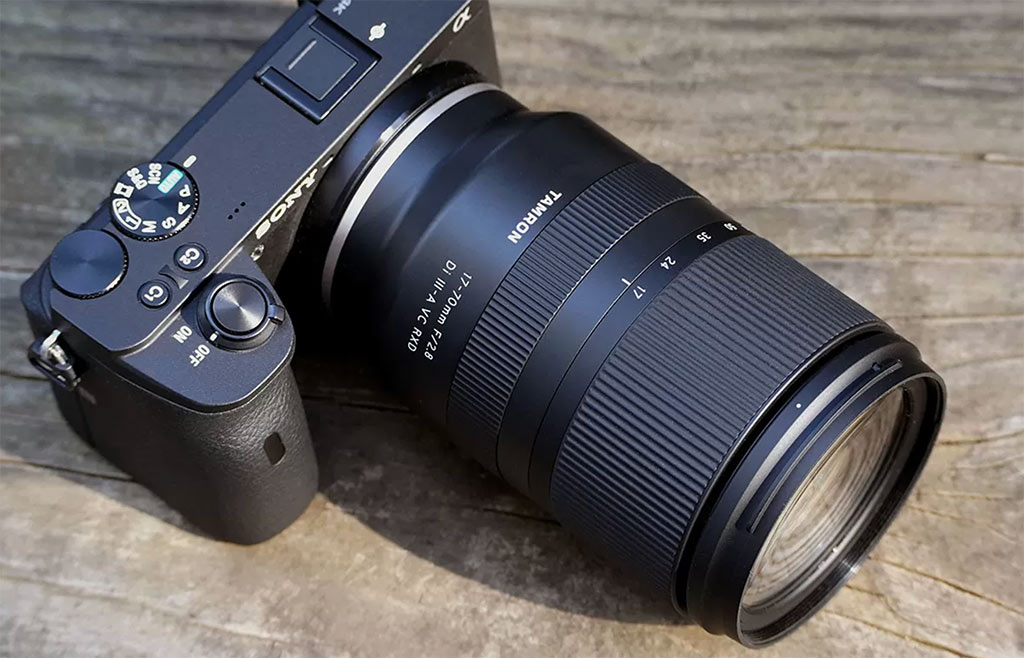 The first of its kind. The Tamron 17-70mm f/2.8 is the only APS-C lens covering a versatile wide angle to short telephoto range (4.1x zoom) WHILE featuring a constant f/2.8 aperture.
With a bright aperture and a 26-105mm equivalent focal range, this lens can pretty much cover 95% of shooting scenarios.
Unlike Tamron's lenses designed for Sony full frame, this lens also features their excellent vibration correction (VC) image stabilization technology.
Tamron has made some of the best selling lenses for Sony full frame (FE) cameras (such as the very popular Tamron 28-75mm f/2.8), but as of this date, they've avoided adding vibration correction. Fortunately, they chose to add it here, with a minimal increase in size and weight.
This is a big deal, especially for video shooters, since the vibration correction (VC) can help get rid of a lot of the little jitters when filming.
On-lens image stabilization also works better for stills photography vs in-body image stabilization when shooting at longer focal lengths.
In another bonus for film makers, this lens has practically no focus breathing.
Like the other Tamron lenses with an RXD motor, autofocus is fast and accurate on Sony bodies. This has been Tamron's big advantage over other third-party lens makers – they've been able to take full advantage of Sony's excellent AF system.
The addition of lens stabilization means an increase in weight, but to counter that, the lens is mostly high quality plastic, but it is also fully weather-sealed. That's a trade off that I like.
The constant f/2.8 on a longer zoom range is a game changer. Not only does it help you shoot higher shutter speeds for freezing motion, or just to keep your ISO down, it also helps when shooting at the telephoto end, to get you some beautiful background blur.
Keep in mind, the 70mm f/2.8 at the long end of this lens is no different from the 70mm f/2.8 of a 24-70mm f/2.7 Pro zoom, except it's cropped to a 105mm field of view. In other words, your field of view and amount of blur is roughly the same as what you get from the long end of a 24-105mm f/4 full frame lens.
As you can see in the graph below, the amount of background blur at 70mm f/2.8 on an APS-C sensor, is very similar to a 70mm f/2.8 full frame lens and a 105mm f/4 full frame lens.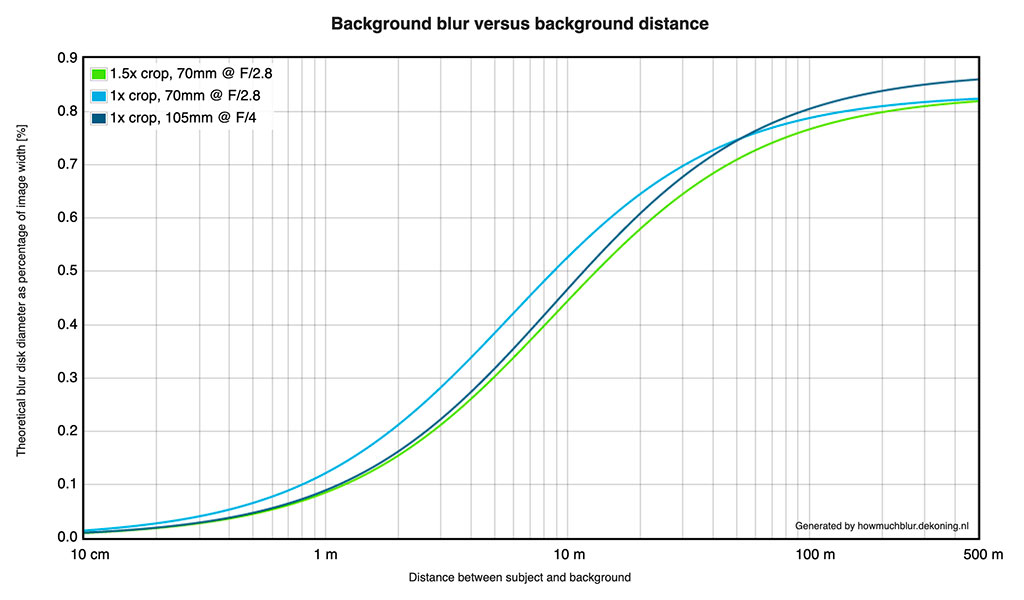 The Tamron 17-70mm vs the Sony 18-135mm + a bright prime lens?
This is a tricky question – it requires that you be clear on what you want. Do you want the do it all lens? Or do you want to carry another lens?
Because of its longer zoom range and constant aperture, the Tamron is a great all-in-one solution. Plus, it's weather sealed, the Sony 18-135mm is not.
But, it's also larger and heavier. It's actually bulkier than the full frame Tamron 28-75mm f/2.8 and only 50 grams lighter than that lens.
The Sony 18-135mm is cheaper and smaller, and covers a longer zoom range. But, you'll typically want to pair it with a bright prime as well.
Depending on your shooting style, and whether you like changing lenses or not, this could be an advantage or disadvantage.
For me, personally, I love shooting with an 18-135mm + Sigma 16mm f/1.4 OR Sigma 30mm f/1.4 combo. It covers a great range, and the f/1.4 prime will have me covered in ultra low light, much better than the Tamron can.
Now, having the 18-135mm and a prime lens is actually heavier in the bag than having the Tamron 17-70mm alone. But this is a compromise I'm willing to make.
An f/1.4 prime offers a full two stop advantage vs the f/2.8 on the Tamron, which can be significant in low light.
Another consideration is that having two lenses is lighter in the hand.
Lighter in the hand?! What does that even mean and why does it matter? I know, I know, but, it's one of those YMMV things. As someone who always has the camera in the hand, ready to shoot, weight in the hand also matters to me and not just total weight in the bag.
I'm not the type who keeps the camera in the bag and only brings it out to shoot something. If I'm walking around, actively looking for scenes, then my camera is in my hand. That's how I shoot.
There are days where I'm walking all day, shooting thousands of images, and a heavy lens will lead to wrist pain.
So, you have to be clear on your priorities and what your shooting style is. Do you like changing lenses? If not, the Tamron is the clear winner. Do you value weather sealing? Get the Tamron. Do you want to carry a bright prime? Then it'll make more sense pairing it with the 18-135mm.
Tamron 17-70mm f/2.8 vs Sony 16-55mm f/2.8 G (SEL1655G)
The Sony 16-55mm f/2.8 is a G lens featuring Sony's latest linear AF motors. That automatically means one thing – it is the best for shooting fast action (i.e. burst mode with continuous AF) and is also, by default, the most expensive. But, it also covers less range than the Tamron.
It does have the advantage of a slightly wider field of view, but in this case, I don't find it to be a big advantage vs the Tamron.
If the Tamron were an 18mm, instead of 17mm, I would find the Sony's 16mm advantage to be worth considering, since we're then talking about 24mm vs 28mm equivalent.
But 17mm vs 16mm isn't a big deal, for me (24mm vs 25.5mm equivalent). In this instance, I'd rather have the Tamron's extra reach. YMMV.
The other advantages of the Sony over the Tamron are in build quality and better optics (i.e. it relies less on software correction). It is also smaller than the Tamron, albeit, not that much lighter. The Sony G lens is only 30 grams lighter.
For the vast majority of us, the Tamron is simply the much better value vs the Sony 16-55mm GM. It has image stabilization, covers a longer focal range, is also weather sealed, and is significantly cheaper while offering near similar AF performance.
As you can tell from the name of this website, I prefer small and lightweight lenses. This is one of those rare instances where I will recommend the slightly bigger and heavier one.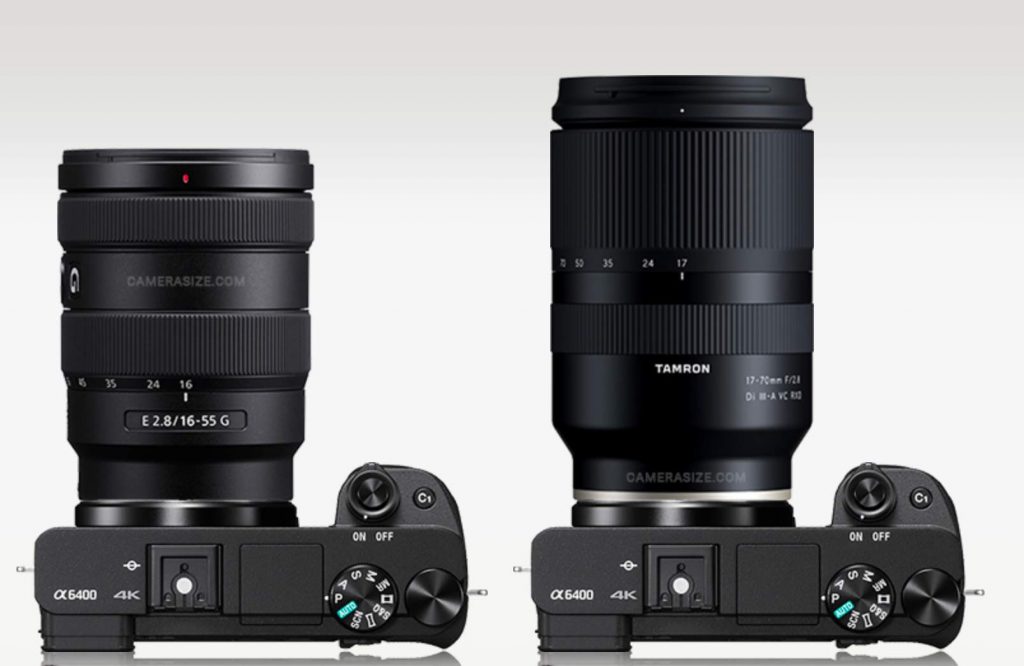 Tamron 17-70mm main specs:
Best everyday lens for the Sony a6400 (Prime lens)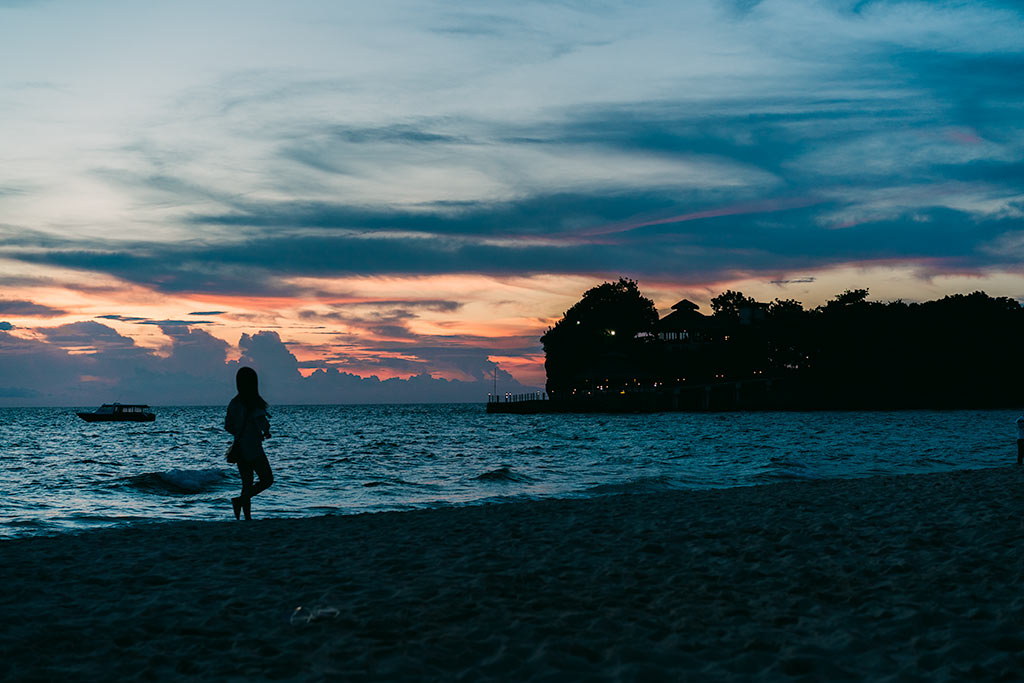 The nifty fifty for Sony's APS-C E-mount.
It's lightweight and tiny, cheap, fast and has optical image stabilization (OSS). What's not to like?
The only con is that it isn't crazy sharp corner to corner when shot wide-open. But at this price point, whose complaining?
Stop it down to f/4 and sharpness improves noticeably. At these apertures, it's slightly sharper than the other alternative in this focal length – the Sigma 30mm f/1.4. More on this lens below.
Optical image stabilization is great to have, especially since the majority of Sony ASP-C cameras don't have IBIS.
Autofocus is fast and silent, great for both stills and videos. And the 52.5mm equivalent field of view is what is typically called a 'normal' lens.
'Normal' meaning that it's roughly the same as how our eyes see the world. Not too wide, not too zoomed in.
Add the bright f/1.8 aperture, and you're good to go.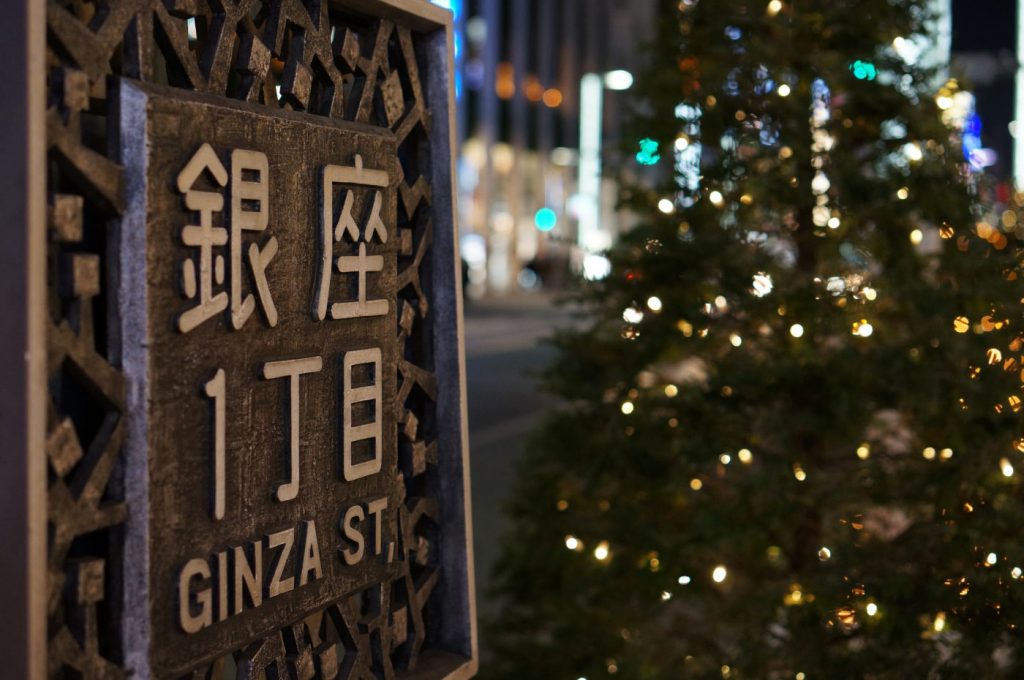 A good everyday lens means that you're ready for most anything, without needing another lens, all while being portable.
It's long enough and bright enough to get you some beautiful background blur when shooting portraits, but it's not too long that you'll find it limiting for everyday scenes.
Sony 35mm f/1. OSS vs Sigma 30mm f/1.4 DC DN
If you scroll below, you'll see that I recommend the Sigma as the better low light prime lens.
But, I generally recommend the Sony 35mm f/1.8 OSS as the better all-rounder.
If you mostly photograph people in low light, I'll recommend the Sigma 30mm f/1.4. Provided that you're okay with the size and weight increase. As you can see below, the Sigma is quite a bit larger, but it still isn't a large lens. The Sony E 35mm is one of the smallest lenses for the Sony a6400 and the APS-C line.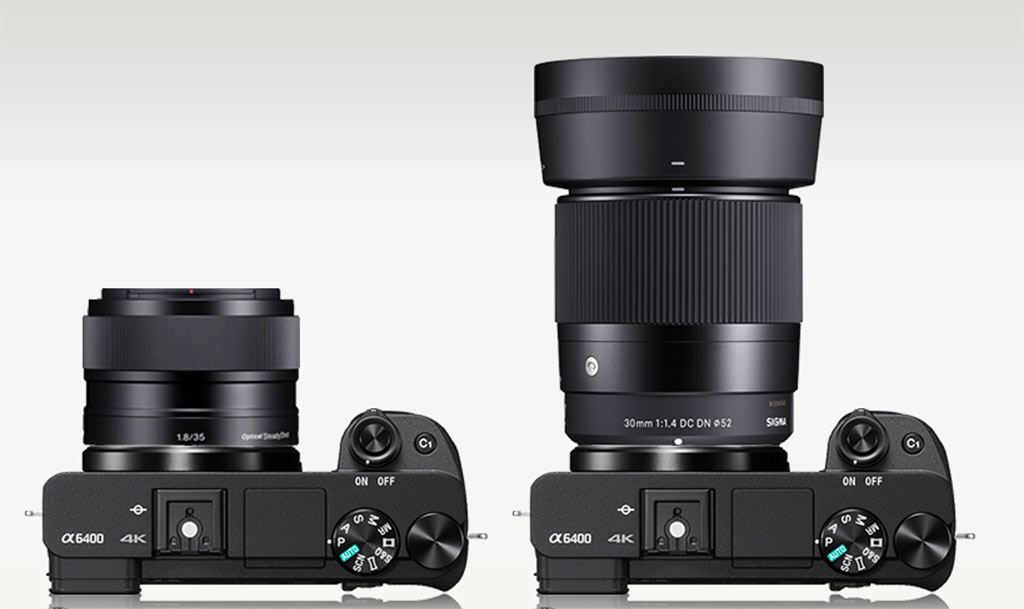 For most everyone else – if you shoot a good mix of people, street/urban scapes, food – I recommend the Sony 35mm f/1.8 OSS as your everyday carry prime lens.
The other consideration is weather sealing – the Sigma has it, the Sony doesn't have it.
NOTE: Make sure you're getting the correct lens. The lens you want is the Sony E 35mm f/1.8 OSS, model number SEL35F18. Don't confuse it with the Sony FE 35mm f/1.8 for full frame, model number SEL35F18F.

When mounted on the a6400, a6100 or other Sony APS-C cameras, both lenses will work the same, albeit the 35mm OSS lens will be smaller and lighter.

When mounted on a full frame Sony camera, the FE 35mm will work like a 'real' 35mm lens (no more crop factor), while the 35mm OSS lens will only work in "crop mode" and not in full frame mode. This means that, on a full frame camera like the Sony a7III, which is a 24MP camera, the 35mm OSS will have the same field of view as on the a6400, a6100 etc… but it will 'crop' the image to only 10 megapixels.
Sony 35mm E main specs:
Best low light lens for the Sony a6400
Sigma 30mm f/1.4 DC DN Contemporary
With a 45mm-equivalent field of view, this is a "standard" lens for Sony a6000, a6100, a6400 series cameras.
Sigma's DC DN designation refers to lenses which were specifically designed for crop-sensor (DC) and mirrorless (DN) systems. In contrast, full frame mirrorless are designated as DG DN.
Sigma currently has three prime lenses in this DC DN contemporary range – the 16mm f/1.4, the 56mm f/1.4 and this 30mm f/1.4.
They are some of the most important lenses ever made in the history of mirrorless cameras. I kid you not.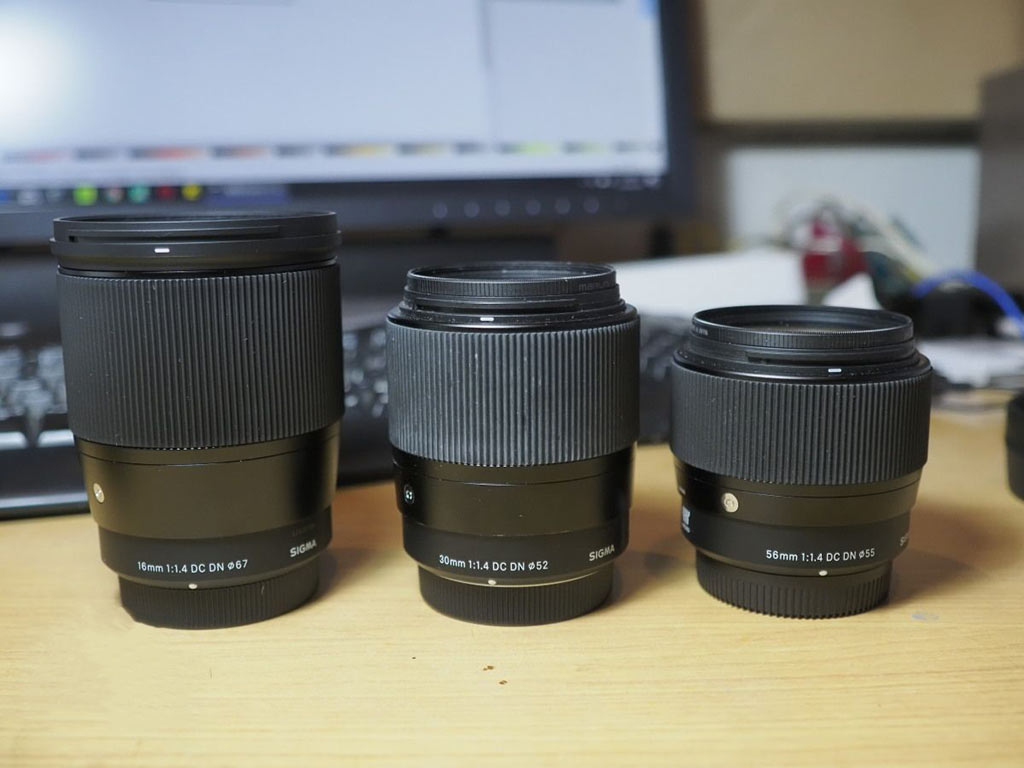 These trio of lenses, have single handedly rounded out the lens line-ups of entire crop sensor mirrorless systems.
First, for the Sony E mount. And also for Canon's EF-M system. And, more recently, for the Leica L mount (APS-C). These Sigma trio of primes have single handedly plugged holes in these systems.
They are also available for the micro four thirds system for Olympus and Panasonic cameras, although their impact there wasn't as big as on the aforementioned systems.
You could actually buy the set, and be set ;). They cover the most used focal lengths by a daily shooter, they are fast, they are weather sealed, and they are affordable. You can buy the whole set for under $1000.
When these lenses came out, there wasn't a lot of choice in affordable, fast primes in these focal ranges on Sony E mount.
There still isn't today. The 16mm f/1.4 for example, doesn't really have any competition. All other ultra wide primes in this range are slower and optically inferior.
Anyway, back to this lens –
It is an entirely new design, and not just a ported DSLR design (which Sigma does for some of their lenses). Those lenses don't sport the "DN" designation.
Honestly, there isn't much to say about this lens.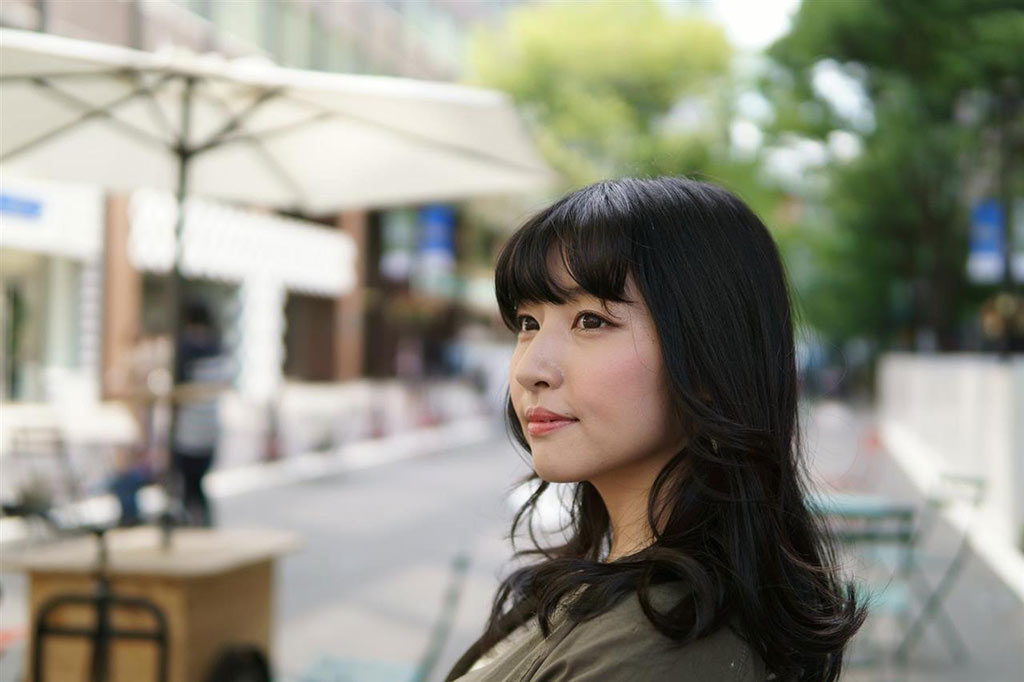 It's sharp and bokeh rendering and fall-off is beautiful.
It's a great standard lens. Because of its f/1.4 aperture and its rounded nine-blade diaphragm, it can work as a great indoor portrait lens.
The downside? The only downside I can think of is that the AF motor is audible. I wouldn't call it noisy or distracting, but it is there, especially when compared to the silent AF in e.g. the Sony 35mm f/1.8 OSS.
This lens was the first of the Sigma trio, and was released prior to the 16mm and 56mm. It's AF motors are older, and not as silent. But, it still plays nicely with eye AF and continuous AF.
Which brings us to – which lens should you pick: Sigma 30mm f/1.4 DC DN vs the Sony E 35mm f/1.8 OSS?
Both are in the same price range. The Sony has silent AF and has image stabilization (OSS), while the Sigma has the brighter aperture?
Well.. it depends.
If you scroll up above, you'll see I recommend the Sony 35mm f/1.8 as the better everyday lens.
A lot of that has to do with the size. The Sony is simply more portable, which is a big deal if you carry your camera everywhere.
The optical image stabilization (OSS) on the Sony also helps a lot in eking out that extra bit of sharpness out of slower shutter speeds when shooting static scenes.
But, when you're shooting moving subjects in low light, nothing beats lens brightness, because it will help you keep your ISO down when shooting higher shutter speeds to freeze movement.
That's where the Sigma's f/1.4 comes in. Plus, if paired with a body with IBIS, like the Sony a6600, the Sony 35mm f/1.8 losses some of its OSS advantage.
I find the Sigma to be the better lens for "social" situations in low light, indoor places. Size aside, it's better for documenting e.g. birthdays, chasing your kid around the living room etc.. vs the Sony 35mm f/1.8.
The Sony will have the advantage when shooting non-moving subjects (landscapes, street architecture, food) because the OSS will allow you to handhold at slower shutter speeds. But, for everything else (except portability), the Sigma wins.
f/1.4 vs f/1.8 doesn't sound like much, but there is a noticeable difference in background blur that even the Sony's longer focal length can't make up for.
Overall, like its stable-mates, the 30mm f/1.4 is an incredible value punching well above its price tag, plus, it's weather sealed too.
Sigma 30mm f/1.4 main specs:
Best Macro Lens for the Sony a6400
Capable of true 1:1 macro (lifesize reproduction), this is an excellent macro lens for beginners.
This is a great option for those shooting close-ups of flowers and product images, such as jewellery etc…
Just be aware that 1:1 macro is reached at the minimum focusing distance of 3.74 inches. This means that you need to be very close to your subject to get lifesize reproduction, and you risk blocking some light because your camera and lens will be very close to the subject.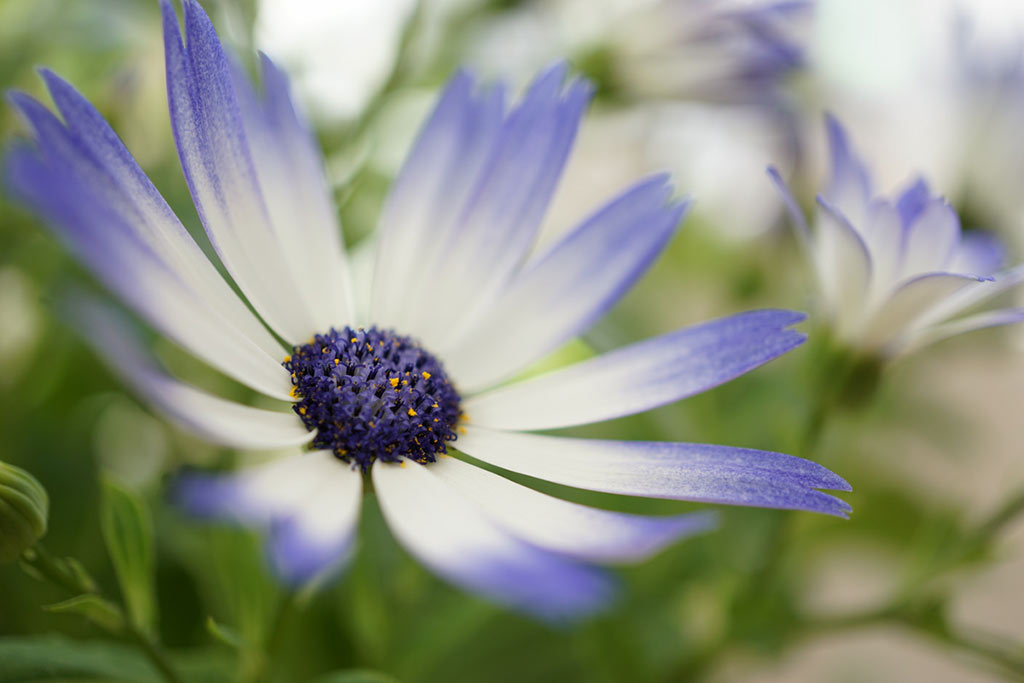 Alternative Macro Lenses – the Sony FE 50mm f/2.8 (SEL50M28) or Sony FE 90mm f/2.8 G (SEL90M28G)
For insects or for other macro work where you want to have some distance between you and your subject, you will be better off with either the Sony FE 50mm f/2.8 Macro or the Sony FE 90mm f/2.8 G lens.
Both lenses are full frame lenses, and cost more than the 30mm f/3.5. But, on a crop sensor camera like the a6000 or a6400, they are equivalent to the field of view of a 75mm and 135mm lens, respectively. This means that your working distance from subject to camera widens quite a bit.
On advantage of the 90mm f/2.8 is that it can also double as an excellent portrait lens – provided you have the space. 135mm-equivalent on a crop sensor is pretty long for some indoor situations.
But, if you're just getting started with macro, the Sony 30mm f/3.5 is hard to beat. It's relatively cheap, it's compact, and it's crazy sharp.
Sony 30mm macro main specs:
Best portrait lens for the Sony a6400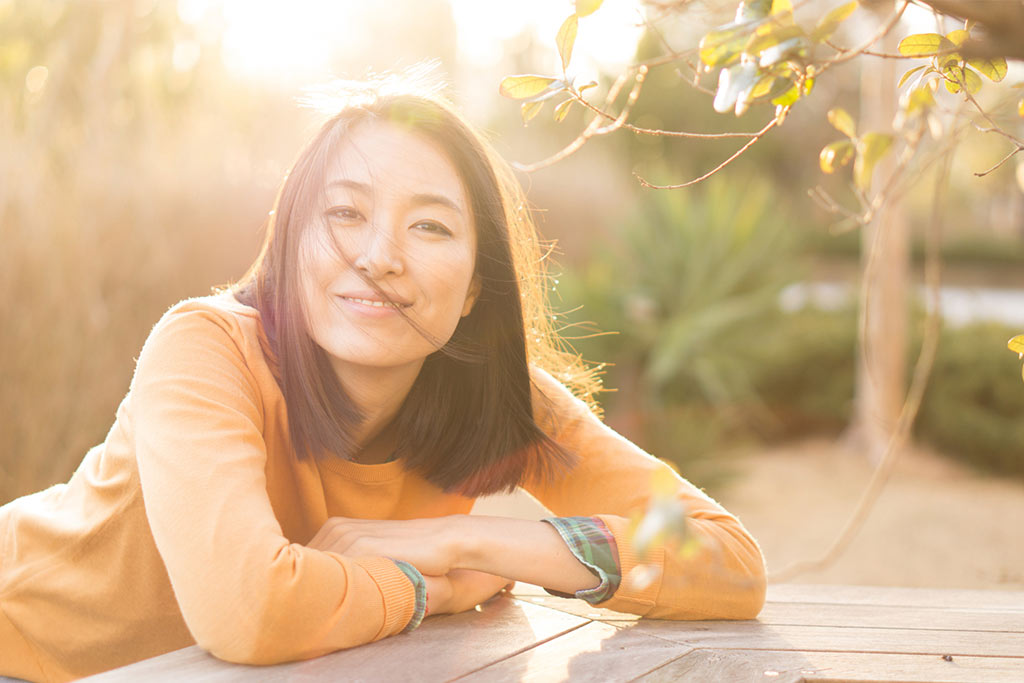 This lens is one of the best examples of why APS-C still holds a lot of advantages over full frame.
It's fast, tiny, weather sealed and will get you some gorgeous bokeh.
The equivalency-army will tell you that this is "only" equivalent to an 85mm f/2 full frame lens. While they are technically wrong, they aren't far off either.
And, that's actually a good thing.
With a field of view roughly equivalent to 84mm in full frame terms, this is the perfect portrait focal length.
The f/1.4 aperture will render some creamy bokeh, indistinguishable from full frame in most scenarios.
All in a lens that is smaller, lighter and cheaper than the "equivalent" full frame lens!
Here it is – with its hood! – next to the full frame Sony 85mm f/1.8 FE, sans hood. That's a significant difference in the hand, and in the bag. Especially if you consider that this focal length isn't a typical walk around lens. Unless you're specifically going out to shoot head and shoulder portraits, these lenses typically start the day in your bag.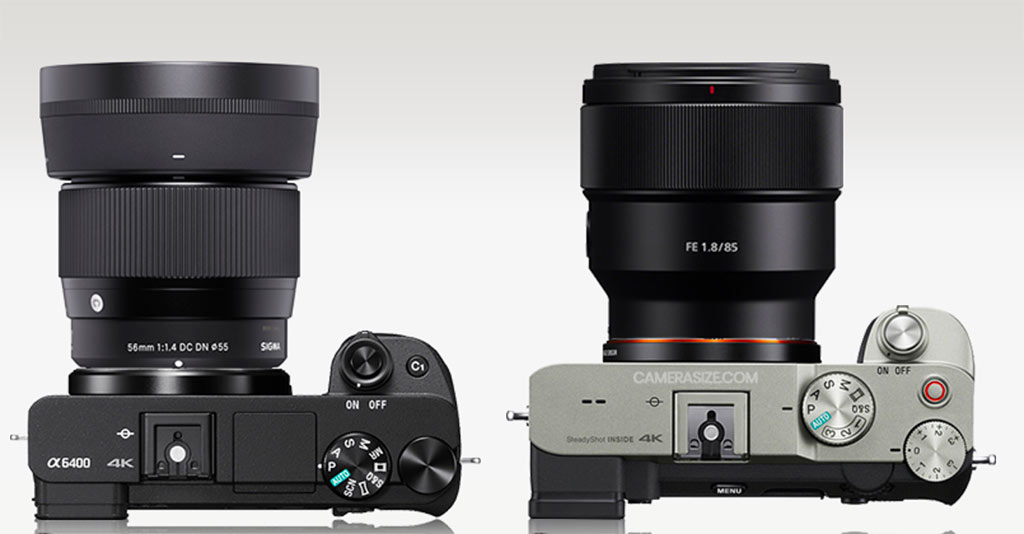 Anyways, I've always found 85mm to be a great portrait focal length. Long enough to minimize facial distortion and give creamy backgrounds, but not too long that you'll have a hard time using it indoors.
Yes, a real 85mm lens mounted on a crop sensor would give you thinner depth of field, but at a ~127mm field of view equivalent, it's an outdoor-only lens for most people.
There is more to portraits than just thin depth of field.
This lens has great bokeh, smoother even than some longer lenses. What's equally important is the quality and rendering of the bokeh, not just the quantity.
f/1.4 is absolutely fantastic for low light shooting. It also helps in maintaining higher shutter speeds for photographing kids in motion, for example.
I've said this before, and I'll say it again, lens design is all about compromises.
A good lens, is about making the right compromises. A perfect lens is optically perfect, but is big and heavy and expensive.
This is a lens that makes the right compromises.
It has just the right amount of sharpness and contrast at f/1.4, with beautiful fall-off and pleasant and smooth bokeh.
Stop it down to f/4, and it's like a completely different lens. It's sharp, sharp, sharp. Too sharp, even.
There is some vignetting wide-open, and corner sharpness suffers a bit at f/1.4 to f/2. Overall, aberrations are well controlled. It also works perfectly with eye AF even at f/1.4. Sharp eyes, creamy bokeh, it's just beautiful.
Would it be better if this lens had image stabilization? Maybe. But it wouldn't be this small and light. It would be more expensive too.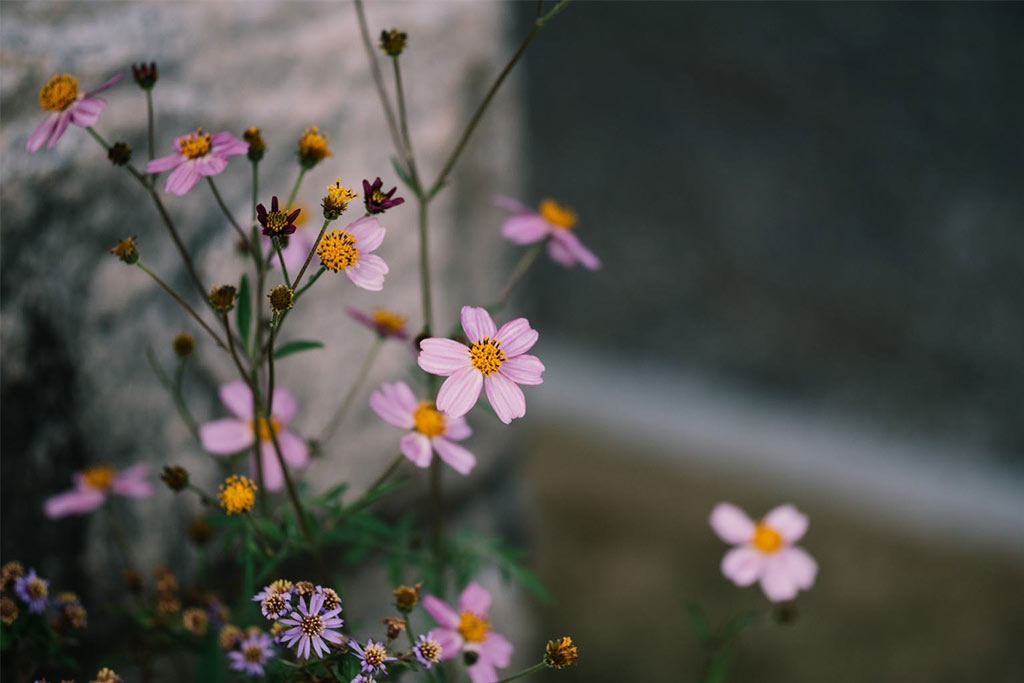 It is an EXCEPTIONAL value, and there is very little here not to like.
It's one of those lenses that you expect to just be 'okay' or 'good enough' because of the price. But the results will blow you away.
Sigma 56mm f/1.4 main specs:
Best ultra wide-angle lens and landscape lens for the Sony a6400
Sony 10-18mm f/4 OSS (SEL1018)
An oldie, but a goodie.
The lens for big skies and vast landscapes.
Nearing 10 years since it was released, some people say Sony should update this lens to become a 10-24mm.
Personally, I don't see the need.
Yes, 10-24mm would be a more useful focal range, but it's almost guaranteed to be bigger and heavier.
Sometimes, Sony gets a lot of flak for its APS-C line-up. Whiners say it's not updated as fast as their full frame line-up, that there aren't enough "pro" lenses etc.. etc..
But if you actually look at Sony's APS-C lineup, their cameras included, you'll see that they have done their best to stay true to the APS-C mirrorless ethos – that of small and compact.
Sony's APS-C line-up may not be as extensive as others – but their lenses are also decidedly smaller and lighter compared to others.
And the Sony 10-18mm is a perfect example of that.
With a 15-28mm equivalent field of view, this lens is the best lens for vast landscapes.
But, if that's not your thing, this lens can do a lot more.
It's also the best lens for interiors and real estate photography.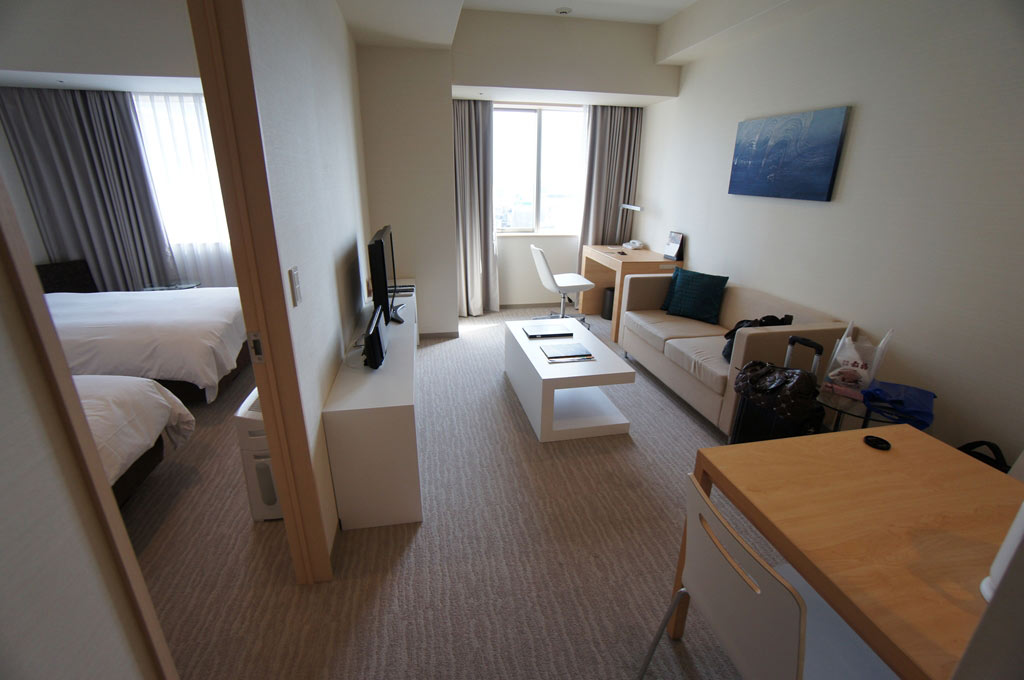 Its lightweight and compact design also makes it a great lens for video gimbal work. It extends just a tiny bit when zooming, but not enough that you need to completely re-balance your gimbal every time.
Optical image stabilization (OSS) is also a welcome addition, especially since it did not result on a larger lens.
This is not only great for hand holding lower shutter speeds in low light (e.g. not so well lit interiors) but it's also great for reducing micro-shakes for video.
Even when you're on a three-axis gimbal, having OSS on still results in noticeably less shake vs just using the gimbal without OSS.
There aren't a lot of UWA choices for Sony APS-C. You're either looking at a prime like the Zeiss Touit 12mm f/2.8 or a manual focus lens like the Samyang 12mm f/2.
Either you'll love that this lens is small and compact, or you're disappointed that it isn't a weather sealed 10-24mm.
This isn't a super crazy sharp lens, but it is more than sharp enough for all but the ultimate pixel peepers. The only other complaint I can make is the lack of weather sealing. But the size advantages more than make-up for it.
For example, for real estate videos where quick set-up on a gimbal is great to have, this lens is hard to beat.
It's also a great hiking lens. When every gram counts, but you also want the flexibility of a zoom vs a prime, you'll be grateful that you have a lightweight zoom lens with great quality.
The size and weight of this lens is hard to convey in a review. If you don't hold it in your hand, and compare it to 10-24mm lenses from other brands, or to full frame lenses, it's hard to appreciate.
But it really is a fraction of the size and weight of pretty much any zoom alternative. Taking everything into consideration, this lens is pretty much weightless.
Can you use the 10-18mm f/4 on full frame cameras?
Yes – to a certain extent.
You can of course mount it on full frame cameras on crop mode, where it will behave exactly like it would on an APS-C body.
But, what if you want to use it in full frame mode?
It will actually work in full frame mode – giving you real full frame coverage from 14-16mm.
Anything wider or longer than that and you'll start seeing the corners of the lens.
So, no, it's not really recommended. But it is a nice bonus, if you need it. But I wouldn't go out and buy this specifically to use at 14-16mm on a full frame body.
Sony 10-18mm main specs:
Best lens for video for the Sony a6400 (zoom)
For the longest time, prior to the release of the 16-55 and 70-350 G lenses, this was the only consumer G lens in Sony's APS-C lineup.
Prior to this lens, the only other lens with a "G" designation was the Sony 18-110mm f/4 G OSS, which is an expensive Cine lens.
Now that the landscape has changed with the release of lenses like the Sony 18-135mm and the Tamron 17-70mm f/2.8, does this lens still make sense?
Yes, it does. Because this lens has some unique advantages for video work.
Compared to the Sony 18-135mm, this of course has a constant f/4 aperture. The constant f/4 aperture is particularly useful if you operate the zoom while filming, because that means your exposure remains constant as you zoom in and out.
The downside is that this is a larger lens than the 18-135mm and has less reach.
Optically, the lens is excellent, but the 18-135mm has the advantage in corner to corner sharpness, even at similar apertures. But that's only noticeable in side-by-side comparisons. The 18-105mm is still plenty sharp.
Compared to the Tamron 17-70mm f/2.8, the big advantage of this lens is its power zoom feature and its internal zooming design.
The 'PZ' in the lens designation means this is one of the few lenses with a power zoom mechanism.
That means that you can smoothly operate the zoom via a zoom rocker on the side of the lens. It's similar to the zoom lever you see on camcorders.
You can still zoom the lens using the regular zoom ring, but using the power zoom rocker does have a lot of advantages.
For one, you eliminate the jerkiness of zooming via the zoom ring, and you'll have better control on how fast or slow you zoom.
If you've ever tried zooming with a zoom ring while filming, you'll know that no matter how you try to operate it smoothly, footage will be mostly unwatchable. Either you buy a really expensive cine lens, or, you get this – a lens with a power zoom.
Although it gives up one stop of light vs the Tamron 17-70mm at comparable focal lengths – the 18-105mm does still have other advantages.
First, it is an internal zoom design. That means the lens doesn't get longer when you zoom out. This is especially useful for gimbal work, since you won't be rebalancing the gimbal as you change focal lengths.
The weight will still shift a bit, since internal lens elements will still move as you zoom and out, but it does mean less strain on your gimbal motors compared to a lens that physically gets longer and shorter as you zoom in and out.
The second advantage over the Tamron is of course the longer reach. The Tamron tops out at 105mm-equivalent while this goes noticeably longer at 157mm-equivalent. Using the excellent clear image zoom feature while filming 4K video, you can even go longer, increasing its versatility.
What about background blur?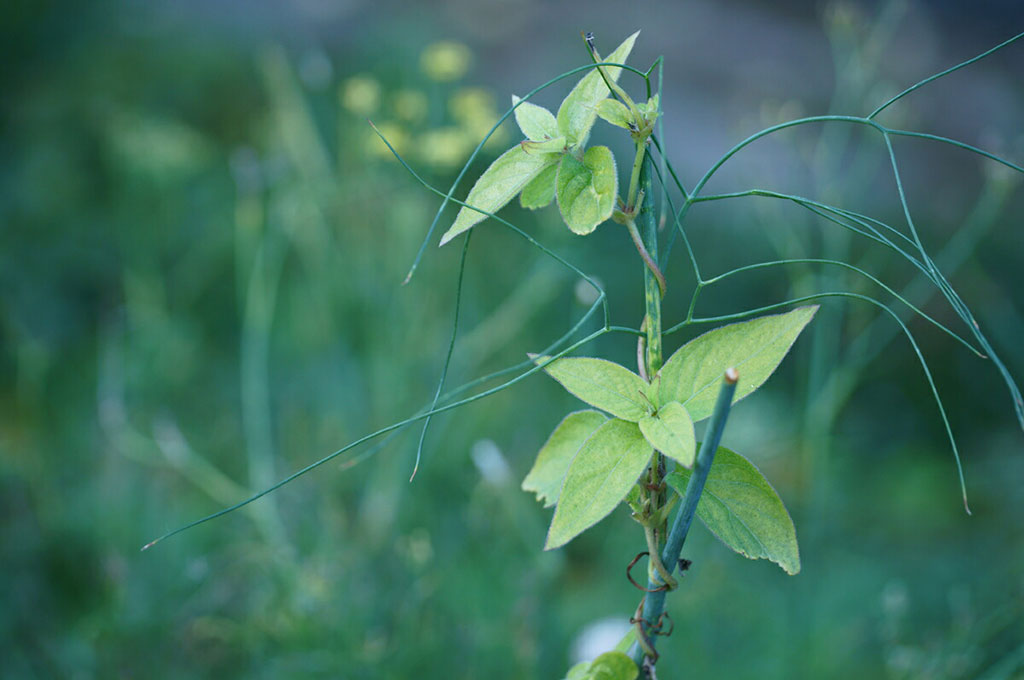 An f/4 lens isn't really what you go to if you want creamy backgrounds. But, as you can see above, it is doable, in a pinch.
As long as you have space, shooting wide-open at f/4 at the tele end (105mm) will give you very similar background blur as the Tamron 17-70mm f/2.8 at 70mm f/2.8.
Of course, the Tamron will have a one stop advantage at all other similar focal lengths.
The Sony's rounded aperture blades also helps with its bokeh rendering.
Autofocus for stills and video is fast and accurate, even in dim lighting.
So, you have to be really clear on what you want. Do you primarily do video? Or do you mostly shoot stills and occasionally shoot short clips?
Another way of looking at it would be – do you need the advantages that this lens give for video? Primarily the power zoom, the constant aperture, and the internal zoom mechanism?
If not, take a look at the Sony 18-135mm or the Tamron 17-70mm f/2.8 (scroll to the top, these are the first and second lenses discussed in this article, respectively.)
Sony 18-105mm f/4 main specs:
Best lens for vlogging and video (prime lens)
Handheld vlogging with the camera at arms length and home studio set-ups typically require a wide angle lens.
That's not hard to find – your 16-50mm kit lens can do that. Even your iPhone with its 26mm equivalent 'wide' lens can do that, no problems.
But, what they can't do, is give you that beautiful blurry background while maintaining a wide angle of view.
This is where the ultrawide Sigma 16mm f/1.4 comes in. That amazingly bright f/1.4 aperture can give you some beautiful background blur while still being wide enough for vlogging.
The big downside – and it could be a deal breaker for some – is that it doesn't have image stabilization. Not a huge deal if you have the Sony a6600, but for the a6000, a6100, a6400 with no IBIS? Something to consider.
The other option is the Sony 10-18mm f/4, which goes even wider and does feature optical steady shot (OSS) stabilization. BUT, the problem with this lens is that it only goes to f/4.
That's a full 3 stops LESS than the Sigma. If you're filming in low light, 3 stops is the difference between nice, useable footage at ISO 1600 vs grainy, pixelated footage at ISO 12800. That's a big deal.
If you're mostly walking around carrying the camera at arms length during the day, then yeah, get the Sony 10-18mm f/4.
But for everything else – you're better off with the Sigma 16mm f/1.4 and making as much use of a small tripod plus warp stabilizer in Premiere.
Even for a home studio set-up with lights, that f/1.4 really gives a nice look for talking head videos.
Sigma 16mm f/1.4 main specs:
Best telephoto lens for sports and wildlife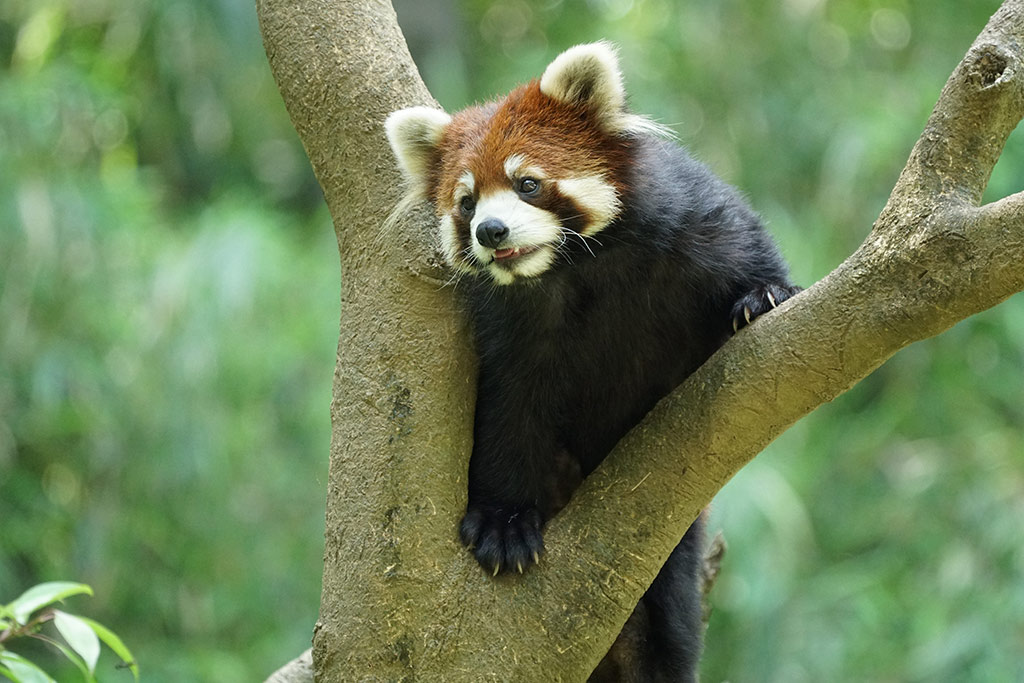 It took Sony a while top plug this hole in their line-up. But, oh boy, did they deliver.
It's easy to say that this is the best telephoto lens AND the best sports lens AND the best lens for wildlife on the Sony a6100, a6400, a6600 series, because it's the ONLY high performance telephoto in the lineup right?
No, it really is quite good. And if you consider that it has an MSRP of less than $1000, it's an incredible lens.
This lens is smaller and lighter than the equivalent 100-400mm telephoto lenses on full frame – while delivering even longer reach on crop sensor a6000 series cameras (it becomes an effective 105-525mm!)
If you're a sports or wildlife shooter, that alone is enough reason to pony up for an APS-C body for this lens.
What Sony was able to do with the size here can't be under-stated. They are enroaching on micro four thirds territory here. Plus, you get the benefit of Sony's superior AF performance.
What makes this lens an incredible performer is Sony's decision to use its XD LM (Extreme Dynamic Linear Motor) technology to drive the focus and lens elements.
This is the same AF technology in the Sony 135mm f/1.8 GM lens as well as the $13,000 Sony 400mm f/2.8 GM OSS. It's silent, fast and accurate and can keep up with the continuous AF algorithms of today's high speed cameras.
This being a G lens, Sony also includes a customizable button (defaults to focus hold). Optical image stabilization (OSS) is also included, which is a necessity for such a long focal length. Not only is this necessary at the longest end of the zoom, it's actually great in stabilizing your 'view' through the viewfinder.
As someone who actually does NOT shoot wildlife or birds or airshows, this isn't a lens I would typically have in my bag.
But, as a parent with an active child, I've come to enjoy shooting with this lens. It has also become my default landscape lens.
I'm not a big landscape shooter, but when I do shoot 'scapes, I prefer the compression from a telephoto vs shooting with an ultra-wide.
This is probably my least used lens out of all lenses (and camera systems) I own, but I can say that it is worth every penny.
If, like me, you care about performance AND size and weight, you'd probably be willing to pay MORE for this lens. That it costs what it costs is just crazy to me.
If you are an occasional telephoto zoom shooter like me, this is just a no-brainer. It costs significantly less than the full frame Sony 100-400 GM, is still less expensive than the Sigma 100-400mm DG DN, and is half the weight of those lenses.
The full frame Sony 200-600mm G OSS is larger and heavier still, weighing over 3kg. An a6600 and the 70-350mm will clock in at less than half that. Which combo would you rather carry when hiking or birding?
I can't really think of any cons to this lens. Maybe that it lacks a tripod mount? For what I use this lens for, it's not an issue for me. It's small and light, a tripod mount would just get in the way. But, maybe birders or wildlife shooters will miss having a tripod foot.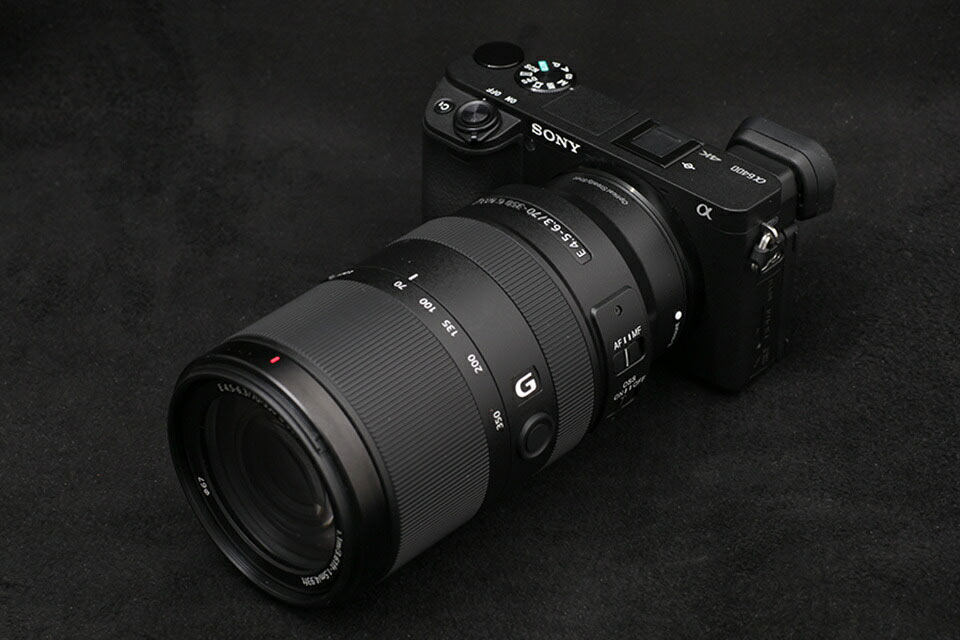 Sony 70-350mm G main specs:
Best pancake lens for the Sony a6400
Sony E 20mm f/2.8 (SEL20F28)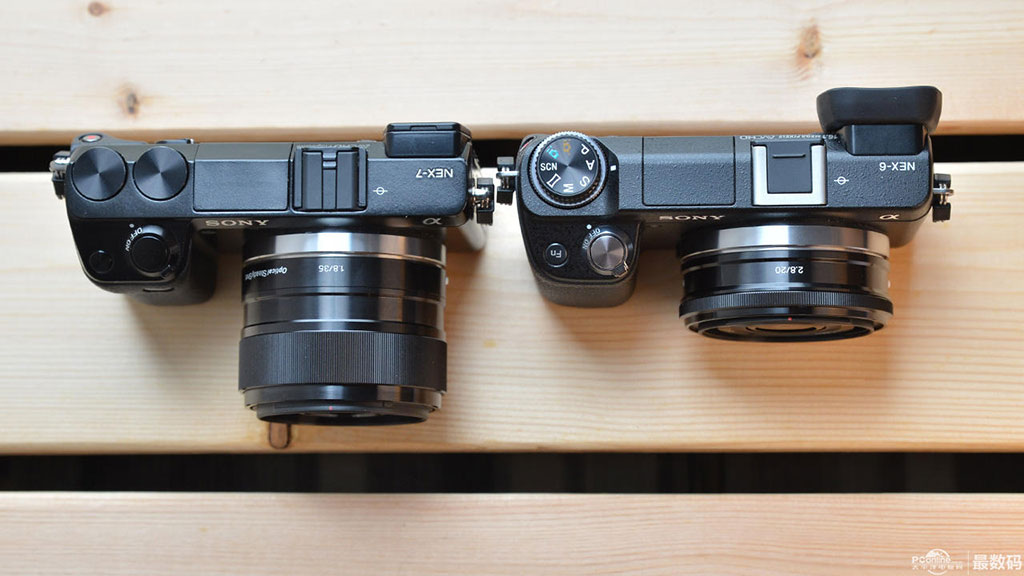 One of two* pancake lenses for Sony E-mount crop sensor cameras, the Sony 20mm f/2.8 is significantly better than the other option (The Sony E 16mm f/2.8)
*Other people like to throw in the Sigma 19mm f/2.8 DN lens into the discussion, but it's not a pancake lens at all.
The Sony 20mm f/2.8 is a true pancake, sticking out less than an inch from your camera.
If you want ultimate portability and discreteness, this is what you want.
It's not a lens that's going to win awards for sharpness or optical prowess. Let's get that out of the way first.
The reason you want this lens is because you want the smallest possible lens on your camera, while maintaining auto focus, and with a jack-of-all-trades focal length.
That's not to say that it's optically bad – it's more than decent – but it doesn't compare well to other lenses in the same focal range, especially in the corners. Of course, those other lenses are also much bigger.
It IS sharper than the 16-50mm kit lens though.
Paired with the smaller a6000 series cameras, like the a6100, it's almost like carrying a point and shoot.
It's 'only' f/2.8, which is why I did not recommend it as the best walk-around lens, but for those who don't need anything faster, and who prefer a wider field of view than the Sony E 35mm f/1.8 OSS, this is easily a great option that is more portable.
This lens is also compatible with the Sony VCL-ECU2 0.75x ultra wide converter. This nice, little add on lens is made in Japan and screws on to the front of the lens, giving you a wider field of view (24mm-equivalent). It's an inexpensive way to add versatility to your set-up, although with the converter attached, your lens won't be a pancake anymore.
Sony 20mm f/2.8 vs Sony 16mm f/2.8 (SEL16F28)
Okay, so, why pick the 20mm over the other pancake lens in Sony's line-up?
Generally, I'd recommend that you pick based on focal length preferences.
The 16mm f/2.8 (24mm-equivalent field of view) is very slightly larger (not enough to make a difference in portability) – but it is also less sharp than the Sony 20mm f/2.8.
Generally, if you want a pancake lens, you're also looking for a one-lens solution that will keep your camera as small as possible. For most people, the 20mm f/2.8 is the more flexible focal length.
But, if you're looking for a walk-around combo, maybe the 16mm would fit your needs, depending on what other lens you plan to take with you.
For example, for walking around with either the Sony E 35mm f/1.8 OSS or the Sigma 30mm f/1.4, the Sony 16mm f/2.8 pancake would be the better choice, since it gaps better with those lenses.
The 20mm f/2.8 would be too close in focal length to the 35mm or 30mm.
But, if you're walking around with a portrait lens or a short telephoto like the Sigma 56mm f/1.4 or the Sony E 50mm f/1.8 OSS, the 20mm f/2.8 would be the better pair.
The 16mm f/2.8 could be too far, leaving too big a gap.
Again, it all depends on shooting style and focal length preferences.
The important thing is, either of these pancake lenses can fit in your pocket.
The Sony E 16mm f/2.8 is also compatible with the Sony VCL-ECU2 0.75x ultra wide converter, turning that lens into one with an 18mm field of view.
That's quite a bit wider. But, this is where the sharpness advantage of the 20mm f/2.8 comes in. Paired with the converter, sharpness degrades further. And the 16mm f/2.8 has less sharpness to start with, and adding the converter might be a step too far for some people.
Again, it's not that it's unusable. It's just not great when shot wide-open, even for moderate pixel peepers.
And since most of the things you want to shoot at 18mm are landscapes and interiors, you might find yourself a bit disappointed if you pixel peep a bit.
If you don't pixel peep, and just want great images for web sharing or social media, it is highly recommended. It's hard to find an ultra-wide 18mm lens at this size and price, with autofocus.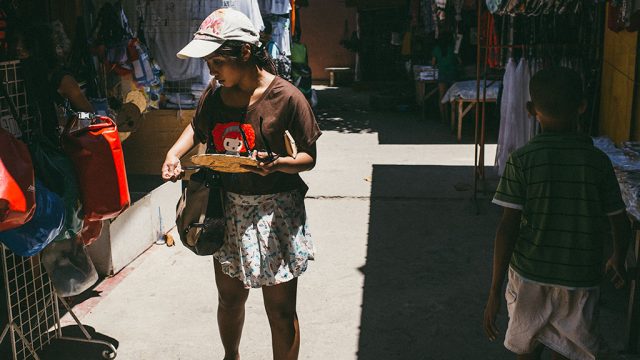 Sony 20mm f/2.8 pancake lens main specs:
Best lens for street photography
Looking for the best street photography lens is sometimes like asking people what their favorite food is.
You're going to get a lot of different answers, a lot of them very opinionated, too.
Well, here is my very opinionated answer too.
A lot of street photography comes down to comfort level. How close can you get to your subjects?
Don't know yet? Why not start with a zoom, like the 16-50mm kit lens?
Want to work from a comfortable distance without the compression of a telephoto? Start with a normal lens like the Sony E 35mm f/1.8 OSS or the Sigma 30mm f/1.4 DC DN.
Want to get up close and personal? Stick with a wide lens like the Sigma 16mm f/1.4.
Just want the smallest and most discrete lens? Get the Sony 20mm f/2.8 pancake lens discussed above (scroll up a bit).
Want to know what I recommend it?
It's the Sony Zeiss 24mm f/1.8 Sonnar.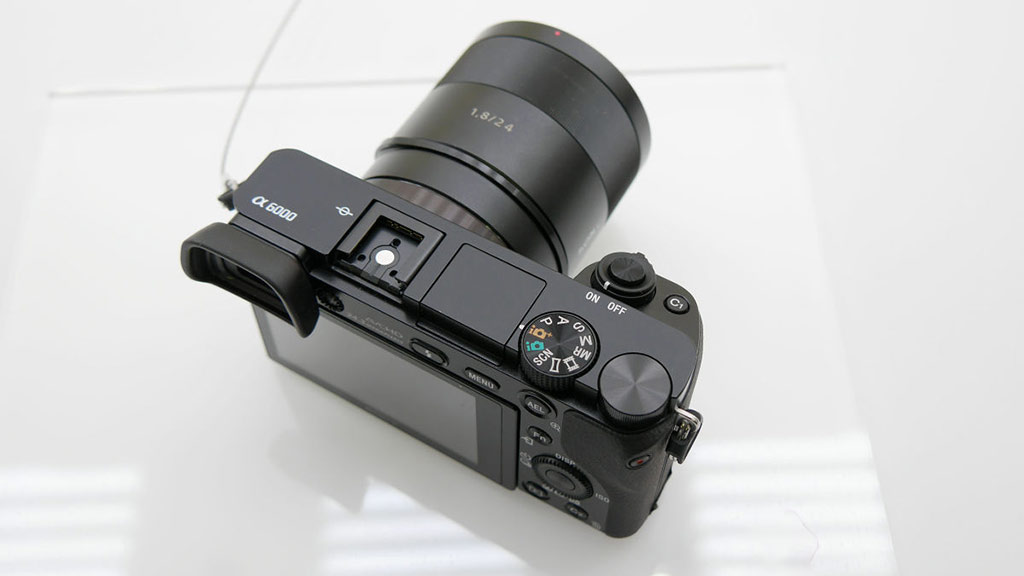 It's not cheap, unfortunately.
On the Sony a6000 series, a6100, a6300, a6500 etc.. this lens sees like a 36mm lens.
Close enough to the 35mm focal length that is considered the "classic" street photography focal length by many street photographers.
The great thing about a '35' is that it is neither too wide or too tight. It's wide enough so that you can layer your street photographs, wide enough to add drama if you shoot close, but not too wide that it adds a lot of distortion.
It's also long enough that you can shoot wide-open with a fast-ish aperture and still have some form of subject isolation.
A lot of success with street photography comes down to just watching and waiting.
Watching scenes evolve, watching the ebb and flow of people, waiting for the right light.
And, bringing the camera up to your eye when the elements come together. Click. Camera goes back down. It all happens in a split second.
Apparently, the human eyes see at about 55 degrees field of view. That's approximately the field of view of a 43mm lens (in full frame terms).
Well, in my opinion, when we're being observant, like when we're shooting street photography, we see a bit wider than that.
In other words, the 35mm field of view (or thereabouts) is perfect.
Why is this important?
Because when you're standing there watching and observing, mentally framing the scene – there isn't a lot of difference between what you see and what you see through the 35mm (equivalent) lens when you finally raise the camera up to your eye.
I hope that makes sense.
But, why this particular lens?
Well, there isn't a lot of choice in this focal range, unfortunately.
Plus, this lens has a lot going for it. Whether it's worth the price tag, I leave that up to you to decide.
First, what are the downsides?
The first is price. Unfortunately, you're paying a fair bit of Zeiss tax here.
The second is the lack of weather sealing. At this price point, I'd expect a lens to be at least dust and moisture proof.
That's about it.
What makes this lens worth it, for me?
First, is the contrast. Maybe it's that fabled Zeiss magic?
Technically, it probably sort of is. The great contrast and micro-contrast out of this lens is likely partly due to the coatings that Zeiss uses.
Is that a big deal? Maybe. But if you post-process all your photos, then not really.
You can get 98% of the look with another lens and working on it in post.
But, if you like great straight-out-of-camera contrast, this lens delivers.
It's particularly great for black and white. Set your camera to the black and white profile, +2 contrast, -4 sharpness. This lens will sing.
Second, is its versatility.
The f/1.8 aperture isn't a big deal in the streets, unless you shoot a lot in low light.
For the way I shoot the streets, I'm actually at f/4 to f/11 most of the time.
But, it's when you take a break from the streets that the f/1.8 comes in useful. If I'm traveling with my family, I'm shooting street scenes, then I decided to take a break, meet up with them in a lovely cafe etc.. I won't need to change lenses, or bring another lens. This lens can transition from street to family documentary in a heart beat. Plus, that f/1.8 can save you the trouble of lugging around a tripod just to shoot the occasional low light architecture shot.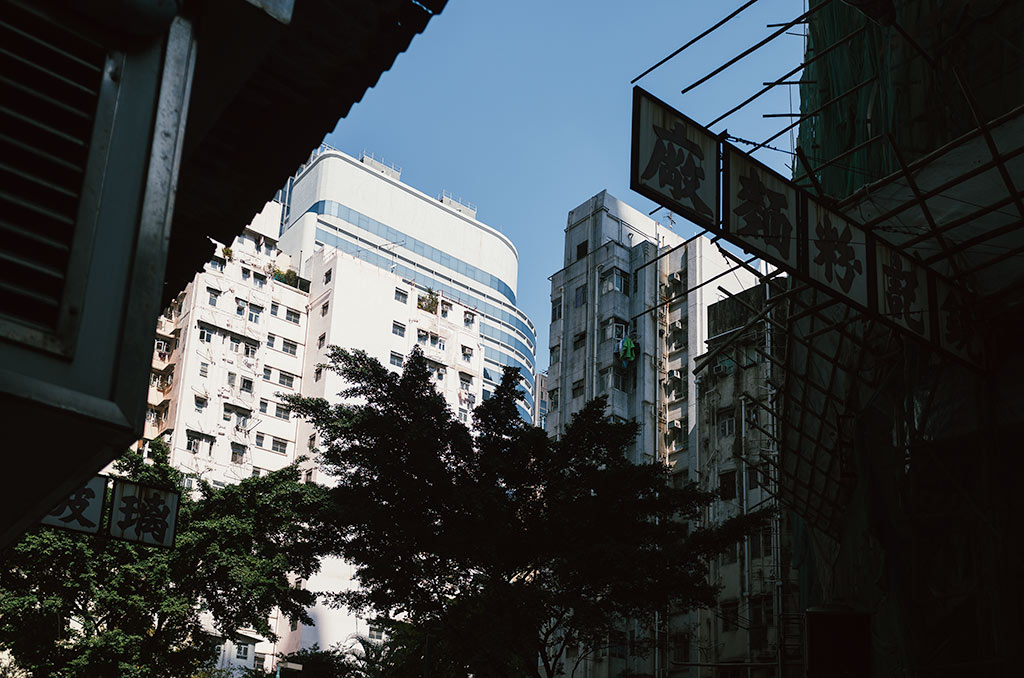 Sony Zeiss 24mm main specs:
Are there any cheaper alternatives to the Sony Zeiss 24mm f/1.8?
Yes! You're not entirely out of luck here. But, that will mean looking at third party lens options.
This is an auto focus lens from Viltrox, and unlike the other lenses below, this lens is designed specifically for APS-C. That means that this is the closest in size to the Zeiss lens.
Coming in at a third of the price of the Zeiss lens, you'd think this lens would be a poor performer, but it's not. It's more than decent actually.
It's not as sharp, but it gets you 80% of the way there. You won't notice it in most scenarios. The bokeh rendering is different though. The Viltrox has a more distinct rendering, with a tiny bit of a swirl. It's a pretty cool look.
The AF motor is surprisingly good and plays nice with Sony's eye AF and animal eye AF.
The most annoying thing about this lens is the big, bold lettering announcing the lens name (why?).
The aperture ring is a nice touch, but as with most Viltrox lenses released so far, it's a clickless aperture ring. That's great for video, but it leads to a "detached" shooting experience for stills.
This is actually a full frame lens, designed by South Korea's Samyang Optics (sometimes sold under the Rokinon brand) for Sony's FE cameras, like the Sony a7iii, a7riii etc… But, it also comes in at half the price of the Zeiss 24mm f/1.8. When mounted on APS-C cameras like the Sony a6100, this lens works the same as the Zeiss 24mm.
The big advantage is that if you also have a full frame E mount camera, or if you plan to upgrade in the future, this lens will also work as a real 24mm lens on those full frame sensors.
The disadvantage is that because it's a full frame lens, it's a bit larger than the Sony Zeiss 24mm f/1.8. Although it is only marginally heavier.
But, for a full frame lens, it is not obscenely large. It's part of Samyang's tiny lens series for full frame, which are some of the smallest lenses for Sony full frame cameras.